Route inbound calls to your sales or ISA team from signs, ads, marketing campaigns, lead sources, your website, Google LSA and more using a team inbox. It's a collaborative space for your team to work incoming communications that will ensure you never miss an inbound call. Missed calls, voicemails, texts, and emails to team inboxes will all live in one central spot.
Who has it? If your account has more than one user, you will have a Team Inbox listed under My Inbox on the Inbox tab. This is the default inbox for missed calls and texts to your Company Number. If you have two or more calling add-ons, you can create additional team inboxes.
👉 Check out our calling & texting webinar to learn about Follow Up Boss calling (~10 mins). You'll be a pro in no time. The best part? You'll do more business, guaranteed.
How it Works
How to set up a team inbox
Select Team Inbox Members & Call Routing
1. Go to Inbox > Gear Icon in the lower left-hand corner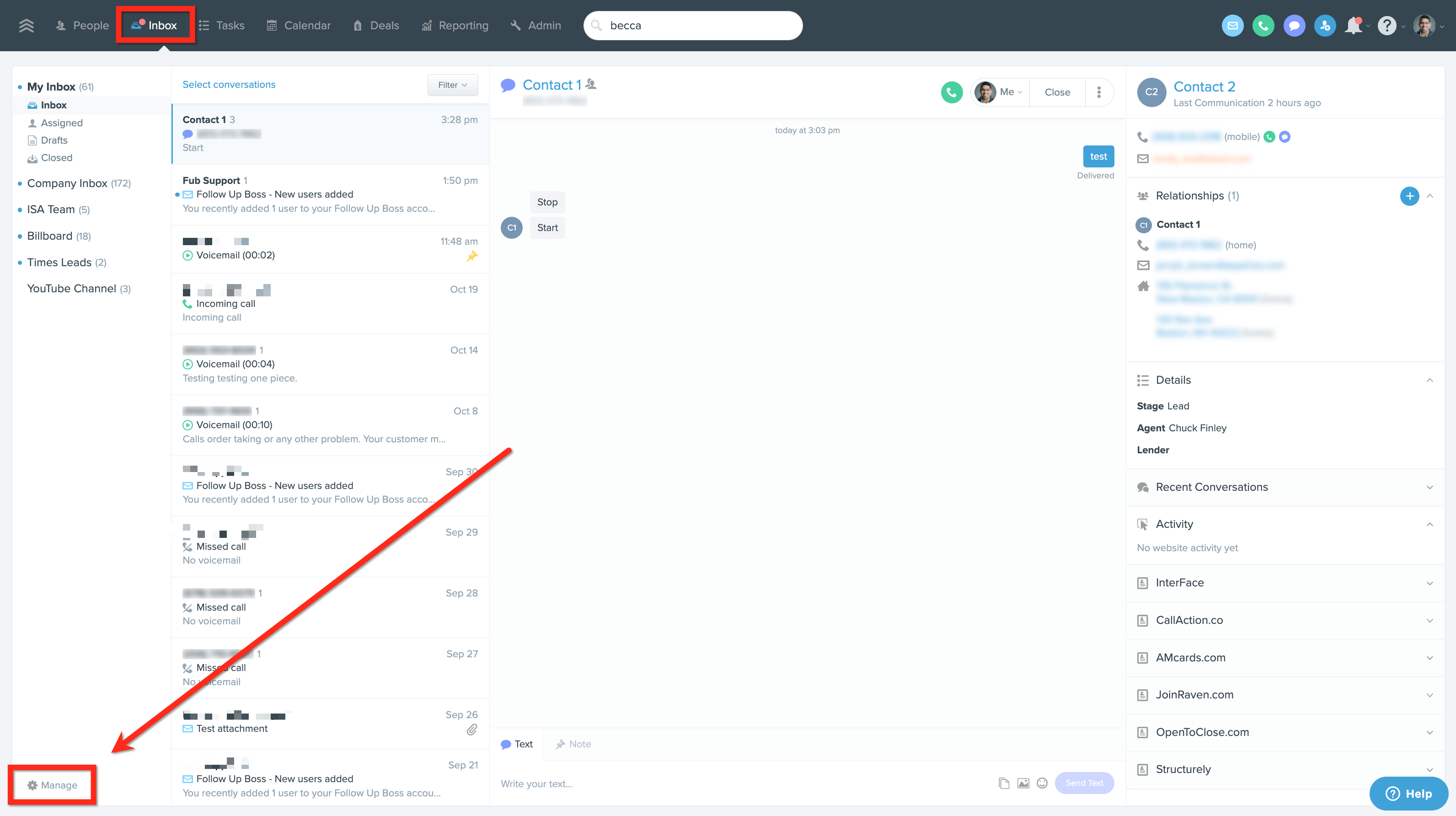 2. You will be directed to Manage All Team Inboxes > New Team Inbox

3. Name the Inbox > Edit the Phone Number (optional)

4. + Add Team Member or Phoneto add users to the inbox

5. Toggle the call routing settings for each user.
Ring Desktop: Calls will ring the desktop of users with the calling add-on.
Ring Mobile: Calls are routed to the number in the user's settings.
Press 1 to Answer: Recommended. Press 1 to Answer ensures every inbound call is answered or sent to the inbox voicemail. This feature prevents calls from going to team members' mobile voicemails.
Note: Press 1 to answer is available when 2 or more mobile numbers are included in the call routing.
When transferring to a Team Inbox, up to 10 agents' cell phones will be called and those agents will not be prompted to press a key before answering the call.
Step Two: Choose What Happens When Your Team Misses a Call
If no one answers, choose to have calls go to voicemail, or forward them to another number.
Voicemail: Once the inbox is saved, an option to record a customized voicemail will appear here
Do Not Disturb: When enabled, all calls go to the inbox voicemail or the specified number
If Outside Office Hours: Manage Office Hours to forward calls to the inbox voicemail or specified number when your team is not in office
If There's No Answer: When the call is not answered (inside office hours and do not disturb is disabled) send to inbox voicemail or specified number
Step Three: Connect An Email
Connecting an email to a team inbox is great for info@example.com email addresses or email accounts that are managed by a number of users. We will use your email account to send, receive and manage email directly in Follow Up Boss, sync email history with your leads and report on lead source performance.
Note: If an email is connected in a user's settings, it cannot be connected to a team inbox.

Step Four: Save Your Settings
After everything is set up as you like, click Save in the bottom right to confirm the inbox settings.

Related Guides
Team Inbox: On the Mobile Apps
Team Inbox: Caller ID and Notifications
Team Inbox: How to Set Office Hours
Team Inbox: Working Your Missed Calls, Texts & Emails
FAQs
Team Inbox Numbers
What is my default team inbox number?
It will be your company number unless you add an additional number to your inbox OR you create an additional inbox.
Can I have more than one team inbox?
Yes. If you have 2 or more calling licenses.
Can I have more than one number per team inbox?
Yes. If the Team Inbox has more than one number, the phone label will be present to indicate which number was called.
Can I port in my own numbers?
Can I change my team inbox numbers?
Yes, you can change the phone number associated with this team inbox. If you have already given out this number to clients or printed it on any media then changing this number is not advised. Anyone trying to call the old number will find it out of service. Instead, just add an additional number to that inbox. Here is more information: Edit Virtual Numbers
Can I make a team inbox my default number?
Yes, you can choose a team inbox number as the default number to use for making calls and sending texts on the desktop and in the mobile apps on the My Settings page on the desktop.
Should I share our team inbox number?
Yes! This is meant to be a marketing line to manage inbound sales calls.
Call Routing
Who will receive the inbound calls to a team inbox number?
By default, we will ring the Call Routing Team Members based on the inbox settings. Exception: If the Company Number is called by a known contact, the call will go directly to the assigned agent.
What if I don't want calls to go directly to team members?
If you prefer to not ring team members directly, enable do not disturb on the inbox settings.
What happens when someone declines a team inbox call?
Calls declined on the desktop will not impact call routing, as the call will continue to ring the other team members assigned to receive calls. On mobile, if a call is declined the call will go to your mobile voicemail and will stop ringing everywhere else. To avoid this from happening, enable press 1 to answer in the Team Inbox settings.
Can I forward team inbox calls to an outside calling system?
Yes, add the outside calling system to the outside office hours or if there's no answer settings.