Call recording in FUB is beneficial for teams of all sizes. Whether you are on the road taking a call and need to reference it later or you are listening to call recordings for coaching purposes, we have you covered. Enable calling to gain the benefits of call recording within Follow Up Boss. 
Important: Make sure to check which laws apply to you with your lawyer before enabling this feature as some states do not allow call recordings. Call Recording is disabled by default.
How to Enable Call Recording
Call recording can only be enabled by account owners.
1. Click your Image/Initials in the upper right-hand corner > Power-Ups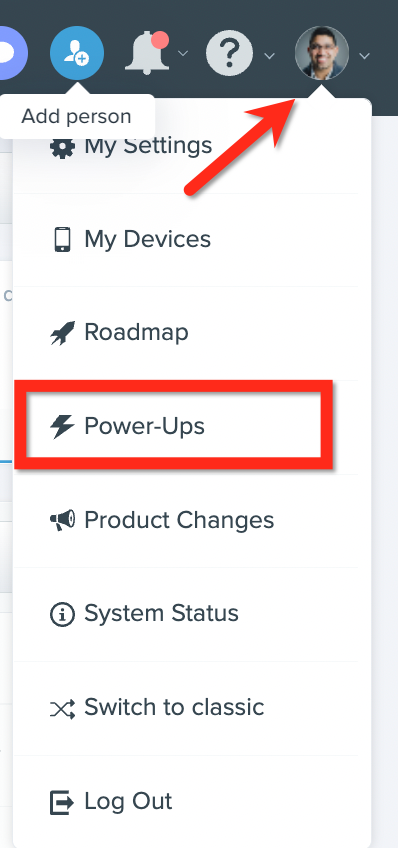 2. Under Account Features, toggle On Call Recording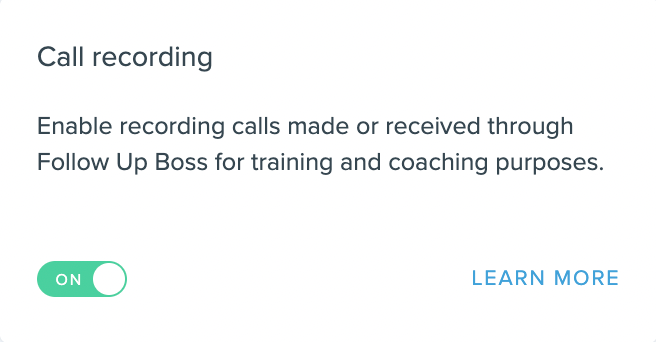 How to Disable Call Recording for Specific Users
After call recording is enabled on the Power-Ups screen, it will apply to all users in your account by default. To disable call recording for specific users but leave it enabled for everyone else, account owners can untick the Record Calls checkbox on the Admin > Teams page. When the Record Calls checkbox is unticked for a user, their calls will not be recorded. 
Note: Incoming calls and transfers to Shared Inboxes will still be recorded if call recording is enabled on the Power-Ups screen, regardless of the individual user settings on the Admin > Teams page.
Call Recording on Mobile
The recording will take place for calls to your FUB number picked up via the mobile app or forwarded to your cell phone.
Calls initiated outside of the Follow Up Boss mobile app on your personal cell phone will not be recorded.
Shared Inboxes
Calls will be recorded for both users with a FUB Calling number, or any additional cell phone numbers that are part of your inbox.
Call Transfers
Calls will be recorded if initiated or received via your FUB number.
Calls transferred to a shared inbox will be recorded, no matter how the call is picked up.