Call Lists allow you to create a list of contacts that can be called in rapid succession using our calling add-on. By using the Call List feature, you'll be able to call your leads at lightning speed, saving you time from clicking around and keeping you focused throughout your list.
You will need our Pro or Platform plan to utilize this feature. (List of FUB Plans)
How to Create a Call List
There are two ways to create a call list, both start on the People page.
If you want to select specific people for your call list use the checkboxes on the left side of the people table and select all of the people you want to have in your list. Then press the button at the top with the phone icon to create your call list
If you want to turn any smart list into a call list just click on the smart list to load it in the table, and then click the button at the top with the phone icon to create your call list.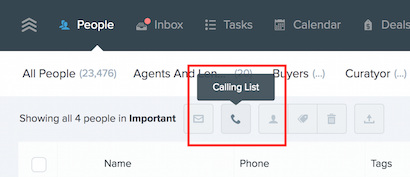 When creating your call list we'll automatically strip out contacts with no numbers, or numbers that have been marked as bad in Follow Up Boss. If a person has multiple phone numbers, we'll use the same number that is displayed on the people table as the one to call in the list.
Making Calls with Your call List
When on the phone during a call list session, we'll show some extra information such as a link to the full list, a button to skip instantly to the next person, and your position in the list. As soon as a call starts, we'll bring you to the page of the person you are speaking to for easy access to take notes and view history.

Between calls, you'll have the opportunity to take notes or take a break while we retain your progress in the list. When you're ready to resume, press the next button to call the next person. If you want to hide the call bar, press the red x near the middle of the screen. Even if you hide your call list you can resume it at any time (see below).

Resuming a Call List in Progress
Follow Up Boss will automatically resume your call list if you navigated away from the page or reloaded with it open.
If you've previously hidden a call list without finishing it, you can always resume it by clicking the call list button at the top of the people table, and choosing resume existing list.