Integration Types
API
Email
Zapier
Follow Up Boss Pixel
ActivePipe automates seamless property journeys that nurture your clients and identify hot leads.
API Integration
Note: The integration needs to be completed from the owner's account.
1. Create a Follow Up Boss API Key by going to Admin > API
2. Select Create API Key

3. Name the API Key Active Pipe > Create API Key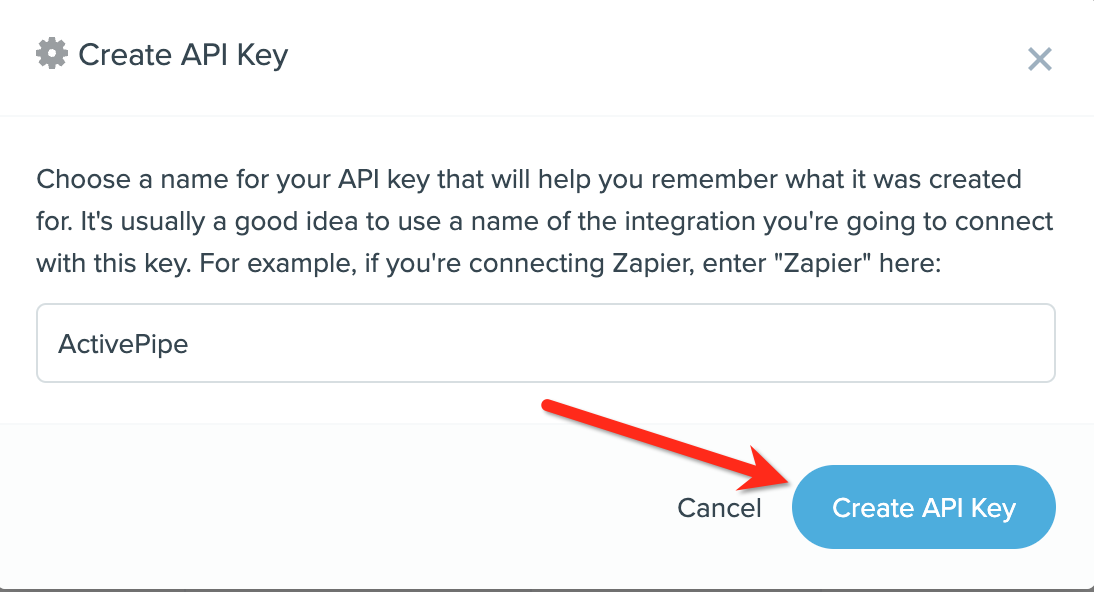 4. Press Copy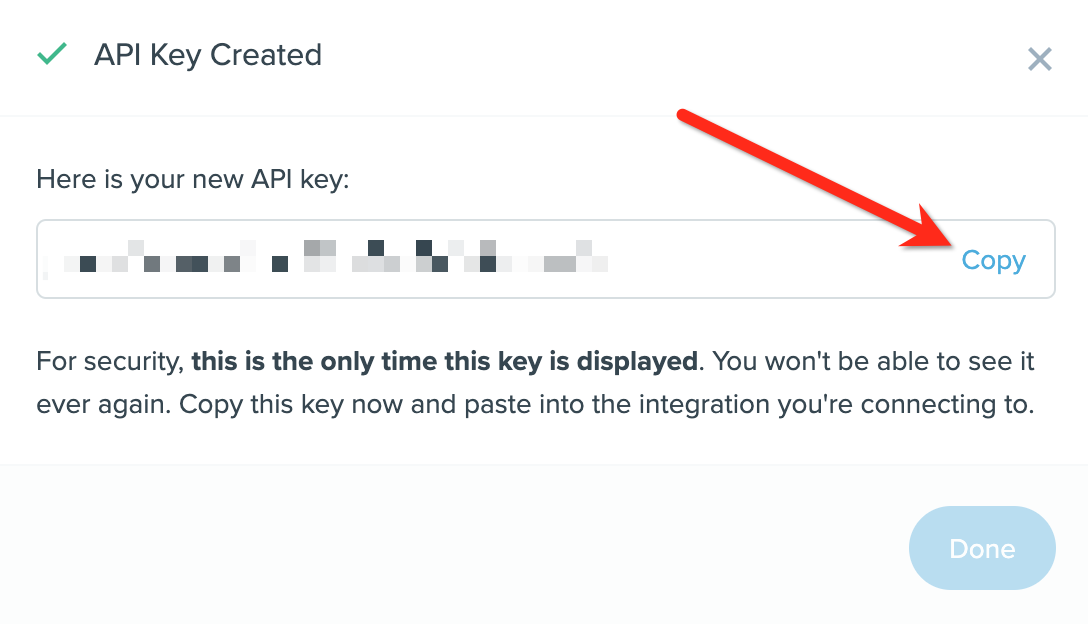 5. Email the API Key to ActivePipe Support to set up the integration at support@activepipe.com.
Additional Information
With the ActivePipe + Follow Up Boss integration, existing and new Follow Up Boss contacts will be automatically added as contacts in ActivePipe. Any updates to the contacts in Follow Up Boss will update the contacts in ActivePipe (these updates will sync every 2-3 hours). Any updates to the synced contacts in ActivePipe will update the contact in Follow Up Boss.

Any contacts added directly to ActivePipe will not be added as new contacts in Follow Up Boss.
Only the first email address on a profile in Follow Up Boss will sync to ActivePipe. Secondary email addresses and relationship email addresses will not sync.

Active Pipe syncs individual leads, not Ponds as a whole. The pond lead is the only user who will have visibility to pond leads in

Active Pipe.

Follow Up Boss Tags and Follow Up Boss Stages will be synced to ActivePipe as 'Tags'. Property preferences like bedrooms, baths, location, and price will also be synced to ActivePipe. This allows you to segment and targets your database in ActivePipe when sending campaigns.

When you send an ActivePipe campaign, you will see the campaign listed in Follow Up Boss timeline with the ActivePipe logo.

Any opens, clicks, or unsubscribes from the ActivePipe campaign will be synced back to Follow Up Boss.
FAQs
Why can't I see email campaign events sent from ActivePipe in Follow Up Boss?
If your ActivePipe email campaign events are not appearing in Follow Up Boss, it is likely that the campaign itself in Active Pipe is misconfigured. When this occurs, updates from ActivePipe will not appear on the timeline correctly. To address this, please reach out to ActivePipe support to ensure the campaign identification is being set and sent to Follow Up Boss correctly.
Why does the email show the wrong name for my lead when clicking the View Campaign link in Follow Up Boss for an ActivePipe campaign?

This is just a display issue; the actual email sent to your lead would have the correct name.
When the email is sent from Active Pipe, they customize the message using your lead's information in FUB; however, the link shown in Follow Up Boss will be to an example message, not the personalized message sent to your lead.
This is currently being addressed by the ActivePipe team to help create a smoother experience, but rest assured that the actual email body sent to that lead has the correct information and what is displayed in Follow Up Boss is only based on a link without the dynamic content generation applied.
Questions?
Email support@activepipe.com or visit ActivePipe Support.