Integration Types
API
Email
Zapier
Follow Up Boss Pixel
Connect Mailchimp with Follow Up Boss to send marketing emails to contacts in your database. Use Follow Up Boss' built-in Mailchimp integration to automatically sync all contacts from Follow Up Boss to Mailchimp, or use Zapier for a more customized integration. Mailchimp is free for up to 2000 contacts. If you have a larger database, you can also check out their pay-as-you-go option. 
API Integration
To automatically sync all contacts in your Follow Up Boss to your Mailchimp audience, you will need a Mailchimp account and Admin-level access in Follow Up Boss. 
Note: Agents can connect to Mailchimp using Zapier and these steps.
Log In to a Mailchimp admin account > click the icon in the top right-hand corner > Profile > Extras > API Keys
Click the

 

Create A Key

 

button > Name your key Follow Up Boss > Copy API Key
In Follow Up Boss, go to Admin > Integrations > Mailchimp
Click the Settings Tab at the top of the page
Paste the API Key from Mailchimp > Save API Key > Connect
Choose the Audience you want your Follow Up Boss leads to sync into. If you don't have an audience yet, you can create an audience using these steps.
Click Connect
Note: Depending on the number of contacts, it may take some time to sync all your contacts into Mailchimp. Once you click on "Save List", you can safely navigate away from the page and your contacts will continue to import in the background. 
Your Follow Up Boss contacts will be synced to the audience you chose when connecting to Mailchimp. Use details like tags, assigned agent, and stage to create segments within your audience. 
How It Works
When you connect your Mailchimp account to Follow Up Boss, all your Follow Up Boss contacts are synced to one list of your choice in your Mailchimp account. You can segment your audience in Mailchimp using things like tags or assigned agent to target your email marketing. The messages you send, opens, clicks, and unsubscribes are all synced into Follow Up Boss automatically:

The Last Sent Marketing Campaign column will show your Mailchimp messages and can be used on your smart lists. 
The integration will sync your Follow Up Boss contacts to your Mailchimp account once a day. If a contact is ever removed from your Mailchimp list, the integration will automatically add it back on the next sync.
Information that Syncs from Follow Up Boss to Mailchimp:
For each contact in your database, Mailchimp will sync:
Name
Email (Mailchimp will sync one email per contact)
Phone number (Mailchimp will sync one per contact)
Assigned agent
Stage
Tags
Source
Price
Updating the fields above in Follow Up Boss will also update in Mailchimp. The exception is Email, which will create a new contact in Mailchimp (see more under Known Limitations). 
Note: Relationships and their contact info are not synced from Follow Up Boss into Mailchimp. When a contact unsubscribes in Follow Up Boss, the unsubscribe is not synced to Mailchimp. 
Information that syncs from Mailchimp to Follow Up Boss:
The email message you sent
Open activity 
Click activity
Unsubscribe activity - when a contact unsubscribes from Mailchimp, they will be unsubscribed from marketing emails in Follow Up Boss as well. You may still email them directly. 
Resubscribe - when a contact is re-subscribed in Follow Up Boss the contact will not be automatically re-subscribed in Mailchimp. Reach out to Mailchimp directly to have contacts re-subscribed in the Mailchimp database. 
Note: Tags are not synced from Mailchimp into Follow Up Boss.
Known Limitations
Mailchimp does not sync relationships' contact information. Create a new contact for the relationship if you want to include them in Mailchimp marketing messages. You can also use a batch email in Follow Up Boss to email all contacts, including relationships.
Mailchimp uses the contact's email address as the unique identifier. This means that if you edit a contact's email address in Follow Up Boss, the previously synced contact will keep the old email address and a new contact will be created in Mailchimp with the new email address.
Required fields in Mailchimp are not compatible with the Follow Up Boss integration. All fields (besides email) need to NOT be marked as required in your Mailchimp settings, like so: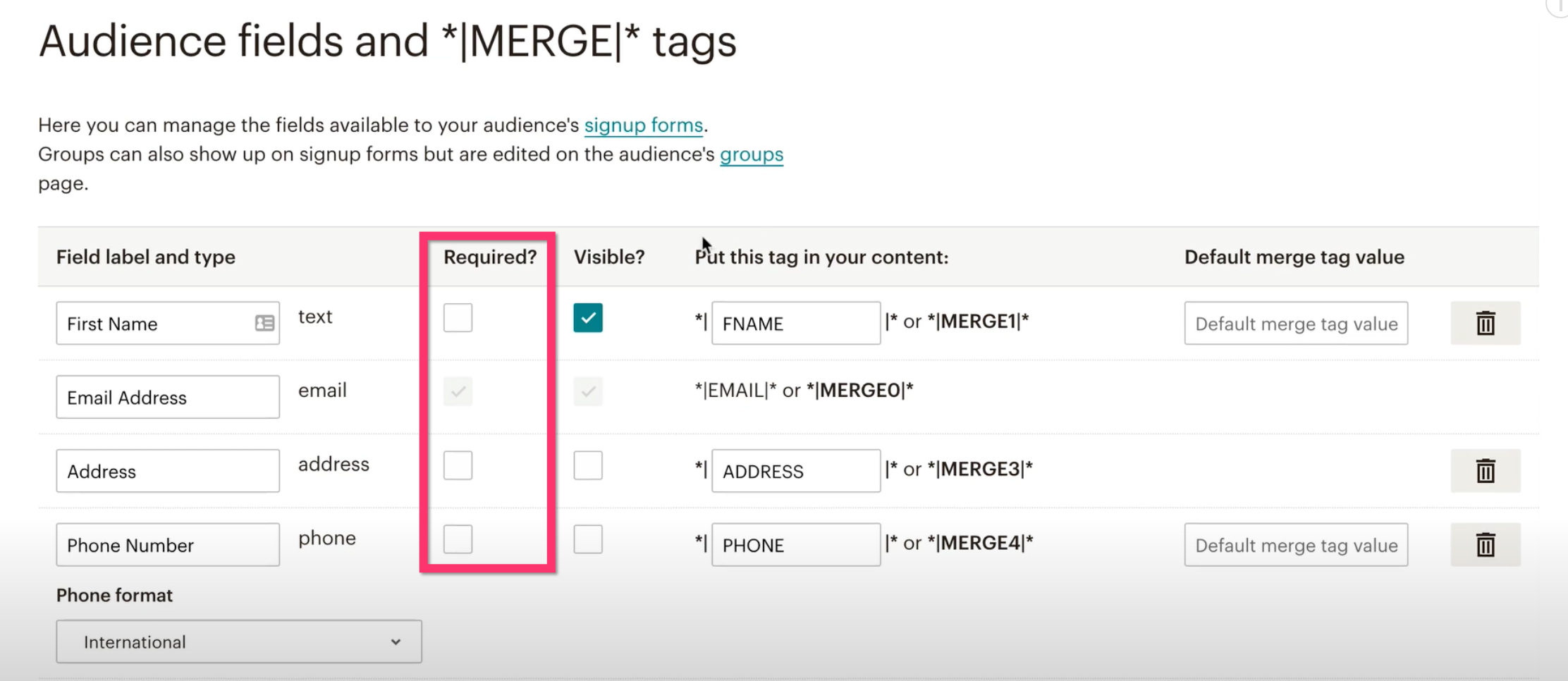 FAQs
How do I choose which contacts to sync from Follow Up Boss to Mailchimp?
This Mailchimp integration will sync all contacts. To choose which contacts, use Zapier, which will allow you to sync specific types of contacts. See all Mailchimp and Follow Up Boss zaps here.
How can I connect my Mailchimp account if I'm an agent (not an admin)?
Use Zapier to sync your contacts to Mailchimp. Steps to create that zap can be found here:
Mailchimp for Agents
.
If I delete a lead in Follow Up Boss, will it delete in Mailchimp?
Yes, if a lead is deleted in Follow Up Boss, it will be deleted in Mailchimp.
Do leads in the stage trash sync to Mailchimp?
Leads in the
stage
trash within Follow Up Boss will not sync to Mailchimp.