Do you have leads assigned to agents who are just too busy to prospect them properly? Every single lead that isn't actively nurtured is a wasted opportunity to close a potential deal. We built Lead Ponds to help you group those leads into opportunities for your team to actively grab and work. 
Note: Ponds are available on accounts with more than one user. Check out Best Practice: Ponds to learn how to close more deals with ponds. 
How it Works
How to Create, Edit, and Delete Ponds
Create a Pond
1. Go to Admin > Ponds > + Add Pond


2. Name the Pond

3. Select the Pond Lead
Note: Action plans and 3rd party systems will use the pond lead's name as the assigned agent.

4. Select the desired Team Members to have access to the pond > Save Changes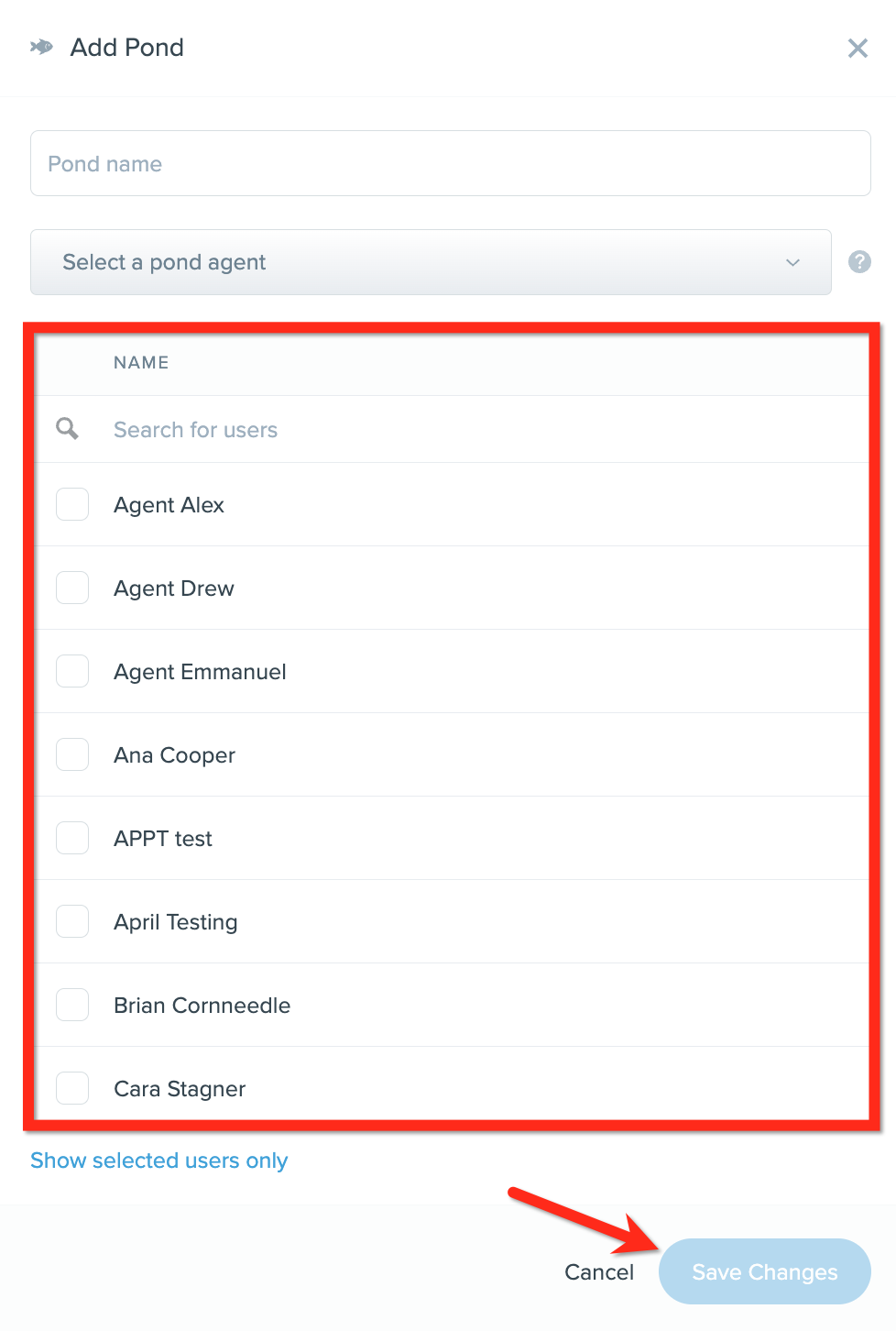 Edit a Pond
1. Go to Admin > Ponds and click the Pencil Icon 

2. Complete the desired changes > Save Changes
Delete A Pond
1. Go to Admin > Ponds and click the Trash Icon

2. Select an Agent to reassign leads to > Delete Pond and Reassign Leads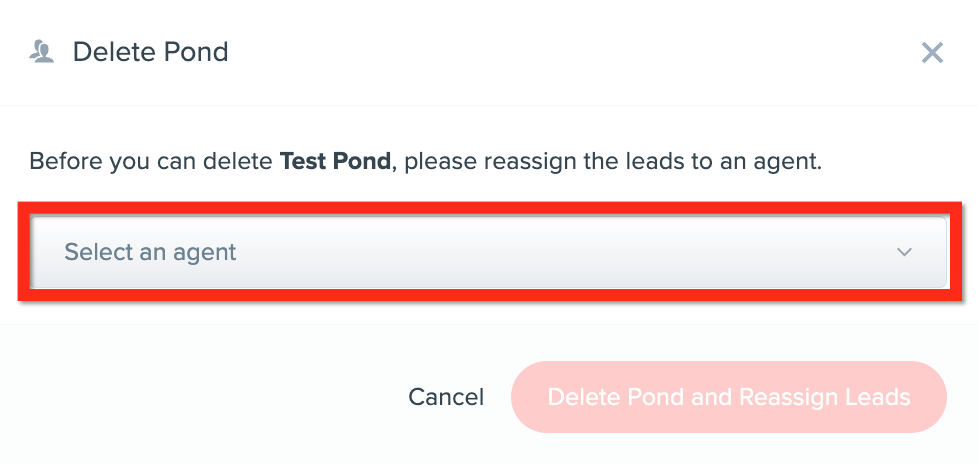 Note: The pond name will be added as a tag to all reassigned leads. 
Tip: If you want leads assigned to another pond, use Mass Actions to reassign leads before deleting the pond. 
Additional Resources
Moving Leads to a Pond
Viewing Ponds
Assigning New Leads Directly to a Pond
Claiming a Lead From a Pond

FAQs
What happens if I move my lead into a Pond that had an active action plan?
Action plans will continue to run. The Pond Lead Agent will be used for the "Agent assigned to the contact". See Action Plans Overview for more information on action plan options.
What happens if I move my lead into a Pond that has any assigned Tasks?
Completed and future tasks stay with the lead and are not removed. Existing tasks
that were created by an action plan for the "Agent assigned to the contact" will be reassigned to the Pond Lead Agent. 
Can I assign somebody to a Pond from lead flow?
Yes. And when a new lead is added to a pond via lead flow, all agents in the pond get notified via email.
Who gets notified when there is an activity in the Pond by a lead?
Phone Call/Text & Emails will route to whom they are connecting directly. For an activity such as a new property inquiry, we will notify the Pond Lead agent for that Pond. We are actively researching how best to incorporate First To Claim or Round Robin with the Pond.
Can I see a report or set quota limits for Ponds to help coach my team?
No, but this is something we are considering how best to show this information for reporting.
Can I add an automation trigger to automatically place a lead in a Pond after 'X' amount of time?
Not yet, but this is something our automation team is researching.
How do permissions work with Ponds?
Agents - Can assign leads only to the ponds they have permission to... Agent as Contributor - They can only assign leads to the ponds they have access to for that lead. Admin - Access to all ponds and edit control of the pond. ISA / Account -  Access to all ponds Team leader of a Team - Access to team ponds they have access to but they can't see other teams' lead ponds.
Do Leads in my ponds count towards my Everyone view count totals?
No, Leads in your Ponds do not count towards your everyone's view total counts and you will notice the number decrease as you move leads into Ponds. When moving Leads to a Pond you will see the everyone count change to reflect the Lead's move to a pond. 
Does the Everyone View Show Pond Leads?
When selecting Everyone view it will now include Ponds in those results. This change was made to address the confusion with "where did my leads go?" when you would move leads to the pond and watch the leads disappear from view. Of course, if they want to filter your smart list to see just pond leads when on the Everyone view you can do that in the smart list filter or choose the Pond you want to view.
Can lenders be assigned to a pond?
Currently, owners, admins, and agents can be assigned to ponds. Lenders cannot be assigned to a pond at this time.
What will they see as the assigned agent for Leads in the Pond?
When a Lead is assigned to a pond, we use the Lead Pond agent info for integrations that retrieve information about a lead's assigned agent for communications. This is also the agent who will receive notifications about the lead if any new inquiries or other events come in. 
How can they retrieve the list of Leads in a Pond?
Our partners will need to review how best to incorporate Ponds into their systems but it's fairly simple. When they query the /people API endpoint records in a Pond will be excluded by default. In order for them to retrieve results, they will have to add the parameter 'includePonds=1' to the query string. This does not impact requesting a specific lead /people/:id will work as usual it is just requesting a list.