The Relationships feature provides a centralized profile to communicate efficiently and effectively with related contacts.
Think: Spouses, business partners, father, son, etc. You can start conversations with more than one person and all communication with these related contacts will show on the same profile. Now it's easy to see the whole conversation and keep everyone in the loop.
Tip: Merge two test contacts before going ahead and merging a lot of people into Relationships!
When to Use Contact Relationships
The best practice is to use contact relationships for the people that you want to follow up with as a unit. The main benefits of adding a person as a contact relationship are:
It's faster and easier to communicate with both of them from one profile (such as group texts, emails, and appointments).
A cleaner database - each relationship only appears on your smart lists once.
A better grasp on communication and the "big picture" conversation with all related contacts.
Here are some questions to ask yourself as you're deciding whether to use the relationship feature:
How many relationships are we talking? Is it a large number, or just a few?
Are most of the relationships married couples, or other kinds of relationships?
Do you want to follow up with the contacts as a unit, or as individual people?
What integrations are you using? How do they interact with contact relationships in FUB?
Most people end up doing a hybrid model, depending on how they work with that contact and their partner/spouse. This is especially beneficial if you are marketing to some relationships as a unit (such as spouses) but others as individual people (roommates, family members).
Use Contact Relationships if:
Keep Separate Profiles if:

You mostly work with your contacts directly through FUB and don't have a lot of API integrations syncing with FUB. Keeping related contacts together makes it easier for you to track your conversations in FUB!
You send a lot of physical mailers. Keeping contacts as relationships will make printing mailing labels easier!
You are tracking additional family members that may not have contact info, such as children.
You want to market to and follow up with the relationship as a unit, not as individuals. We recommend putting your main point of contact in the primary contact spot because that's the name that will show on smart lists.

You are using API integrations such as Mailchimp, Ylopo, or Zapier. These integrations sync the primary contact's info and not related contacts' info.
You don't send a lot of physical mailers. Separate profiles can cause duplicate mailers to be sent, costing you $$$.
You use a lot of automations, such as sending birthday emails.
You want to market to and follow up with the people in the relationship as individuals, not as a unit.
You want to keep communications with each contact on separate profiles.
You want to see both contacts in your smart lists.
How Relationships Work
Creating a New Relationship
1) Go to the primary contact record for a person you wish to add a relationship to
2) Click the + under Relationships to add a relationship, including name, email, phone, and relationship type > Save Relationship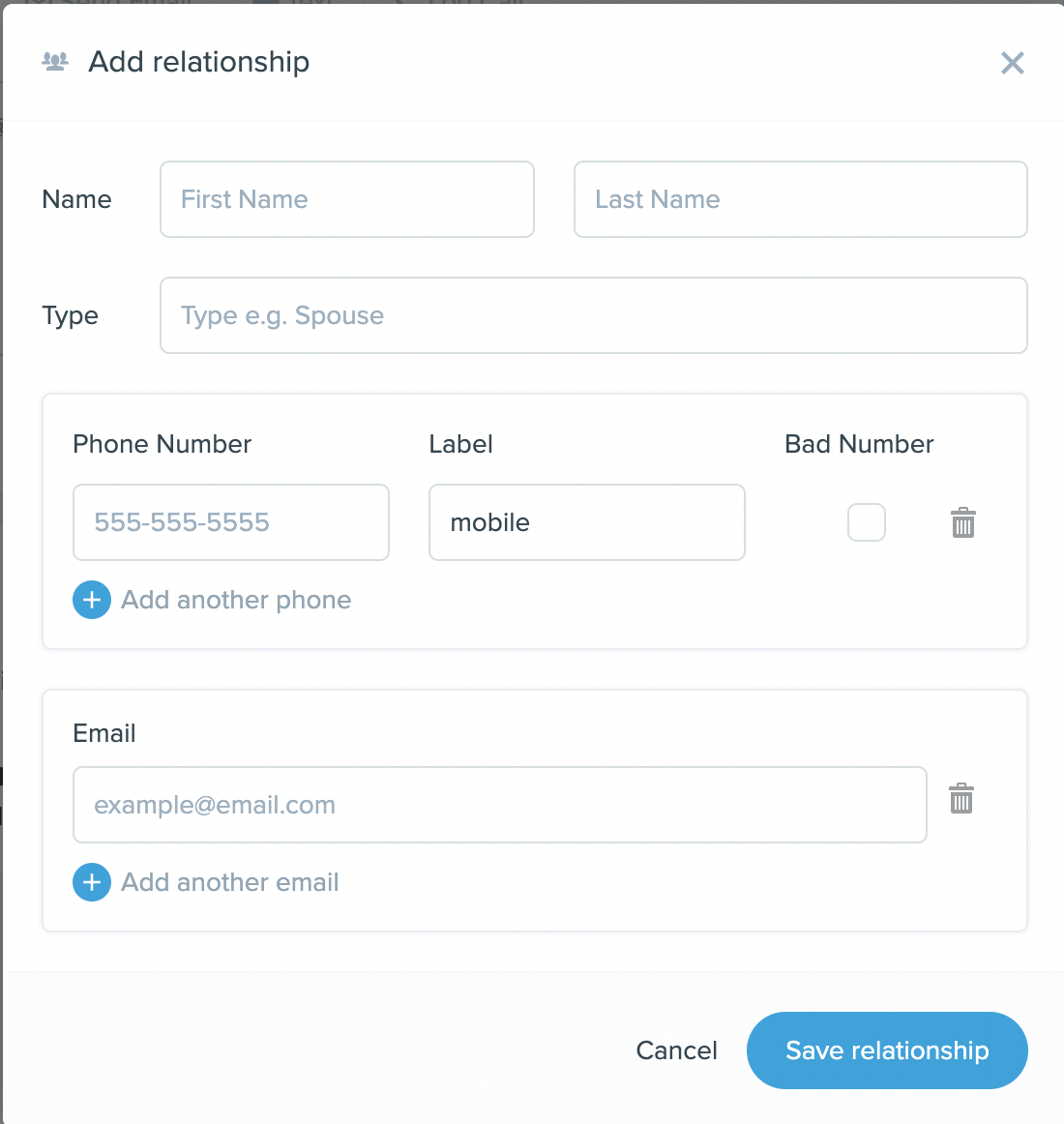 3) Once a new Relationship is saved you can also add address details to that Relationship
Merging Existing Contacts to a Relationship
Mass Actions
1) Go to People > Filter to the desired contacts
2) Select the contacts you wish to merge
3) Click Mass Actions > Merge People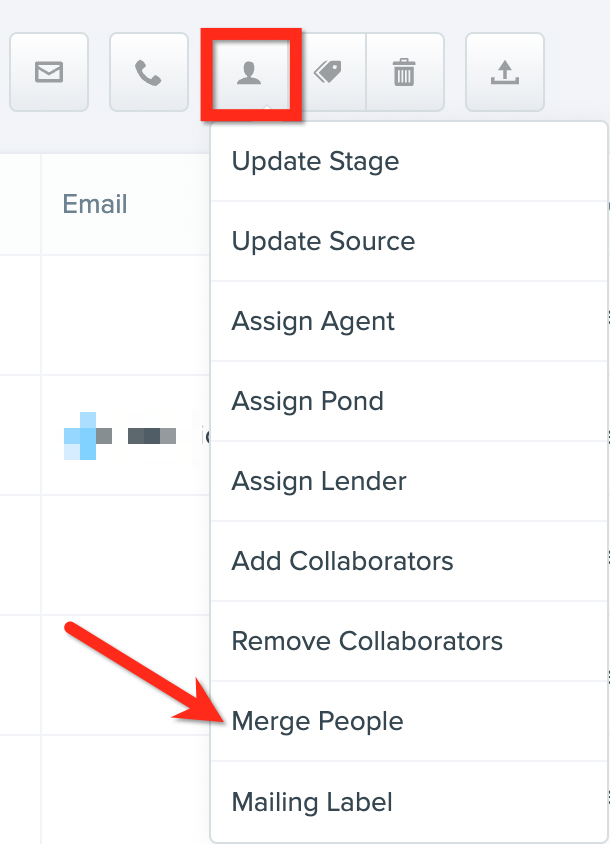 4) Select the main person to merge data to
5) Check Merge people as relationships > Yes, Merge 2 People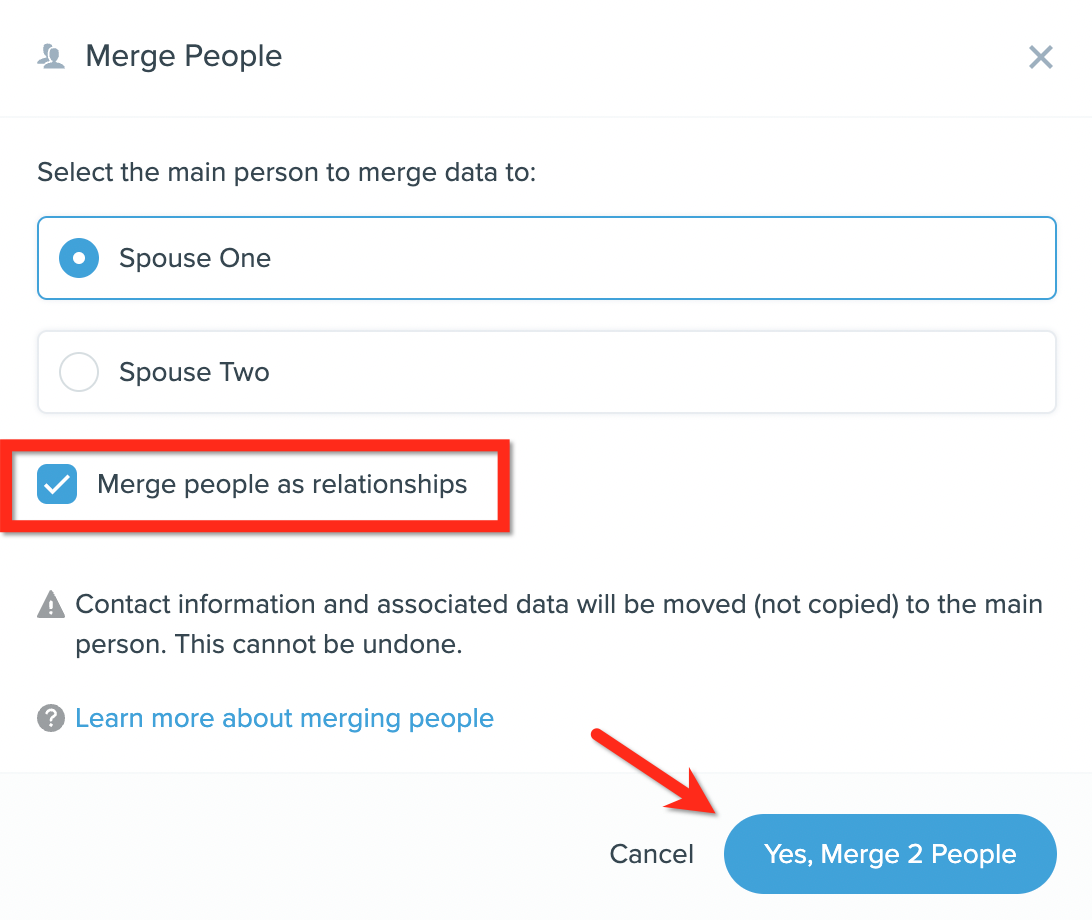 Contact Profile
Another way to merge is to go to the primary contact record for a person you wish to add a relationship to.
1) Go to the main contacts profile
2) Under Relationships, click the Merge Existing Person icon

3) Search by name, phone, or email for the contact > Select the desired contact > Merge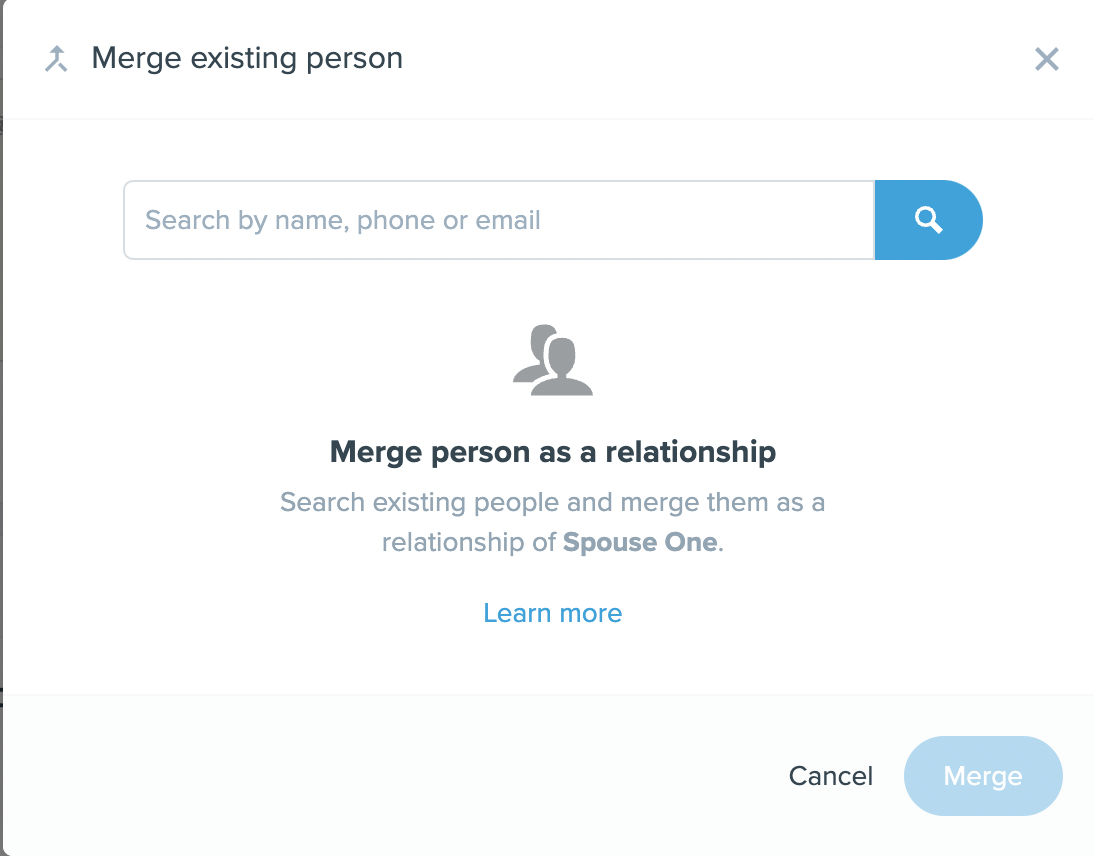 Future Roadmap Considerations
Here are some known items the team is looking into addressing in a future release. As always let us know what you think.
Custom Fields (birthdays and more): Currently an automation can only send an email to the primary contact, not to a related contact.
Third-Party Systems (Ylopo, Zapier, Active Pipe, etc.): Our existing person endpoint will return phone and email details of the related contacts under the primary, but if a 3rd party system wants to directly work with relationships they will need to utilize the relationships endpoint.

Mailchimp syncs only the primary lead's email address.
YLOPO uses the lead's email address to link to Stars and if the lead has multiple email addresses, the Stars link will update with the one for the email most recently online.
Zapier - relationships can't be added via Zapier.
Active Pipe - syncs only the primary lead's email address.

Smart Lists. Relationship contact information is not available to view on smart lists. You can search by Relationship's names though.
Unmerge contacts: When you merge contacts to a relationship, we presently do not have a function for unmerging the contacts.
FAQs
If I list someone as a Relationship, should I also make a separate contact for them?
No, the best practice is to either have that contact listed in a Relationship of the main contact, or keep them separate. This will ensure that the contact's communications and history are tracked in one place within FUB and will make searching easier.
What happens when you merge to a Relationship?
When you merge to a Relationship, past communication and notes from the merged person will be moved onto the main contact's page, leaving you a single profile page with both people's history on it. A merge cannot be undone. The main contact's page will keep the Assigned Agent, Lender, Stage, Source, Appointments, etc. and any additional information from the merged contact's page will be added.
Should I use relationships to track vendors, referrals, title company, or other contacts working closely with my lead?
We do not recommend using the contact relationship feature to track additional contacts such as vendors, the referring agent, or title company. The reason for this is that all communication with relationship contacts will be copied to the main lead profile. If the same vendor or partner appears on multiple contacts, the communication history on the profiles will quickly get messy.
Instead, we recommend using Custom Fields to track vendors, referrals, title company, and other partners related to the lead. The benefit of using Custom Fields for tracking is that information inside Custom Fields can be used as a filter on the People page.
How can you split up contacts from Relationship?
To make separate profiles for contacts who are stored in a Relationship, click the blue Add Person button in the top right, and create a new contact for one of the people. After you have added their contact info to the new profile, delete the Relationship from the original contact record.

Historical communications will remain on the original contact record, so it's a good idea to copy the URL of that profile and add it to a Custom Field, Note, or Background on the new profile for easy reference.
How do we handle Relationship's Birthdays?
We recommend using Custom Fields to track relationship birthdays. For example, you could create a calendar date custom field called "Relationship Birthday."
We will add a way for you to trigger a Birthday Automation for related contacts but currently, you can trigger a Birthday Automation for the primary contact only.
How do Relationships work with my 3rd party integrations?
For integrations that fetch the primary contact's information, such as MailChimp, Relationship contact information won't be picked up by the integration. This means that if you use an integration such as MailChimp heavily, you may want to keep every person as a separate contact in FUB. If you're unsure how your integration works with FUB relationships, feel free to reach out to support@followupboss.com for clarification!
How does email tracking work with relationships?
Follow Up Boss email tracking shows if an email was opened or clicked by either the main contact or the relationship contact. Email tracking is unable to specify which contact completed the action.
How do Relationships work with Zapier or the API?
What happens when you export a contact with Relationships?
To export contacts with relationship information, select "Export All Columns" in the export window. The downloaded .csv file will include up to 4 relationships for each contact. Spouses are prioritized and will always be included in the export regardless of how many other relationships are on the contact. Each relationship will have its own set of columns with the available information.
Can you import related contacts?
Yes! You can create Relationships via an import. You can import up to 6 different relationships per contact/row in your .csv file. More info here: Importing Contacts into FUB