Business Registrations Must Be Completed ASAP
Why is Business Registration required for everyone? 
In an effort to cut down on spam text traffic on their networks, US-based carriers including AT&T, T-Mobile, and Verizon are blocking texts sent from businesses that have not registered with them. Registering your FUB business numbers will let major carriers know that you are a trusted business and deliver your text messages. If your business is not registered, your text messages will not be delivered. 
1. Website Opt-In Language
Before completing the Business Registration form, confirm that you have opt-in language anywhere you are collecting contact details, such as your website. When your Business Registration is submitted, carriers are verifying that contacts are opting in to text communication and know how to opt-out.
Sample opt-in statement: 
"I agree to be contacted by [Your Business Name] via call, email, and text. To opt out, you can reply 'stop' at any time or click the unsubscribe link in the emails. Message and data rates may apply."
2. Employer Identification Number (EIN)
If you are the owner of your FUB account, you will need to have an EIN. Already have your own EIN? Great! Continue to step 3. 
If you do not have an EIN, follow the steps here to apply for one and email the EIN letter to our support team. Thats it! No need to complete step 3. 
3. Register your FUB Numbers
The Business Registration can be completed by owner and admin roles. The form only needs to be completed once as it covers all team members. 
A. Go to Admin > Business Registration > Get Started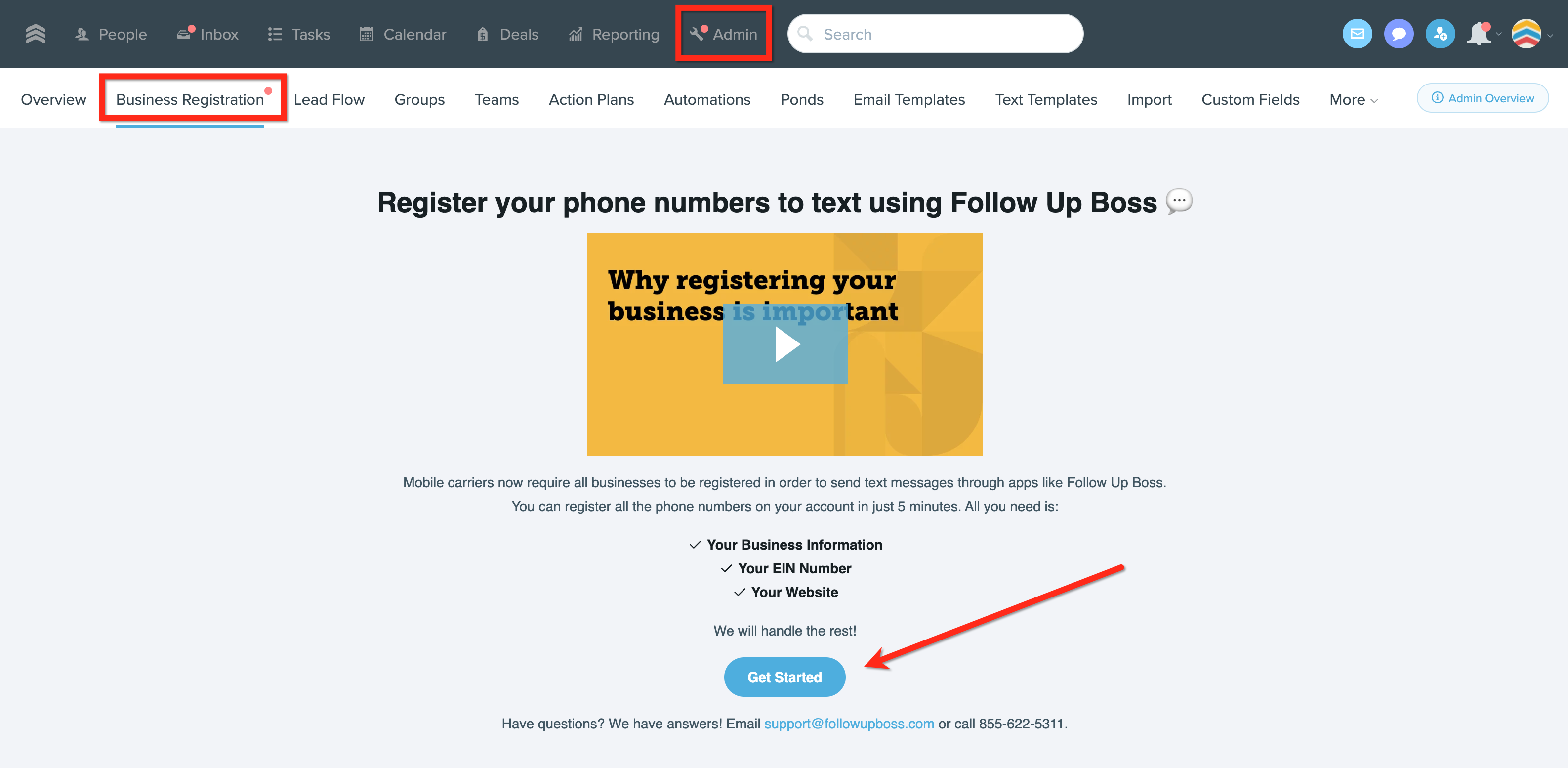 B. Complete the form with the exact business information listed on your EIN/tax forms.
1. Business Information

Note: Use the full URL for your website address. 
2. Registered Business Address

3. Lead Opt-In Consent
Confirm your website has Opt-In Consent.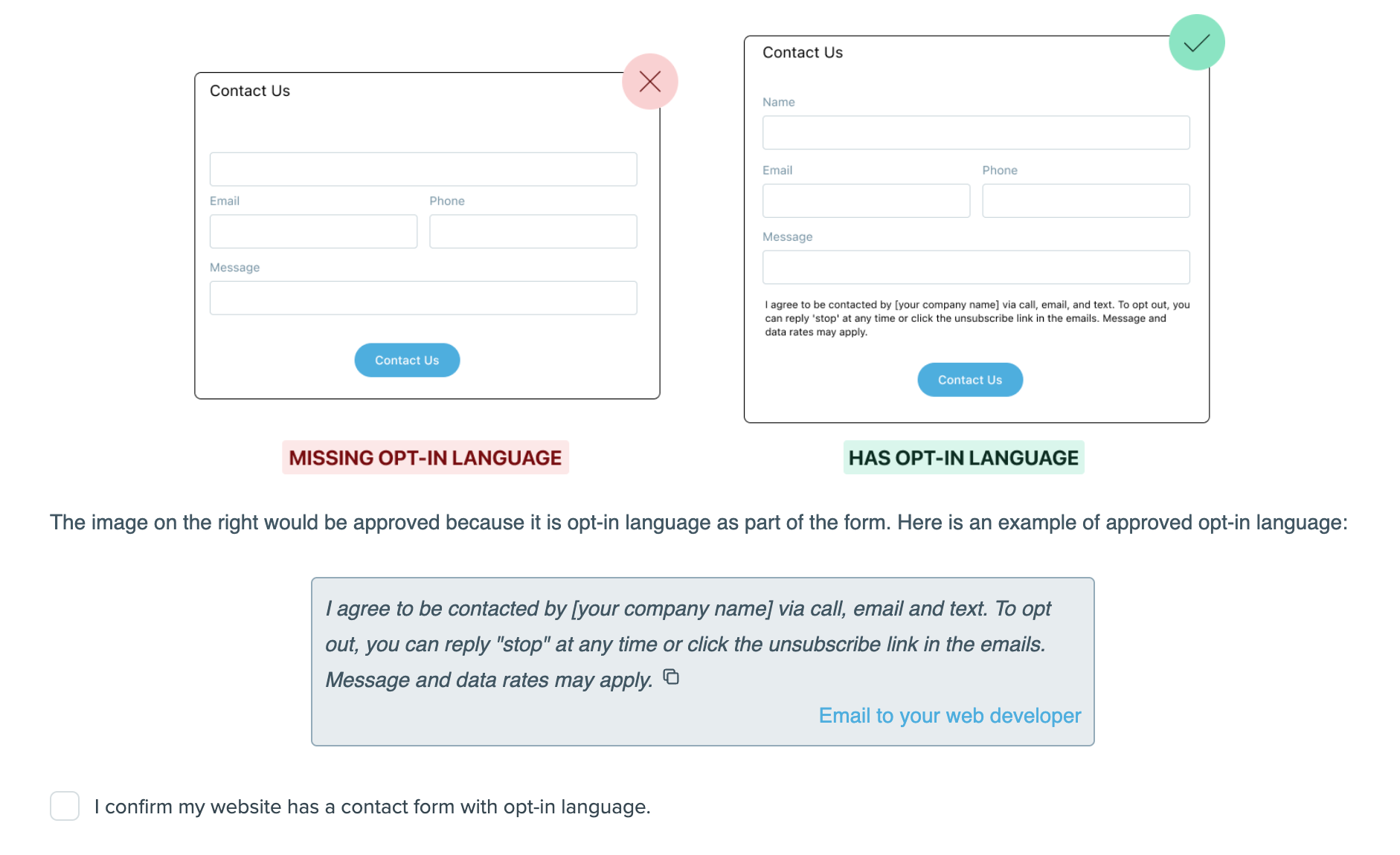 Note: Easily email your website developer opt-in information by clicking "Email to your web developer." 
4. Save
FAQs
Does Business Registration impact calling?
No, the Business Registration only impacts outbound text messages to numbers in the US. Unregistered numbers will still be able to receive text messages.
Will I need to submit a new Business Registration if we add numbers to our FUB account?
No. When you add another number to your Follow Up Boss account (a new Team Inbox number or a number for a new agent, for example), your business profile information will be used to register that new number automatically. 
What do we do if we have more than one business in our FUB account?
Every phone number needs to be registered with a business. Choose one of the businesses to register all numbers on your account under. In the future, we may have a way to separate registrations within an account, but as of today, there is one registration per account.
Can I edit my information after I submit the Business Registration? 
The only reason you will need to resubmit your Business Registration after being approved is if your site domain or EIN changes. In these cases, reach out to
support@followupboss.com
with your new site domain or EIN.
What do I do if my Business Registration is rejected? 
First, confirm all information matches your tax forms exactly. If all fields are an exact match, send your tax form to
support@followupboss.com
to get help completing the form.  
I live in Canada/Mexico, do I need to complete the Business Registration form?
You only need to register if you are sending text messages to numbers in the US.
Here are step-by-step instructions on how to register your business in Canada with your Business Number (BN).  
If you are a business in Mexico with a
Value-Added Tax Identification Number (
VAT ID), please reach out to
support@followupboss.com
to complete the business registration process.