Follow Up Boss Login Info
Follow Up Boss will use your email address as the login name for the account. Your login email can be changed at any point after you login from the My Settings section in your account.
Creating a Password
The security of your data is of the utmost importance. To best protect your account, we require your password to be at least 8 characters long.
Additionally, we display a strength indicator that takes into account not just length, but security best practices.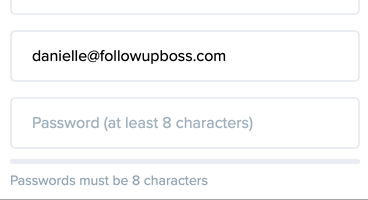 Tips for Creating a Strong Password:
Create a password that is a combination of words, symbols, and numbers, in addition to upper and lowercase letters.
Don't use your brokerage name or something that's easy to guess like, "password."
A phrase or sentence can make for an easy to remember, secure password, for example: Make10MillionIn2020*
Avoid using the same password for multiple websites.
Never use the same password that you use for email.
Do not store your passwords in a document or note on your computer. We recommend a password manager like LastPass.com.
Resetting Your Password
If you forget your password or need to update it, you can press the "Forgot Password" link on the login screen, or click on the link below:
https://login.followupboss.com/login/forgotPassword
*When resetting your password, please remember the password best practices listed above.