Caller ID enables the FUB Android app to ID incoming phone calls from your Follow Up Boss contacts so you can quickly see if a lead is calling you.
To enable Caller ID for Android, the OS of your device must be Android 10 or above. In order for the feature to work, you will need to complete the following:
Grant permission to manage phone calls.

We will need this to be able to see when you are receiving a phone call.

Grant permission to draw over other apps.

We will need this to be able to display the caller ID over other screens when you are receiving a call.

Set Follow Up Boss as the default Caller ID app

We need this so your device knows to check the Follow Up Boss app too in order to find the right name for your Caller ID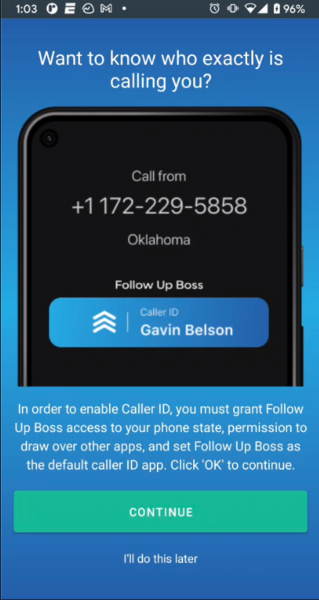 We should be able to ask you to enable these permissions immediately when you want to enable Caller ID when you see this screen above, but in some cases, you enable these permissions manually.
FAQ:
I've enabled Caller ID with my other phone, why isn't it enabled for my device?
Caller ID must be enabled per device so if you enable the feature, it is enabled for that device specifically. Disabling the feature will not disable Caller ID for any other devices you may be using.
How do I enable Caller ID?
If your Android device's OS level is 10 or above, your device is eligible. First go to your settings and see the row Caller ID and click on it to begin setting it up. If this is your first time setting up Caller ID, you will see the image above. Follow the prompts and you will be all set! If you need help with the permissions, feel free to contact Support at 1-855-622-5311.