You've heard Gabe Cordova talk about his custom Smart Lists and now you can have them as well! This guide will cover how Gabe organizes his People screen and the Filters he applies to create his custom Smart Lists. (Attend an Office Hours with Gabe to hear how he uses these smart lists.)
Customize Your People Screen
Gabe organizes the Columns on his People screen in a specific order as follows:
Name
Stage
Last Activity (sort new to old)
Last Visit
Properties Viewed
Properties Saved
Ave. Price Point
Last Marketing Text Reply
Last Call Made
Calls Made
Last Communication
Agent
Pond
Created
You can select which Columns to be displayed under the Columns drop-down menu on your People screen. Simply select the Columns listed above and remove the checkmark from any you don't need.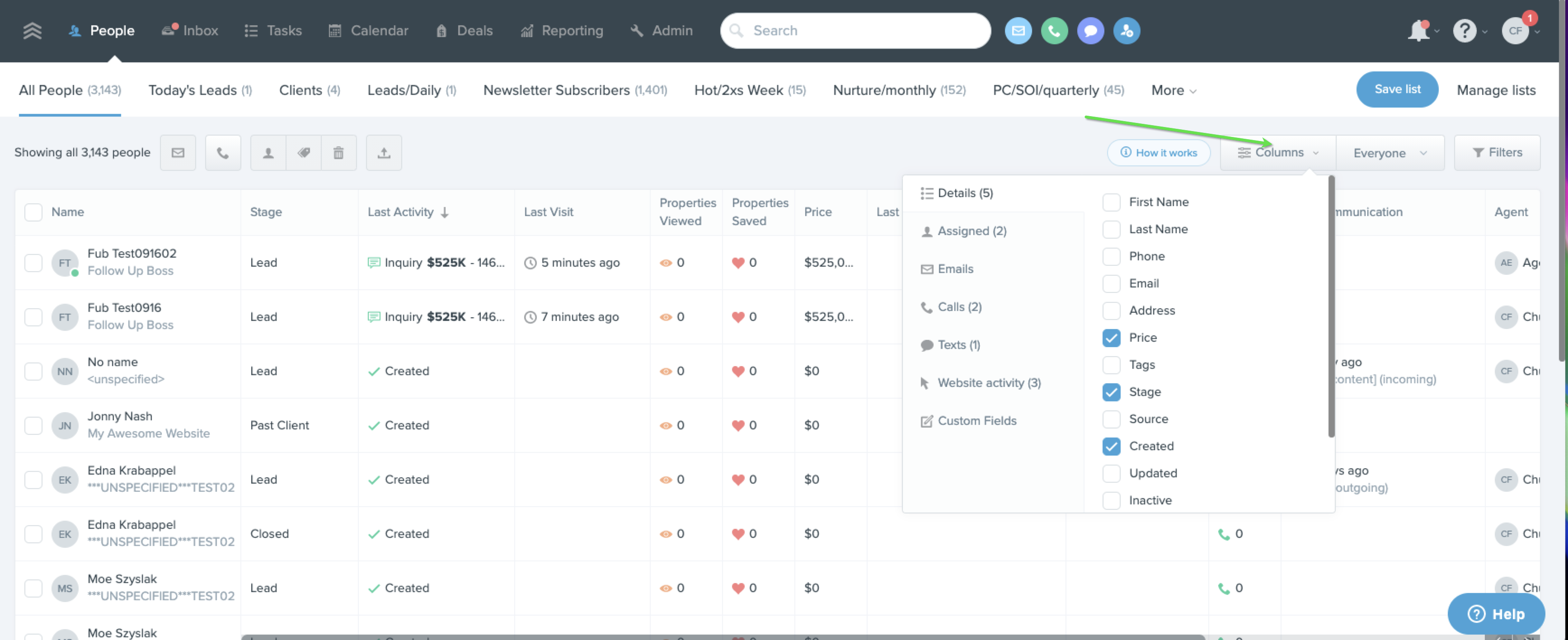 Use the handle at the top of each column to reorder them.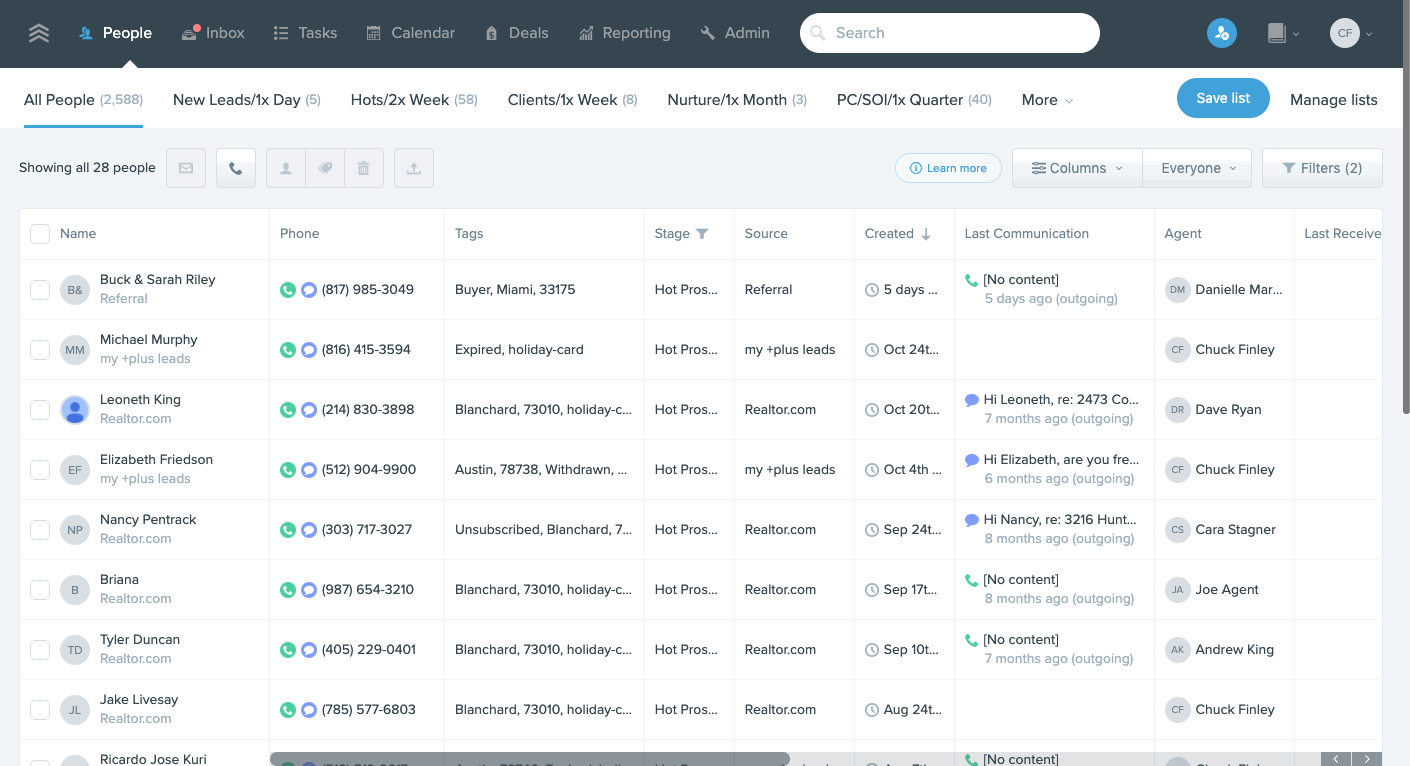 Custom Stages
The Custom Stages Gabe uses are listed below. You can add these to your account by going to Admin > Stages.
A = Hot lead 30 or less
B = 1 - 6 Months
C = 6 Months+
Agreement Signed
Appointment Set
Active Listing
Pending
Do Not Contact
Building Your Smart Lists
Below you will find the recipe for each of the Smart Lists Gabe uses. Each list has a Title, Description, and a set of Filters. You can build them one at a time and save each one before moving on to the next. Gabe uses lists 1 - 5 as well as A, B, and, C.
1. Handraiser
Description: Leads tagged Handraiser by YLOPO and not called in a day
Filters:
Tags include HANDRAISER

Last Call Made more than 1 day ago
2. HB Eng.
Description: Leads not in the pipeline stages tagged as engaged by Homebot and not called in a day
Filters:
Tags include HOMEBOT_ENGAGED

Last Call Made more than 1 day ago

Tags exclude Do Not Contact

Stage excludes A= Hot lead 30 or less, B= 1 to 6 Months, Agreement Signed, Active Listing, Pending, Appointment Set, Do Not Contact

Phone is good
3. CM-Hot
Description: Leads tagged as hot by Conversion Monster and not called in a day
Filters:
Tags include CM-HotLead

Last Call Made more than 1 day ago
4. AI Replies
Description: Leads who have responded to Raiya or a 3rd party text
Filters:
Last Marketing Text Reply is not empty

Tags exclude Hide
4.5. Nudges
Description: Leads tagged Nudge by someone on the team not called in a day
Filters:
Tags include Nudge

Tags exclude X-Nudge

Last Call more than 1 day ago
5. Active Priority
Description: Tags include YPRIORITY
Filters:
Last Activity less than 14 days ago

Last Call more than 18 hours ago

Phone is good
A's
Filters:
Stage includes A= Hot lead 30 or less

Source excludes Sphere, Agent Recruit, Agent

Last Call Made more than 7 days ago
B's
Filters:
Stage is B= 1 to 6 Months

Source excludes Sphere, Referral, Agent Referral, Client Referral

Last Call more than 14 days ago

Ponds exclude all
C's
Filters:
Stage is C= 6 Months +

Source excludes Sphere

Last Call more than 30 days ago

Ponds exclude Don't Touch Leads