Filtering Contacts
The first step in creating a smart list is pinpointing the contacts you would like to see. We do this using filters.
You can choose to filter directly within the column, by using the Filters Tab on the right side of the screen, or a combination of both.
Filtering By Column:

1. Click Name of the Column
2. Click "Add Filter"
3. Choose Options on Right Side of Screen
Click here for Smart List Column Definitions
Filtering Using Tab: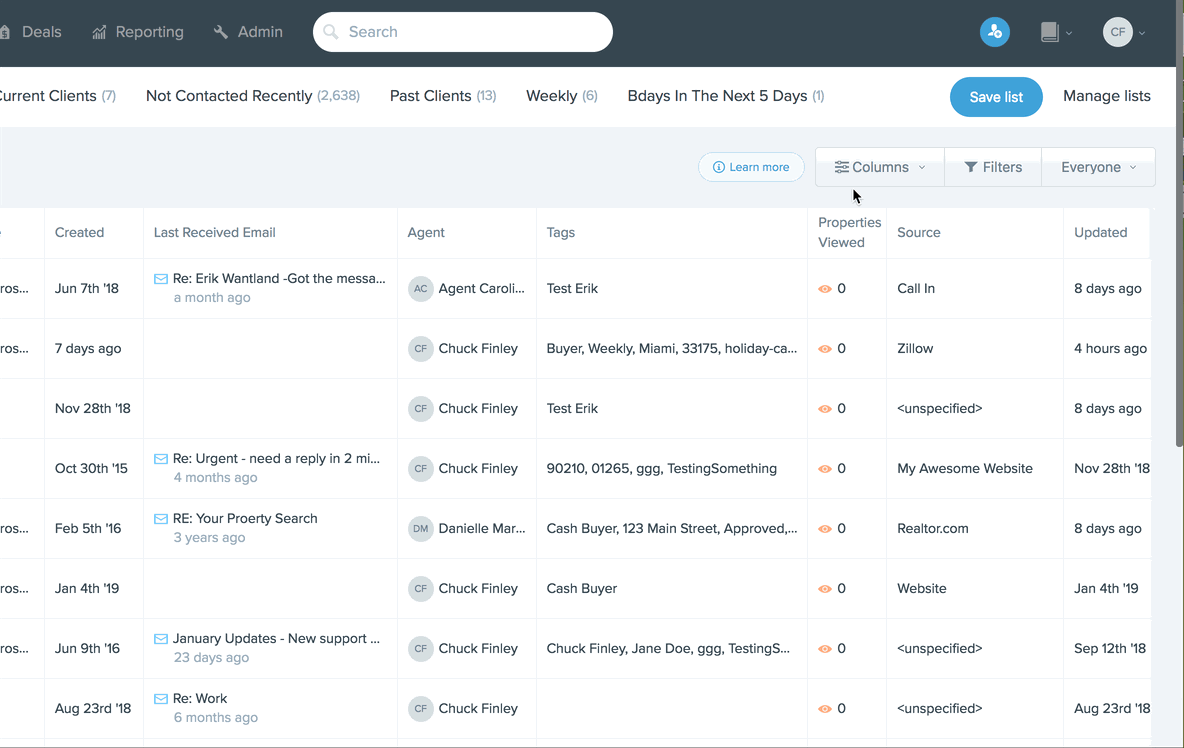 1. Click Filters Tab
2. Search for Filter Name
3. Choose Options
Creating a Smart List
Once filters are set, you can save your list. Think of this like "saving a search" - your Smart List will always populate using the criteria you set. No need to filter again.
1. Filter for Contacts You Would Like to See
2. Click "Save List"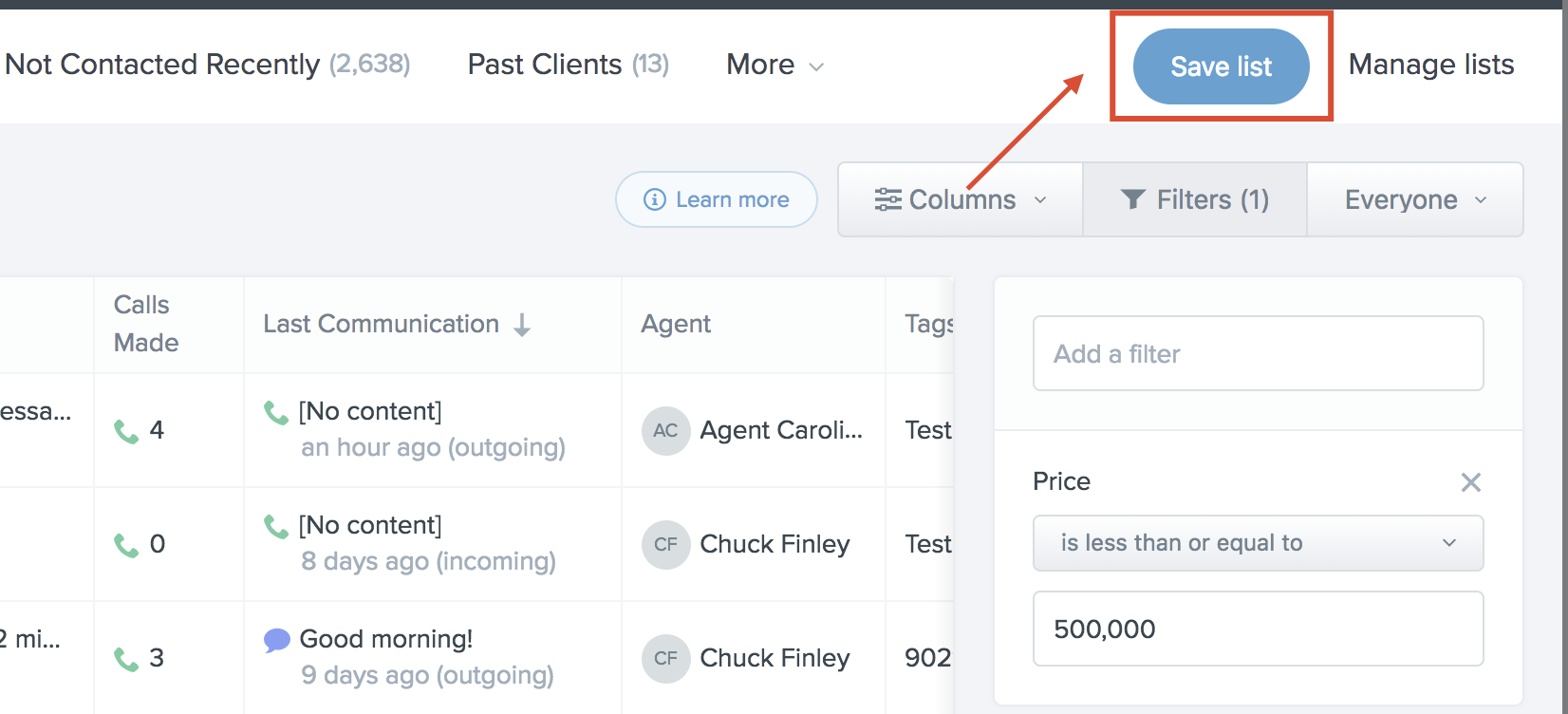 3. Name Your List & Enter Description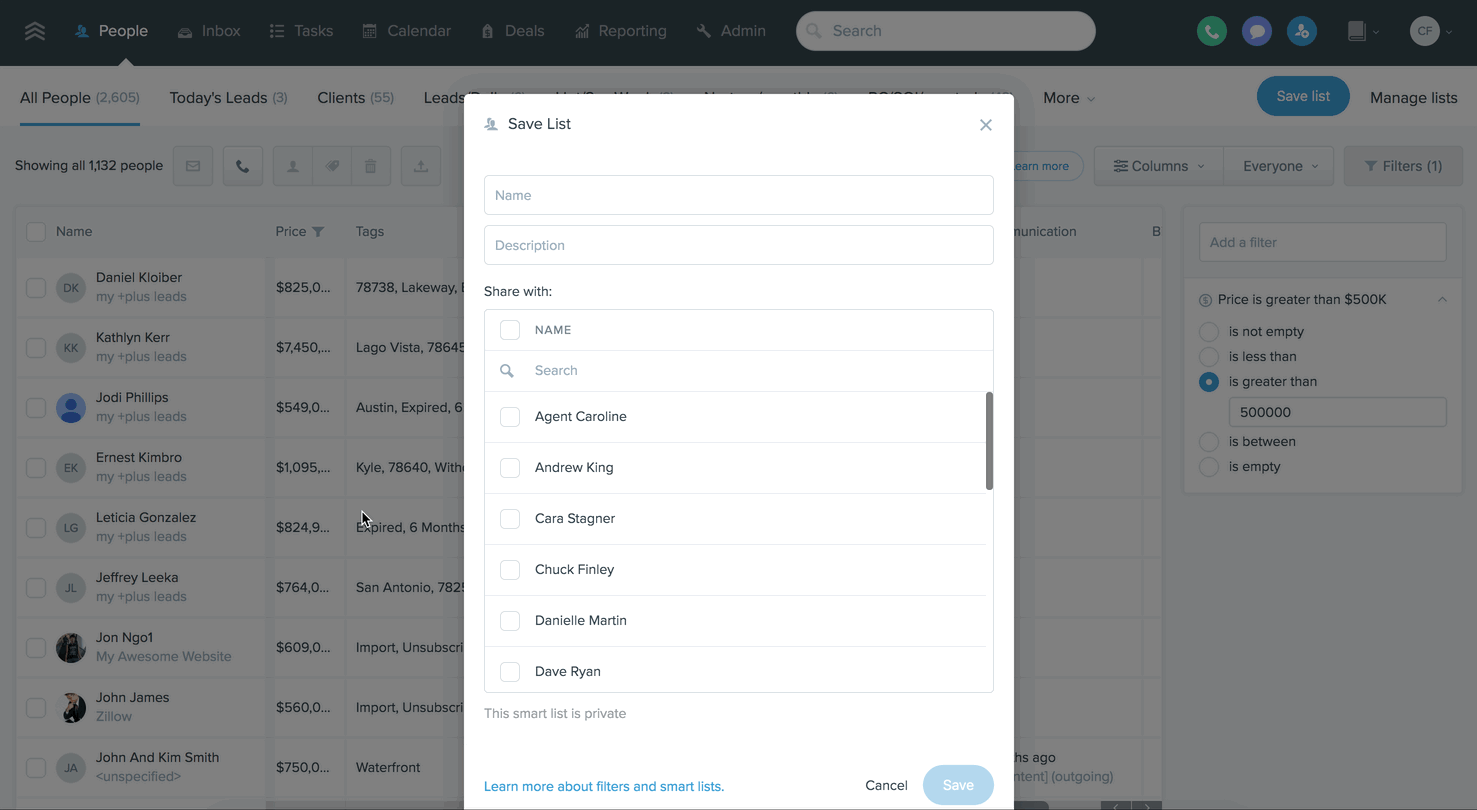 4. Choose Sharing Settings (optional):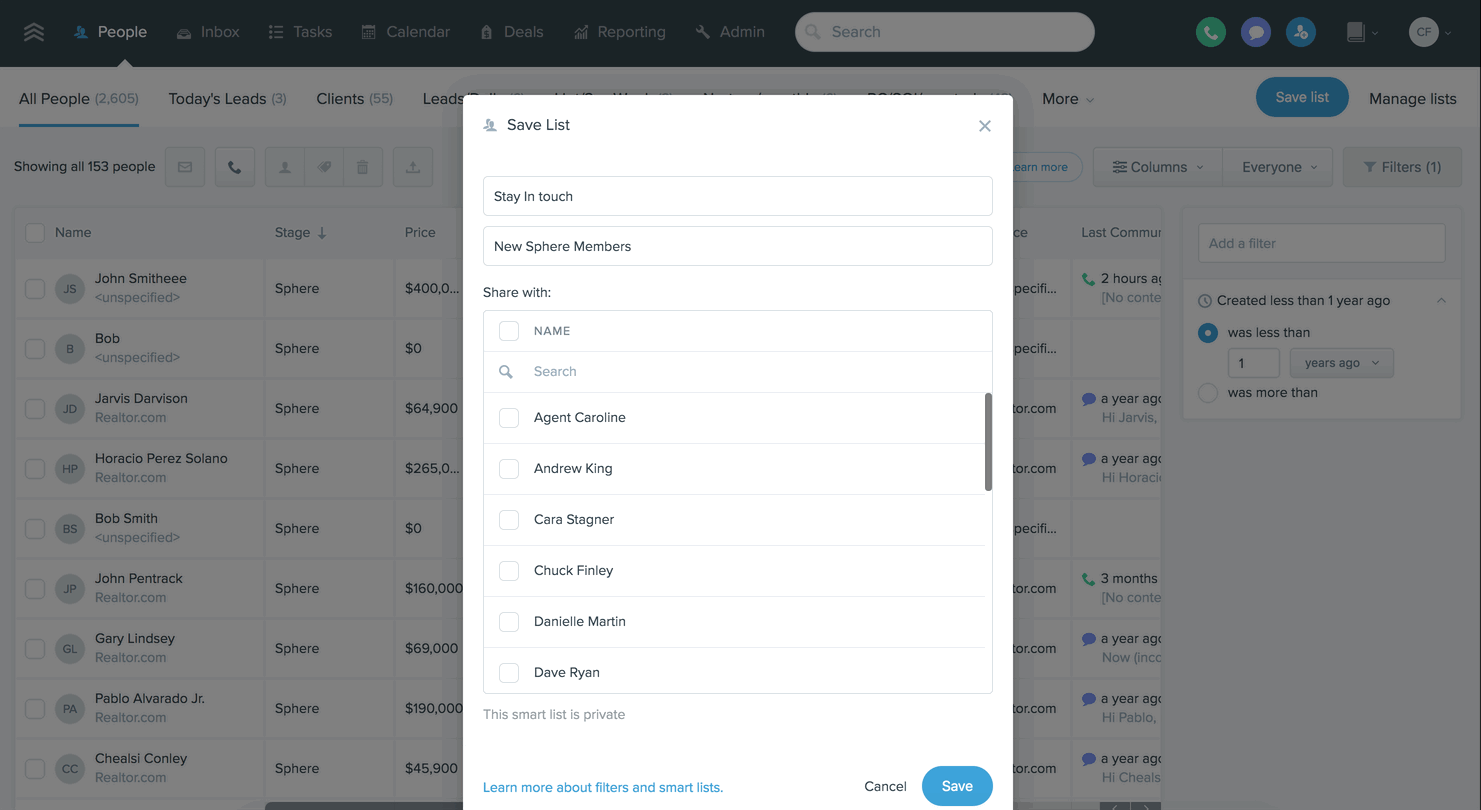 Admins: Set your team up for success by sharing the Smart Lists that you create in your account. When saving your list, click which team members, or Teams as a whole (Platform), should have access.
Click here for more information on list sharing.
5. Click "Save"
Notes:
You can click the "Columns" button to show and filter by additional columns.
Smart Lists will save the columns you have shown.
A list can be as simple as stage includes Past Clients.
You can also sort by some column headers by clicking on them. e.g. Name, Email, Calls Made, etc.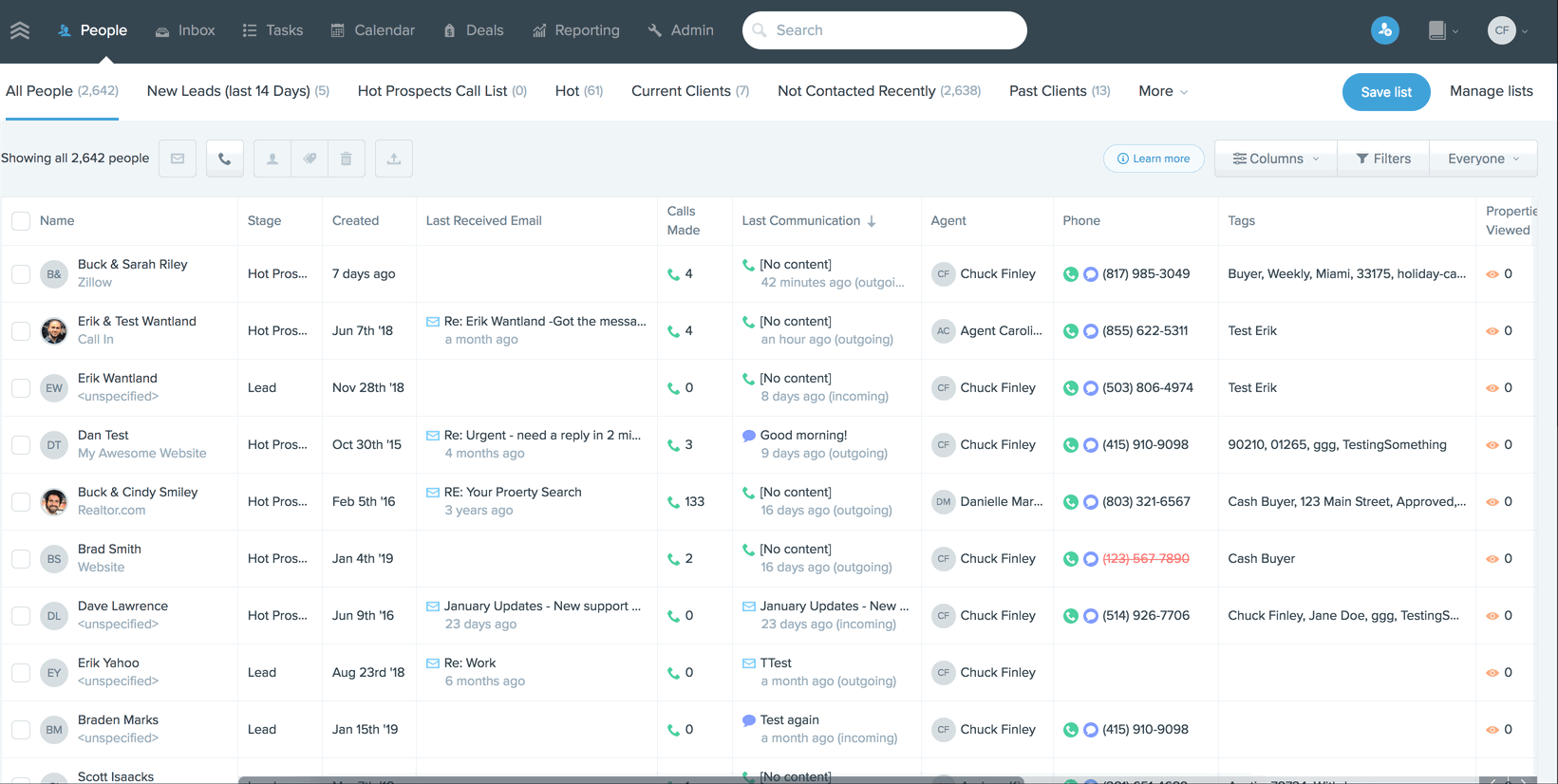 Optimizing Your Follow Up with Smart Lists
Smart Lists allow you to quickly drill down your database to see the highest priority leads.
Popular filters that help you determine priority:
Stage - Filter for leads that are likely to close soon like "Hot Prospects."
Price - Narrow down to leads likely to bring in the biggest commission, for instance price is greater than or equal to $500,000.
Calls Made - See who you haven't spoken with recently.
Last Communication - View leads base off the last time you communicated with them as a whole. This filter takes into account a combination of calls, texts, and emails.
My Next Task - Filter for leads that do, or do not have a task assigned to you.
Property Views - See which leads are viewing multiple properties on your website. These are likely hot leads you should get in touch with asap.
Advantages of Smart Lists vs. Tasks
Benefits of using Smart Lists as opposed to tasks:
Dynamically generated e.g. last contacted more than 3 days ago, so someone you emailed with yesterday won't appear in todays follow up smart list.
Not overwhelming like a backlog of tasks and quick to work through.
Share lists with team.
More filtering options.
Schedule time in your calendar to go through specific lists.
Task action plans are good for when you have a specific set of actions that need to happen e.g. a closing sequence.
Leveling Up
Want to try more DIY lists? Here are additional lists that you can set up in your account:
New - Created less than 7 days ago
High Value - Price greater than $300,000 (or the average price in your area)
Past Client Engagement - Stage equals Past Client + Last Email more than 60 days ago
Call All Leads - Calls is less than 3
Keep Clients Up to Date - Stage equals Seller + Last Email more than 5 days ago