Batch emailing gives you the ability to email groups or batches of contacts at once. Use batch emails to strategically engage every sector of your database by sending targeted messaging that is most relevant to where they are in your pipeline.
How Batch Emails work
Popular Uses for Batch Emails
Weekly Check-Ins with Buyers, Sellers, Etc.
Market Updates
Neighborhood Tours
Holiday Greetings
Newsletters
Email contacts a link to your website so the Pixel can start tracking the contact's activity when they click the link
What Should I Know Before Sending a Batch Email?
The goal of a batch email is to encourage relationships and communication.
The best batch emails are:
To an expecting audience: Make sure your audience is expecting and wanting an email from you.
Relevant: Send messaging that resonates most with your audience, for instance, you'll likely be sending different messages to your buyers than your sellers. Use Smart Lists to target your sends.
Goal-Driven: Always consider the action you would like readers to take once they've read your email.
Concise: Everyone is busy and you're competing for their attention. Start with a bold headline, then include an email body that's easy to digest. Short, relevant emails with a clear call to action will often receive the most responses.
Before sending a batch email, be sure to check out these Best Practices.
Getting Started
Connecting Your Email
In order to send batch emails, you will first need to connect your email to Follow Up Boss. That way, the responses to your batch email will flow into Follow Up Boss.
Sending Limits
Each Follow Up Boss user will be able to send up to 10,000 emails per day. To protect the deliverability of your emails, make sure to send emails only to leads that are expecting to hear from you.
Note: The 10,000 email daily limit previously applied to the entire account, but was updated to apply per user in 2022. If you are unable to send 10,000 emails per day, check to see if you have a free batch email provider integrated with your account.
Expanding Your Sending
SendGrid and Mailchimp are batch email providers that integrate with Follow Up Boss and provide sending limits of over 10,000 emails per day. To learn about these services and how they integrate, check out SendGrid and Mailchimp.
How to Send a Batch Email
1. Filter down your list to the segment you want to target.
Select the people you want to email and click the bulk email icon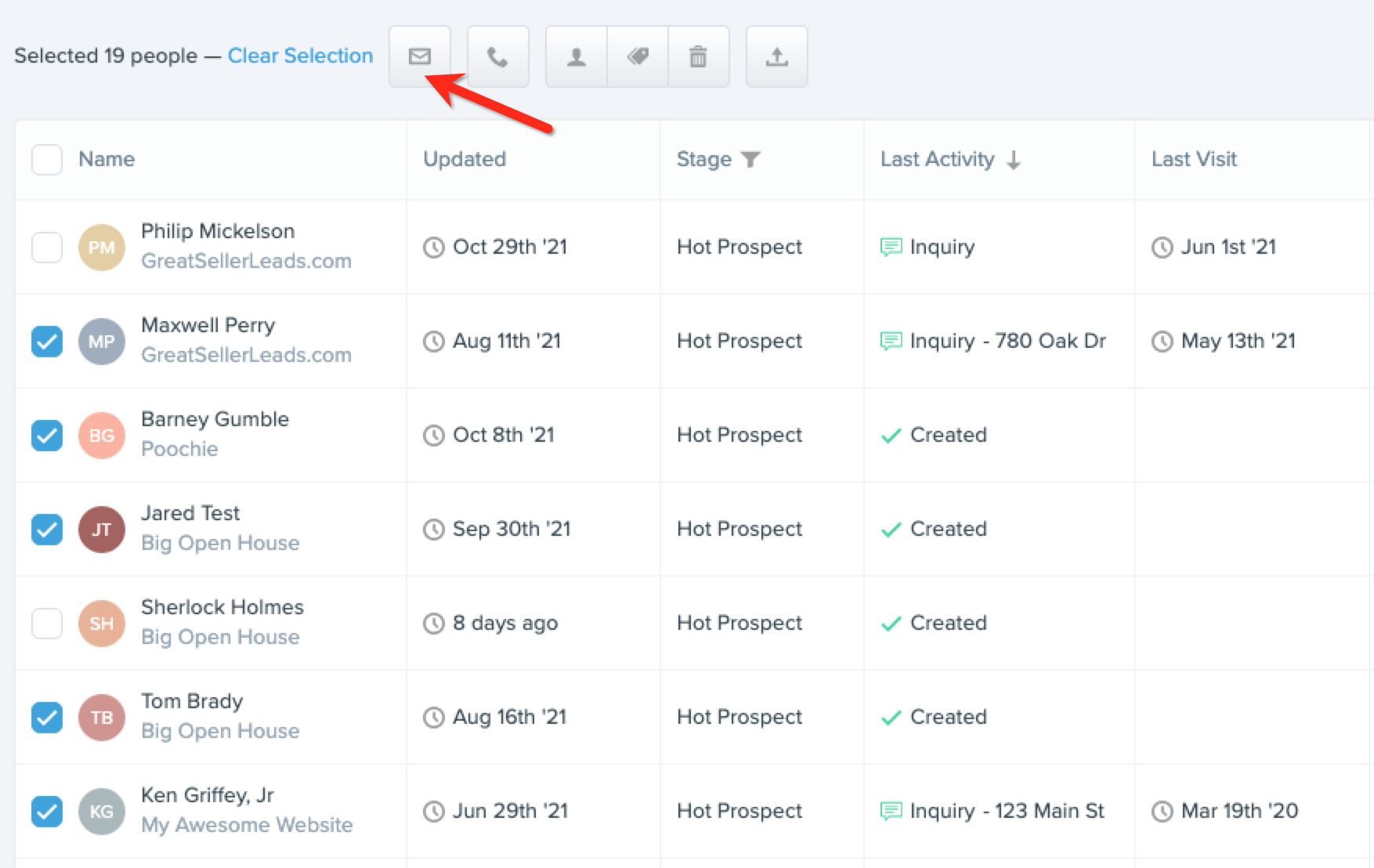 Or, you can choose everyone by clicking the empty checkbox at the top left, then clicking "Select All"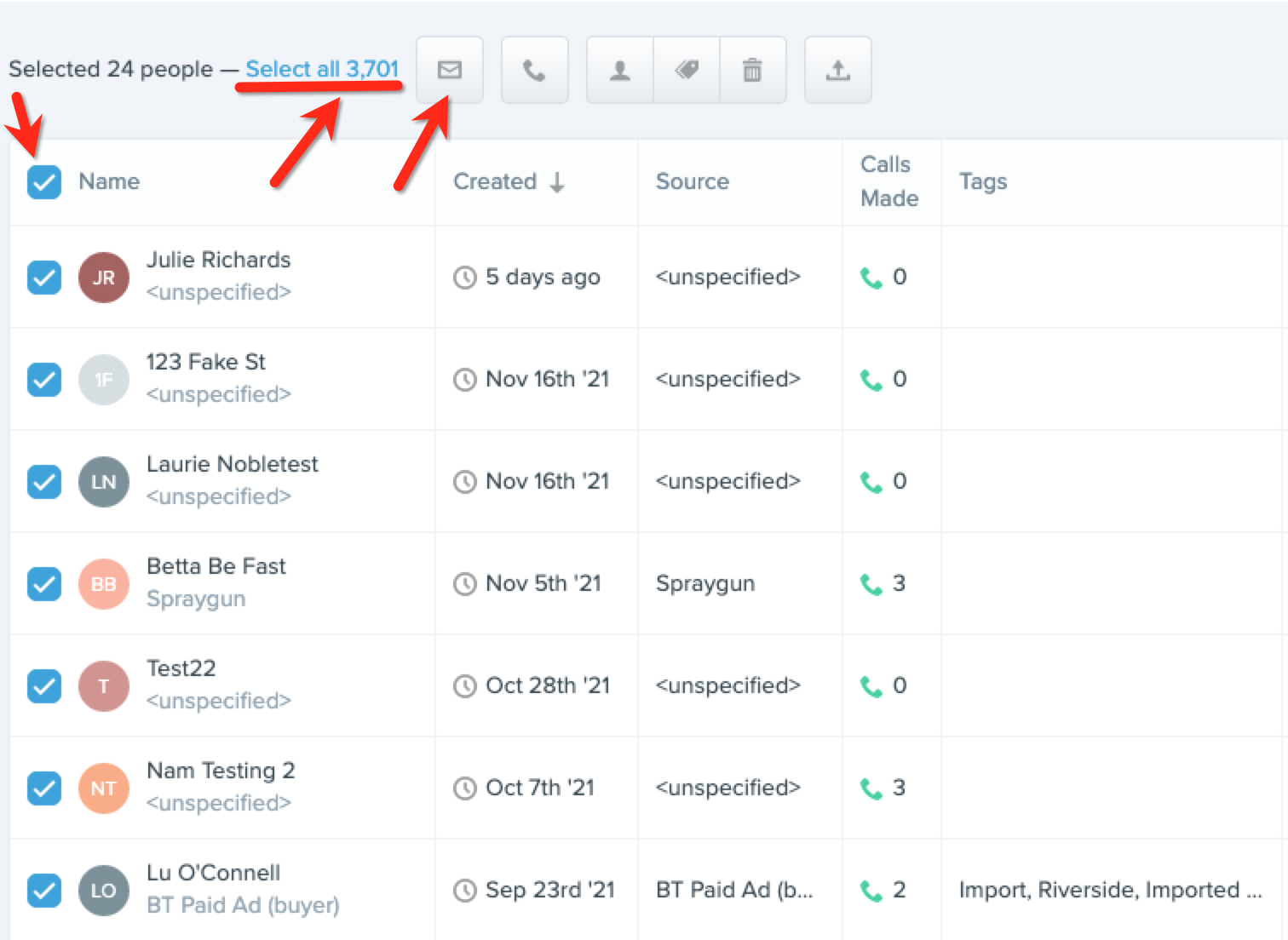 2. Compose the email you wish to send.
You can use your existing templates and also leverage merge fields.
Pro-tip: Include a link to your website where the Follow Up Boss Pixel is installed and when the lead clicks that link, their website activity will show up in Follow Up Boss.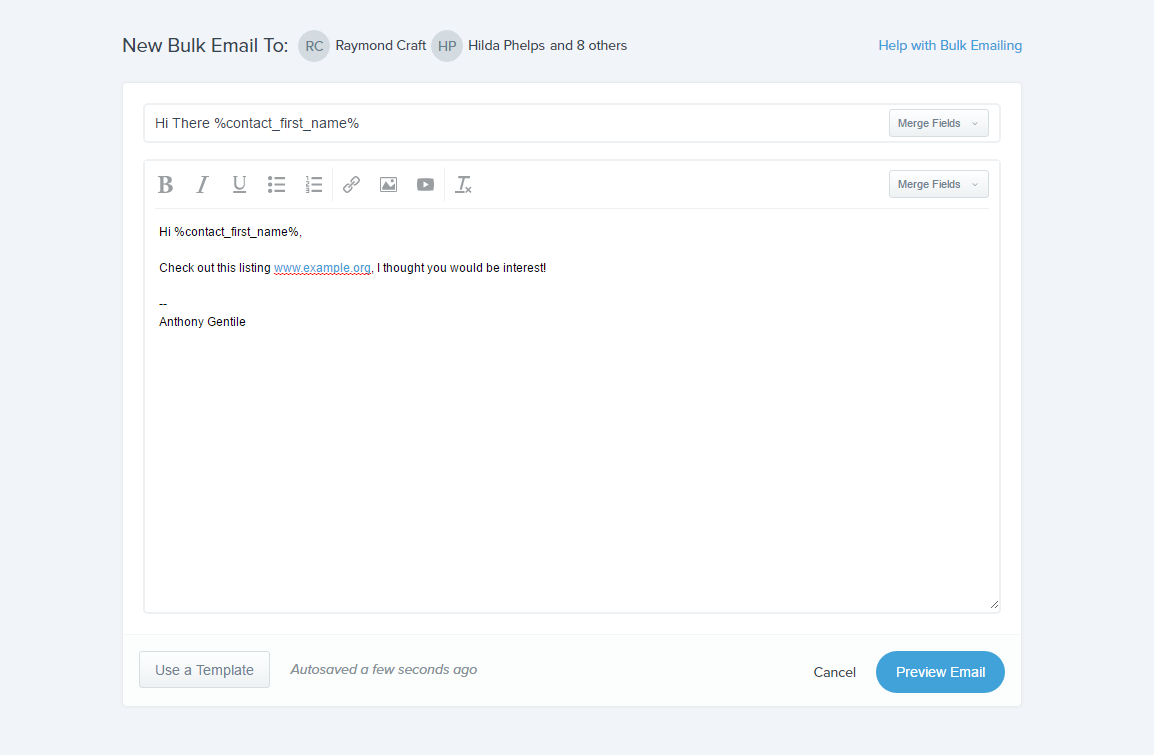 3. Choose to include all email addresses. (Optional)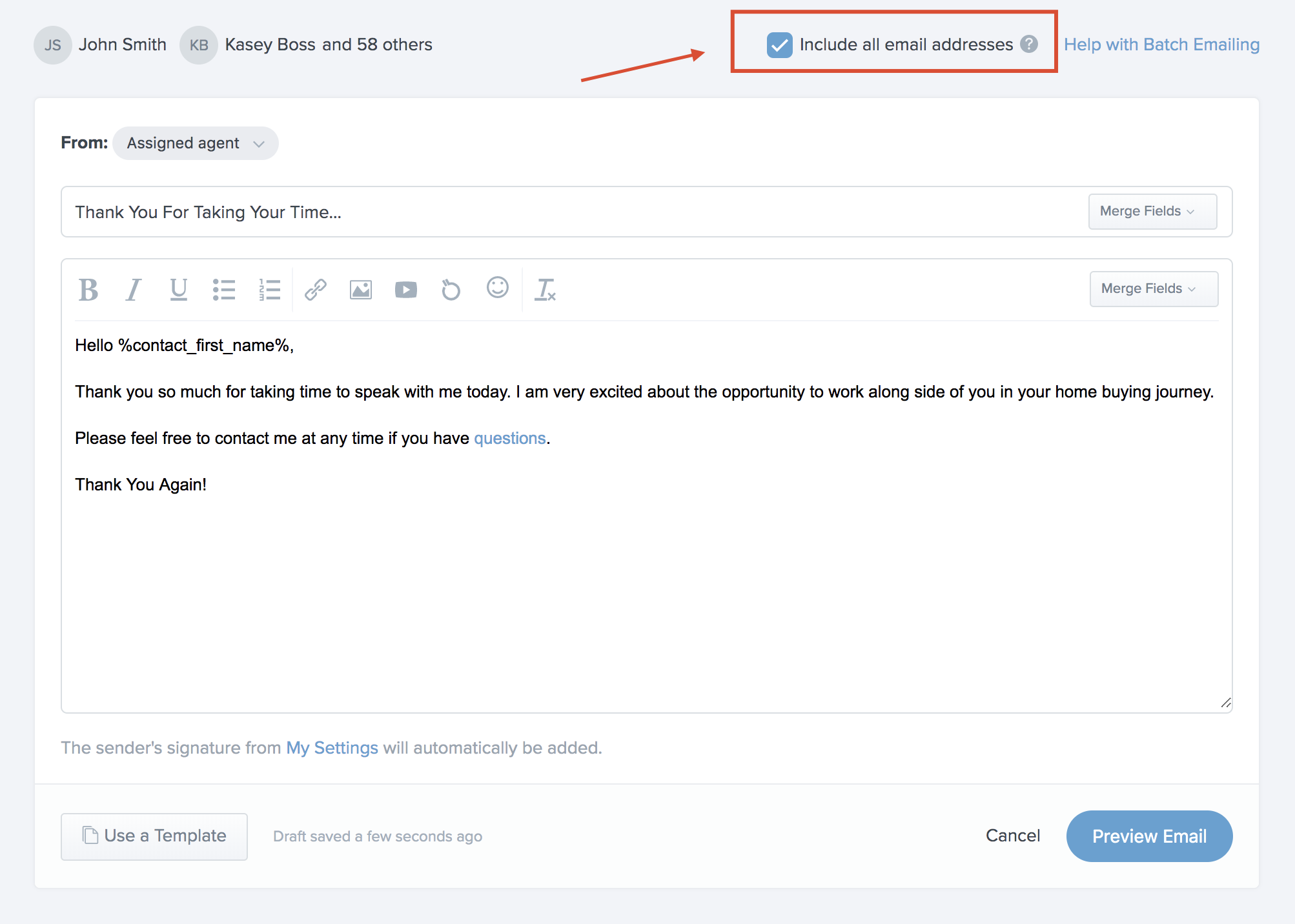 This checkbox is off by default, in which case your email is sent to the primary email address of each selected person. If you check the checkbox, your email is sent to ALL the email addresses listed under the primary contact's name and the emails for relationship contacts as well.
4. Choose to send from yourself or the assigned agent. (Admins only)

Admins can send mass emails on behalf of the assigned agent using our Batch Emailing feature. Replies to these emails will go to the agent for continued engagement.
This is great for ISAs or teams who want to provide marketing services for their agents. More on Sending Batch Emails on Behalf of Agent
5. Preview your email to see how different merge fields are applied for different people.
If you realize you've made a typo (interested instead of interest in the above example), go back to the compose screen and edit your email. Once ready, just click the Send Email button, and Follow Up Boss will take care of the rest.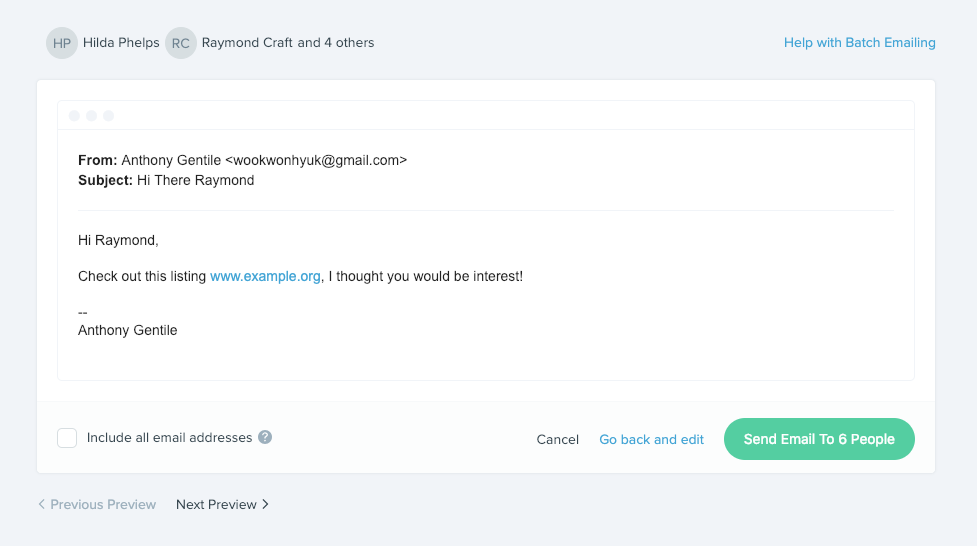 6. Send now or schedule for later.
Send your email now by clicking "Send Email to _ People" or click the clock icon to schedule your email for the future.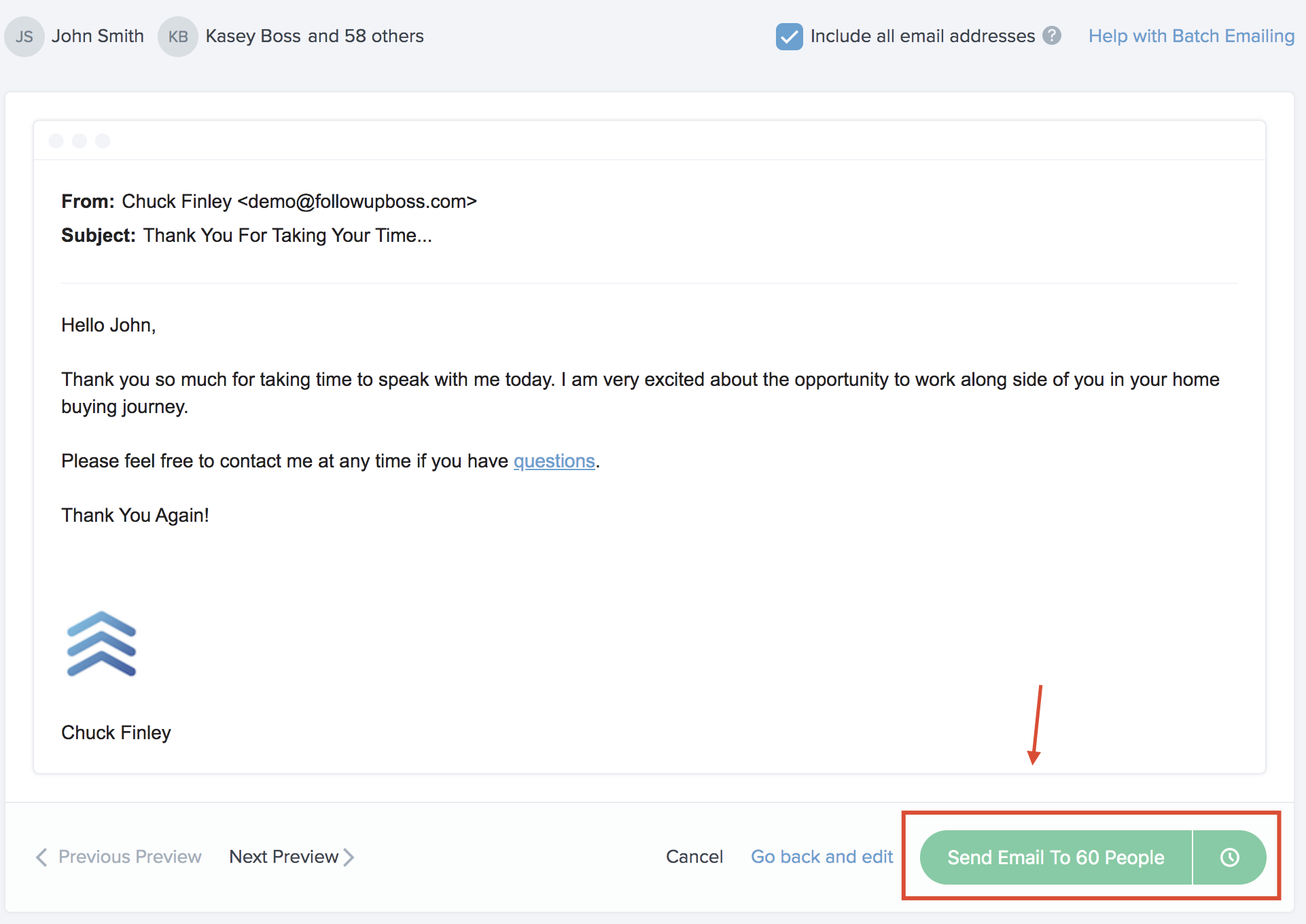 7. You're done!
Your email is now on its way.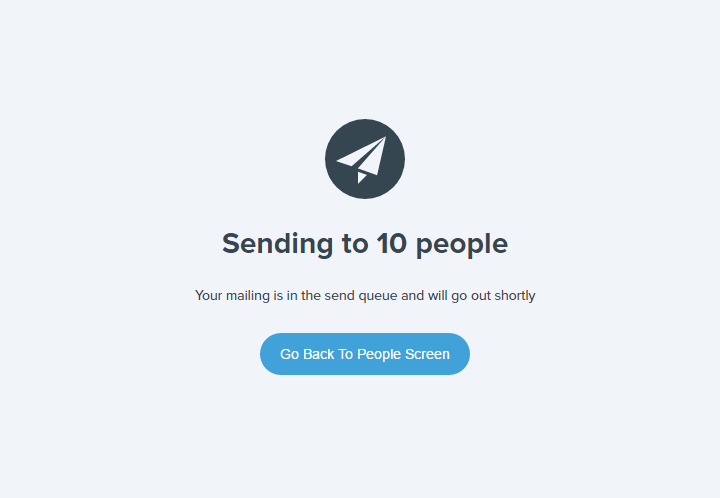 Batch Email Reporting
You can view your recent batch emails by clicking on Reporting > Batch Emails. This report will show your 100 most recent batch emails.

Click a particular email to drill down into the reporting by the recipient of a particular batch email.

Level Up
FAQs
How do I turn on open/click tracking?
Tracking for opens and clicks is turned on automatically. There is nothing you need to do to have this tracking feature.
What email do you use to send emails?
We will use your connected email to send batch emails.
Can you apply an action plan multiple times to the same contact?
Yes, you can! Action Plans can be applied to a contact multiple times. You will need to choose the same Action Plan and then add it to the contact however many times is needed!
How come my emails are sometimes delayed when trying to send?
Depending on the server's load at the time a batch email is sent, it can take several minutes to send and register the delivery status for the batch email.
How are emails opened counted on the report?
Contacts, not relationships, are counted on the report. This means that if you send your batch email to relationships and either person opens/clicks on the email, the contact will be counted once. If both people open/click the email, the contact will still be counted once on the report. On the contact's timeline, you can see who opened or clicked the email.
How come the batch email Icon isn't appearing?
This might be because your Batch Emailing is turned off in Power-Ups. You can check by clicking on your initials/profile picture at the top right > Click on Power-Ups > make sure Disable Batch Email is NOT turned on.