Integration Types
API
Email
Zapier
Follow Up Boss Pixel
BombBomb is an official integration supported by Follow Up Boss. It's easy to set up and you'll be sending your contacts videos from Follow Up Boss in no time. You can insert BombBomb videos wherever emails are in Follow Up Boss such as emails, email templates, and email signatures.
API Integration
Note: Integration can be completed from Follow Up Boss admin and agent accounts.
Log In to BombBomb
Go to your Image in the upper right-hand corner > Integrations
On the upper right-hand side, the API key will appear > Copy the API Key
Log In to Follow Up Boss
Go to Admin > Integrations > BombBomb
Paste the BombBomb API Key into Follow Up Boss > Connect
Using BombBomb in Emails
After setting up your BombBomb key in Follow Up Boss you'll see a new icon in the toolbar used for formatting emails. Click this button to start using BombBomb in your email, email template, or signature.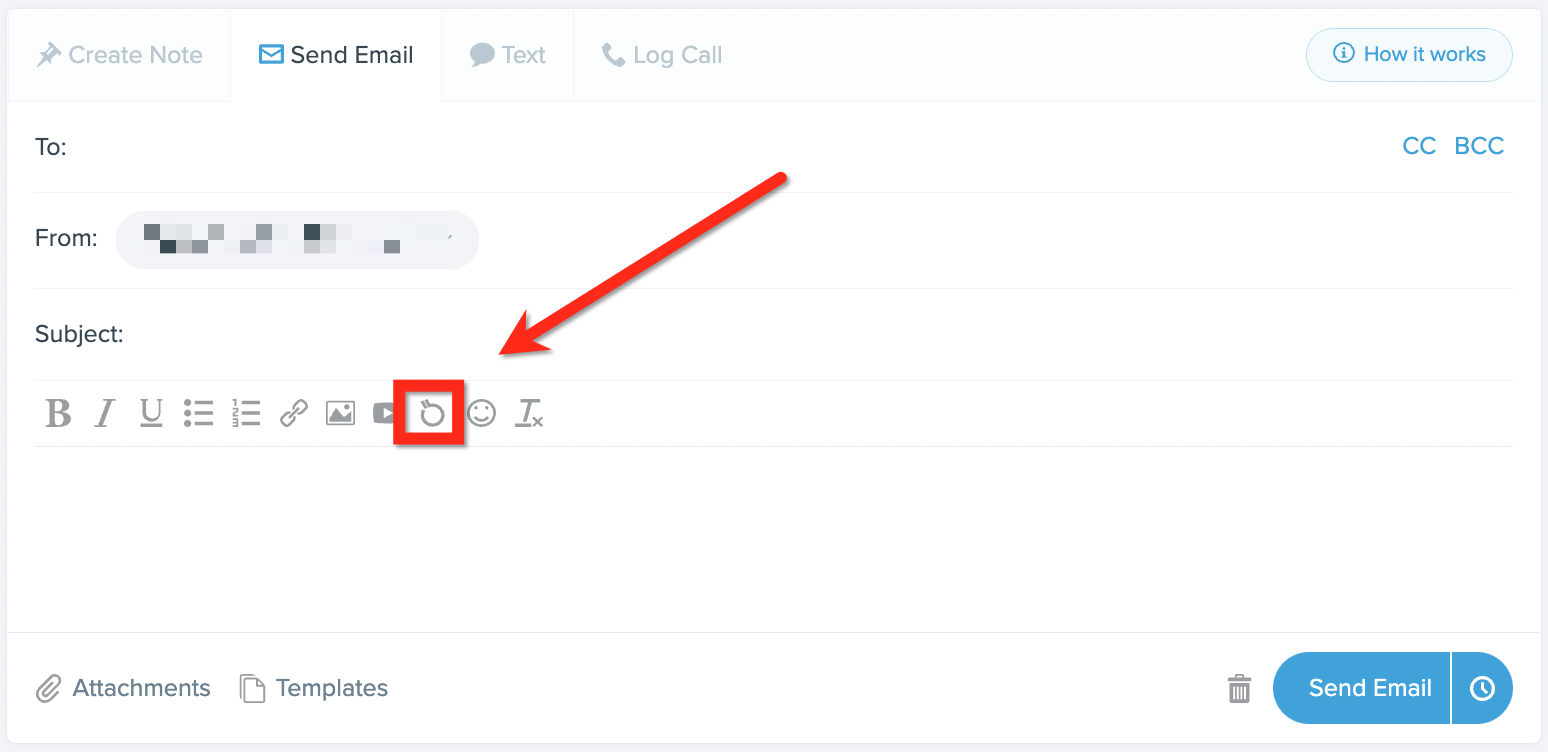 Recording a new video
The first screen you'll see when opening up the BombBomb window lets you record a new video to insert into your email. Press the red button to begin recording, and again when finished. Name your video and it's ready to go! Press the 'Save and Insert Video' button and you'll see a preview of the thumbnail in the email compose window.

Choosing an existing video
Press the 'Choose a video' tab to select a video that you have already recorded. You can use the search bar to narrow your search if you have many videos. Press the eye icon to preview your video before sending it. After finding the video you want to use, click the thumbnail to select it, and press 'Insert Video'. As above, you'll see a preview of exactly how it will look before sending it.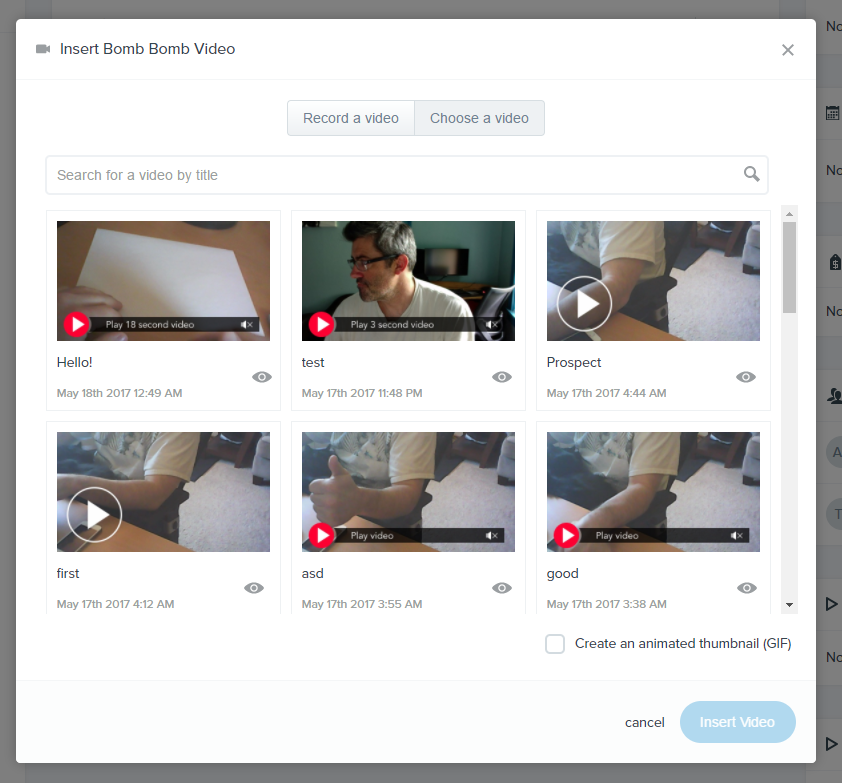 Emails sent by BombBomb
You can have emails sent by BombBomb outside of Follow Up Boss show up in your Follow Up Boss history. To do this make sure they are being copied by BombBomb to the same email address that you have connected with Follow Up Boss.
BombBomb Prompt Integration
BombBomb can sync your Follow Up Boss smart lists as well. See this article for details.
Troubleshooting
Have you already configured BombBomb and are needing to troubleshoot? The below steps should help get you back to using BombBomb within Follow Up Boss in minutes:
Verify that Chrome is not blocking any cookies for Follow Up Boss and/or BombBomb
Clear your cache on Chrome and then complete resetting it
Known Constraint
Using BombBomb in Follow Up Boss on an iPad is incompatible at this time. You can download the BombBomb mobile app on your iPad, record videos in the BombBomb mobile app, and then you will be able to insert them into an email sent from FUB using the "Choose Video" button in the FUB integration.