The Follow Up Boss calendar is a powerful tool for teams and individuals to manage their schedules effectively. The 2-way sync with Google Calendar and Microsoft 365 Calendar makes it easy to keep track of all your appointments in one place, without having to switch between different calendars or manually update them. The ability to view tasks, deal closings, and custom dates on the Follow Up Boss calendar is a game changer. With all this information in one place, it's easy to see what needs to be done and when, and to make sure that you're staying on top of your schedule.
Calendar View

The calendar can be viewed by day, week, or month.

No matter the view you are on, the current month's calendar is displayed in the upper left-hand corner for quick navigation.

Jump to today's date by clicking today and toggling between the days, weeks, and months in the upper right-hand corner.
Team Filtering

Admin users can toggle to team member calendars to view and schedule appointments. To view everyone's calendars, create a Team that includes all users and toggle to the team's calendar. For more information, check out Calendar View & Appointment Setting | Teams.
Appointments
Appointments can be made directly on the calendar by clicking the blue + icon and clicking directly on the calendar at the desired date/time. To edit an appointment, click on the appointment > edit appointment. For more information, check out Appointments & Events.
Multi-Day Events

Events that last more than one day will appear on the calendar in an event block stretching across the specified days.
Schedule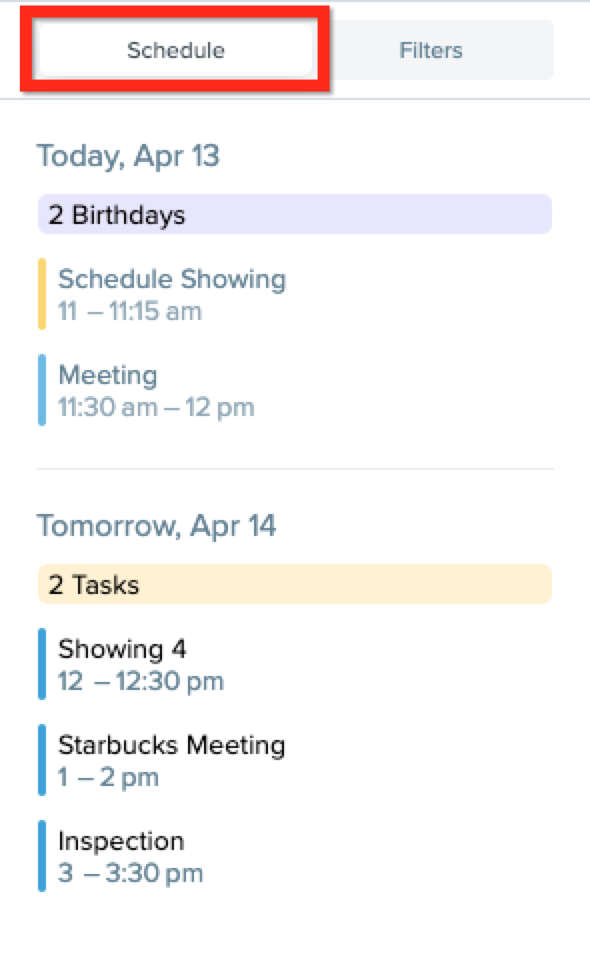 The schedule shows a list of appointments and events for today and tomorrow. Each appointment and event can be clicked to view additional details, mark the task complete, or edit the appointment.
Filters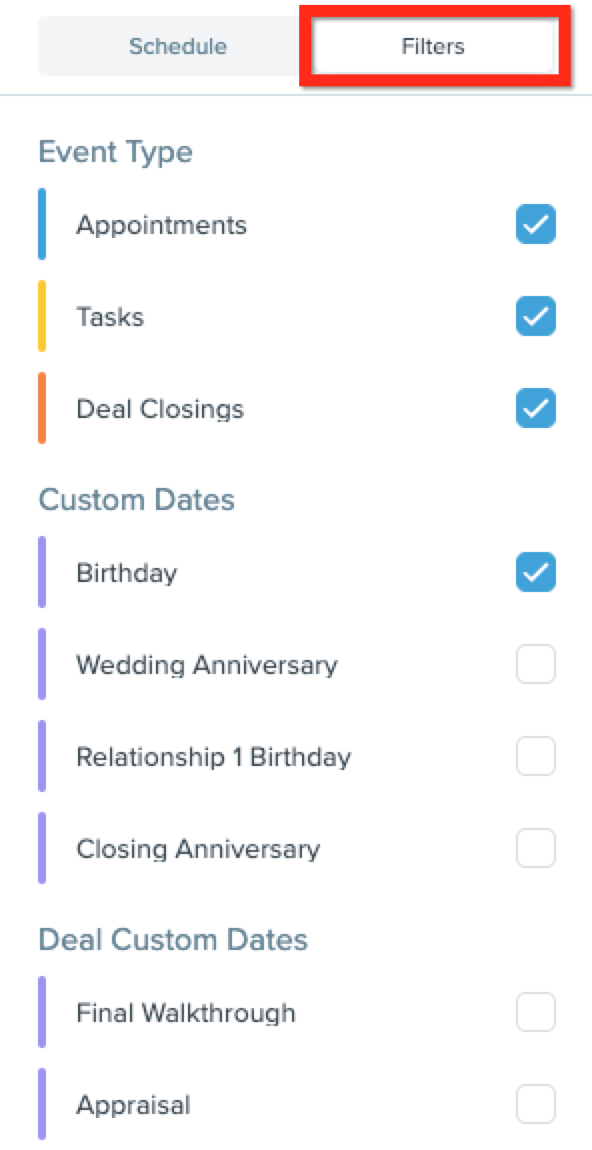 Filters provide calendar customization by displaying the preferred types of events and dates on the calendar.
Event Type
Appointments
All Appointments (created in FUB and synced from the connected calendar) are displayed in blue.
Tasks
Tasks are displayed on the calendar in yellow.
Deal Closings
Deal close dates are displayed on the calendar in orange.
Custom Dates + Deal Custom Dates
Custom Dates and Deal Custom Dates are displayed on the calendar in purple.
Note: When there is more than one event type/custom date per day (excluding appointments), a color-coded event block will appear at the top of the specific date. Click on the event block to view a detailed list of events.
Calendar Sync
Follow Up Boss provides a two-way calendar sync with the accounts connected email to display all events and tasks in one place. For more information, check out Google Calendar and Microsoft 365 Calendar.
Calendar + App
The calendar can also be accessed on the iPhone App and Android App!