The Google Chrome microphone will need to be enabled for Follow Up Boss to successfully make calls on the desktop.
Google Chrome Microphone Settings
1. Open Google Chrome
2. Click the More Icon (three vertical dots) in the upper right > Settings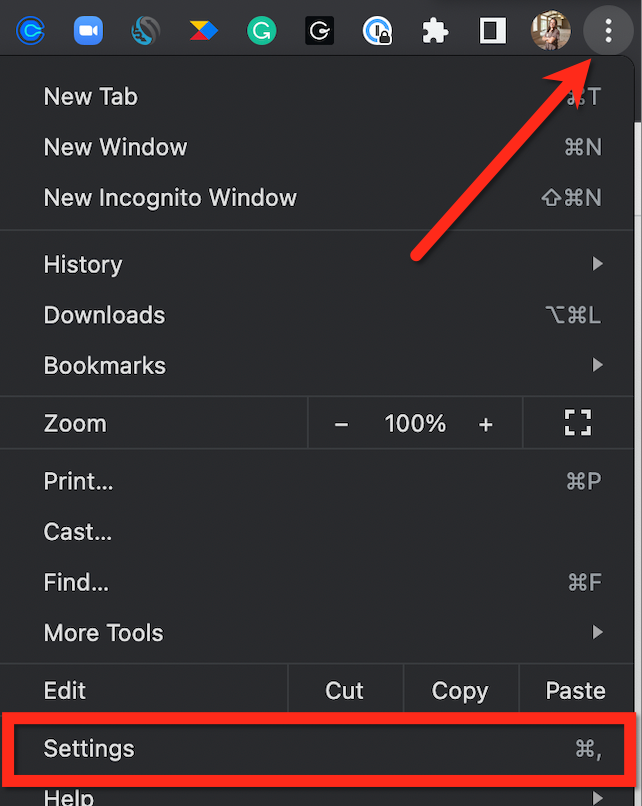 3. Privacy and Security > Site Settings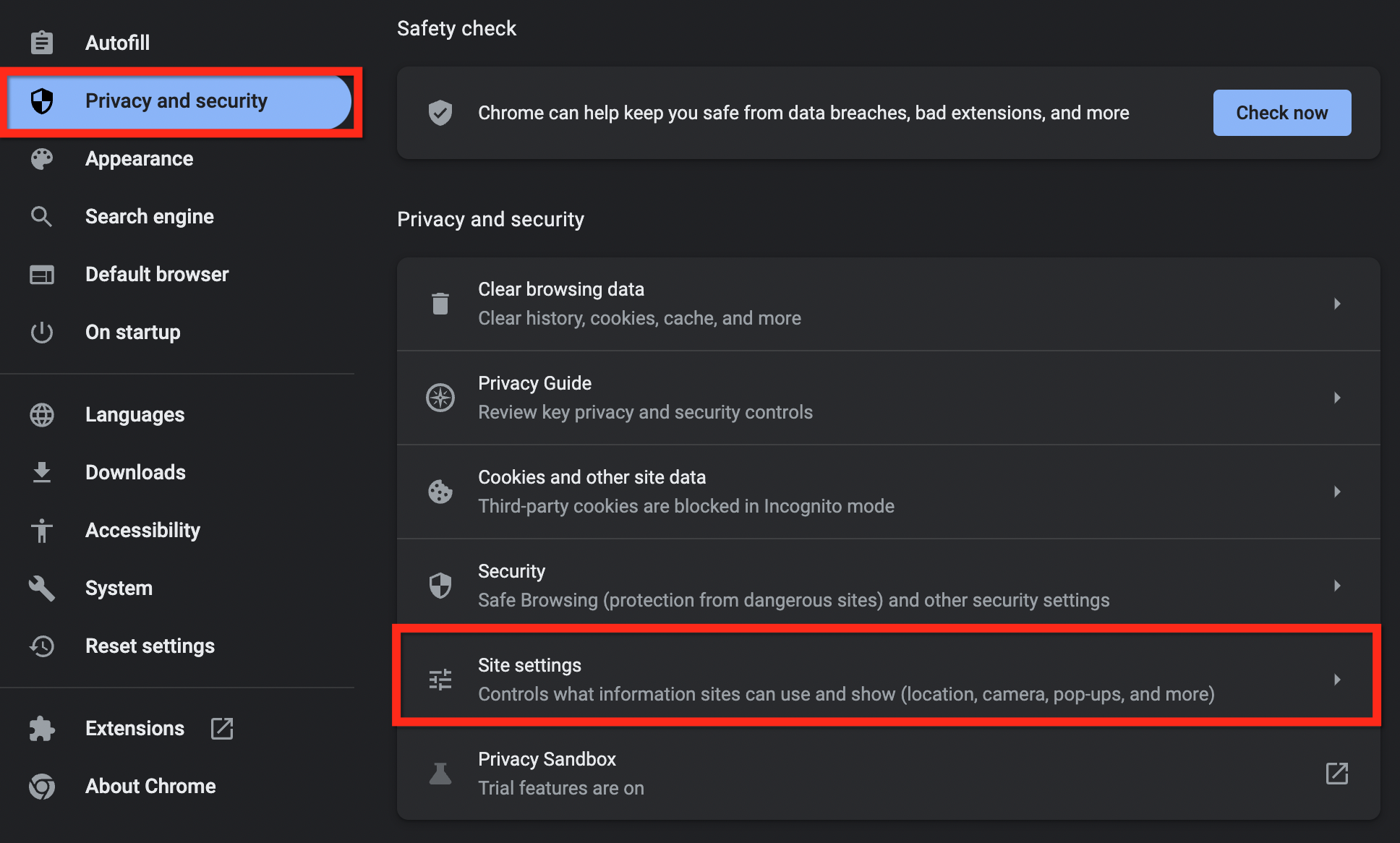 5. Select Microphone
6. Check to make sure your microphone settings are as follows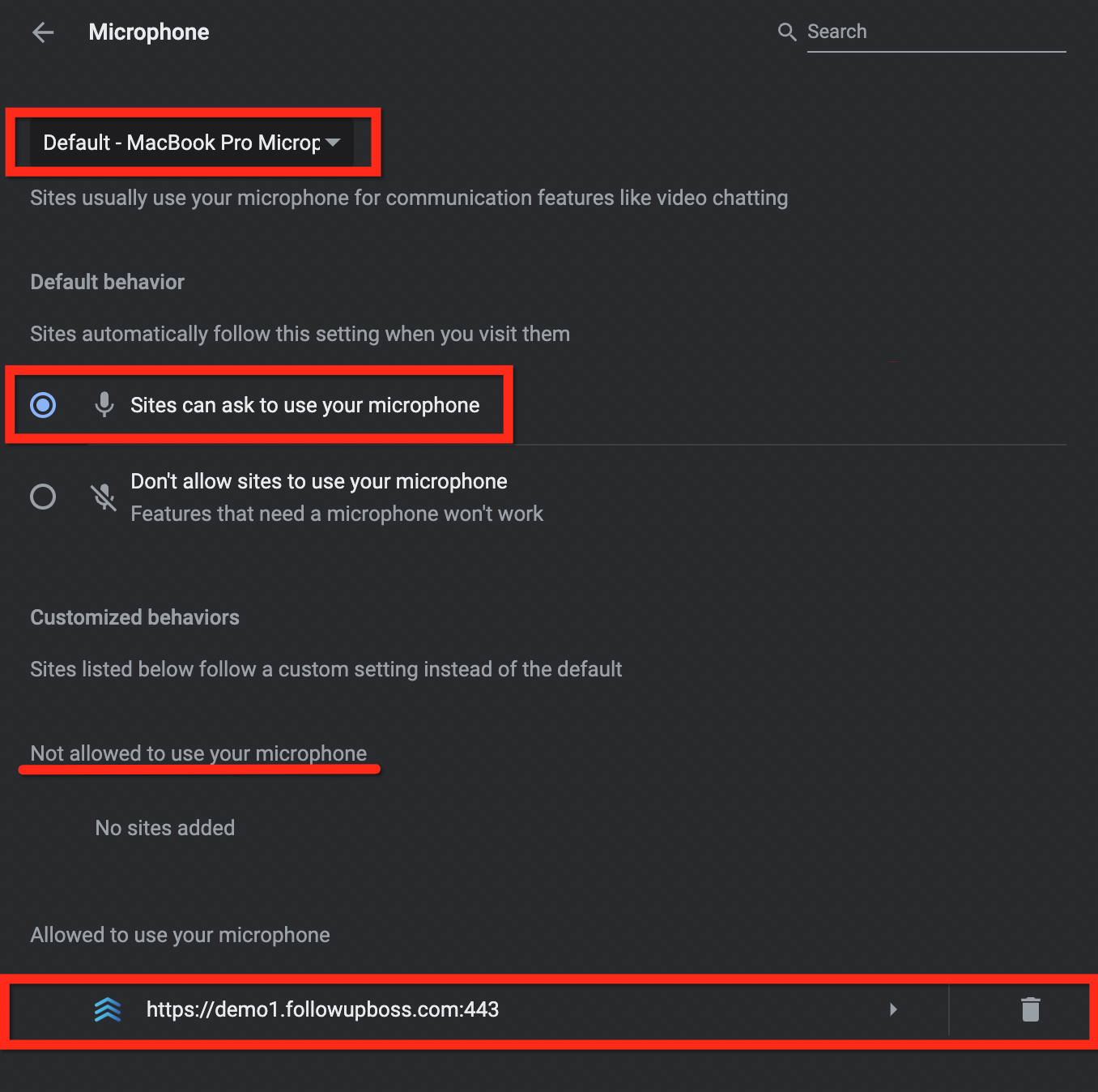 Check that your microphone is selected in the first drop-down menu. Default is typically the microphone you'll want to be selected.

Note: If the microphone is set to default and people you are calling can't hear you, set it to the specific microphone you are using.

Select Sites can ask to use your microphone

(if not already enabled).

Confirm that your Follow Up Boss URL is listed under

Allow

and not listed under

Block.

If your FUB URL is listed under

Block

, click the

trash

icon on its right to remove it from the

Block

list, and continue to the next section.
Note: If your FUB URL doesn't show under either Allow or Block yet, you'll need to allow FUB access to your Chrome microphone by continuing to the next section.
Allow Follow Up Boss to Use Your Microphone
Open a new Chrome tab and login to Follow Up Boss
Attempt to Call a test contact

After clicking on the test contact's phone number, an

Allow Access message will pop up in the upper right-hand corner of Chrome > click Allow
Navigate back to the Chrome microphone settings
Follow Up Boss should now appear under the Allow

list
Network Managed Chrome
If you're using Chrome on a work/corporate computer, it's possible that your network administrator controls your microphone settings. In that case, you can't change them here and you'll need your administrator to grant FUB access/permissions to your Chrome microphone.
To check if your Chrome browser is managed by an administrator, follow the steps below.
1. Copy/paste this link (
chrome://policy/
) into the URL bar in your Chrome browser
2. If you see a list of Chrome Policies, your browser is managed. If you see No Policies Set, your browser is not managed.