In this webinar we introduce smart lists as the best way to find the right people to follow up with at the right time. Use your smart lists to convert more leads in less time! (30 minute watch)
Best Practices
For a step-by-step guide on how to add filters and save a smart list, see Filters and Smart Lists.
Remember to use Manage Lists to put your smart lists in order.

Smart lists show up in the FUB app on your phone! Work your lists while you're on the go.
Here is a guide to make the smart lists you saw in the webinar:
Recommended Smart Lists
Use these lists to consistently work your leads -- never let another lead slip through the cracks.
New Leads/Daily
This should be checked every day. Once you connect with the lead and determine their status, log the communication and change their stage so they are moved off the list.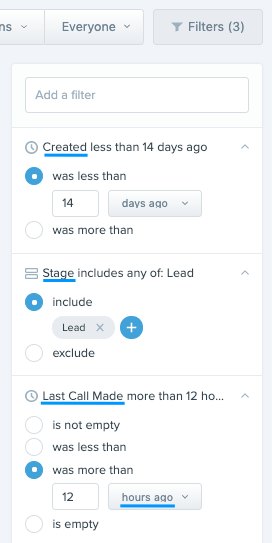 Hot Prospects/2x Week
Dive into this list at least twice a week. Share new listings, market updates, and check in to provide value so you can convert these prospects to clients. These leads are actively searching for a home or ready to sell theirs. Your outreach goal is to book an appointment, build rapport, and convert them into a client.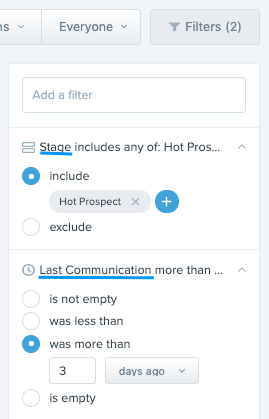 Clients/1x Week
You should naturally have a lot of regular communication with these clients. If you check this list and your last communication was more than 5 days ago - reach out.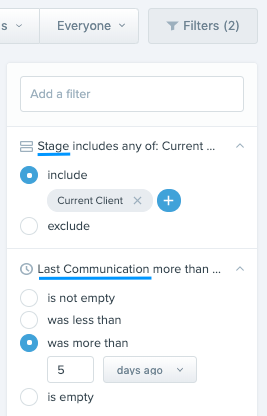 Nurture/1x Month
These are contacts that have shown interest in a property or working with you but you have not yet been able to convert. Send them highly valuable content once a month so they don't forget about you when they are ready to pull the trigger. (For ideas on sending relevant content, watch this video.)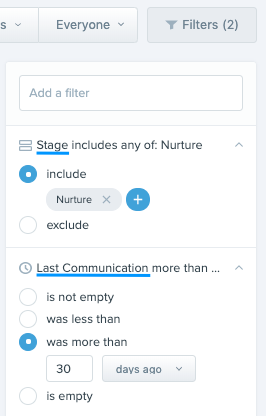 Past Clients/SOI/1x Quarter
This list is your pot of gold. Consistent and helpful content will help you get more referrals and expand your network. You should be connecting with contacts on this list at least once per quarter. See this blog post for ideas.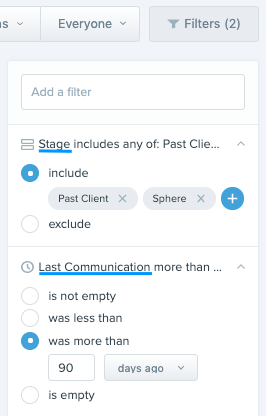 Boss Lists
Call List
Using Mitch Ribaks' formula
Filters
Stage = Lead

Last Call made = more than 2 days ago

Calls Made = less than 6
Closing Anniversary, Birthday, Anniversary
Filters
Birthday = in the next 14 days


Send a card to these contacts and call them on the big day
Leads That Returned to Website + Viewed Multiple Properties*
*Note: this works with supported IDX integration
Filters
Properties Viewed = greater than 2

Last Visit = less than 14 days ago
Email Activity
This list will show you when someone has engaged with one of your recent emails so you can reach out when they open the email or click a link.
Filters
Last Visit Email Activity = less than 7 days ago