With our direct integration to Facebook Lead Ad, you can connect your Facebook leads directly to Follow Up Boss with just a few simple clicks.
Direct Integration
1. Log in to your Follow Up Boss
2. Navigate to Admin > Integrations
3. Select Facebook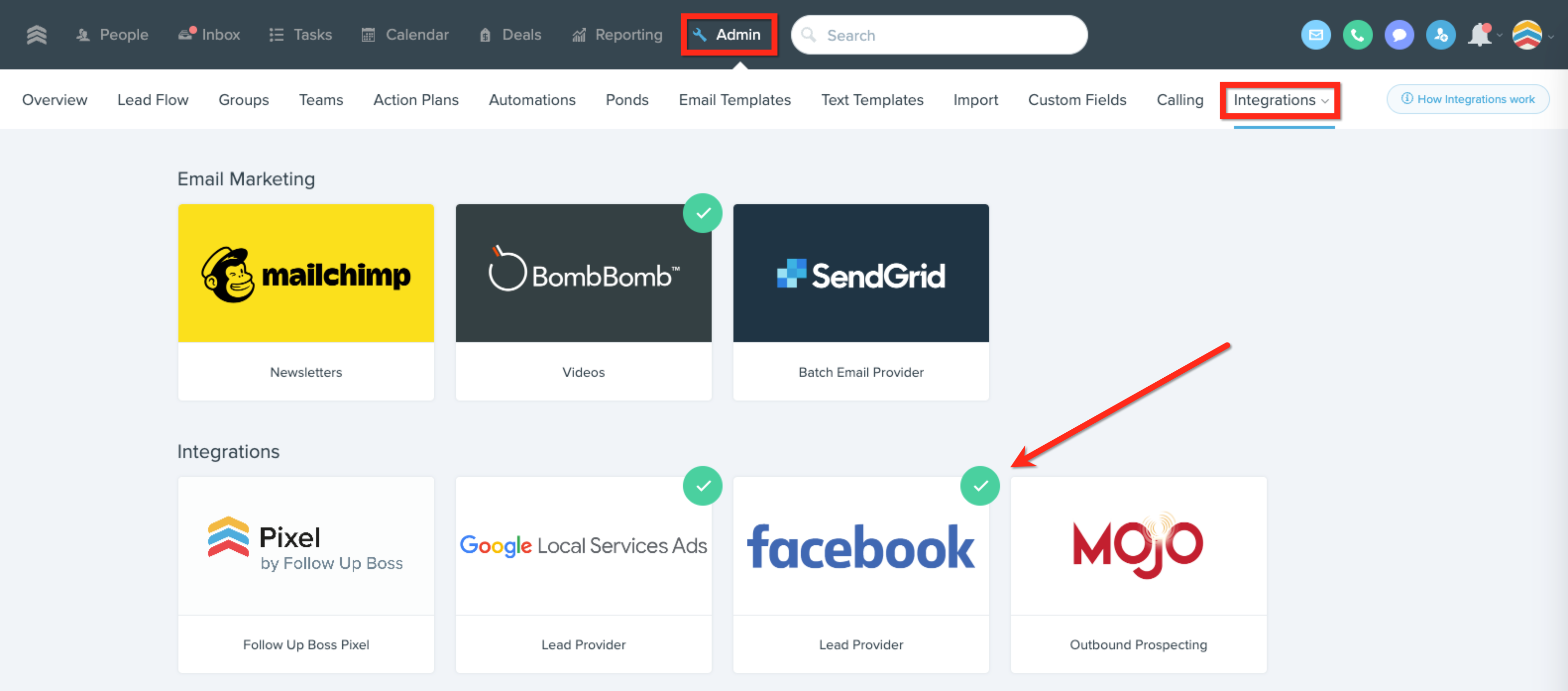 4. Click Connect Facebook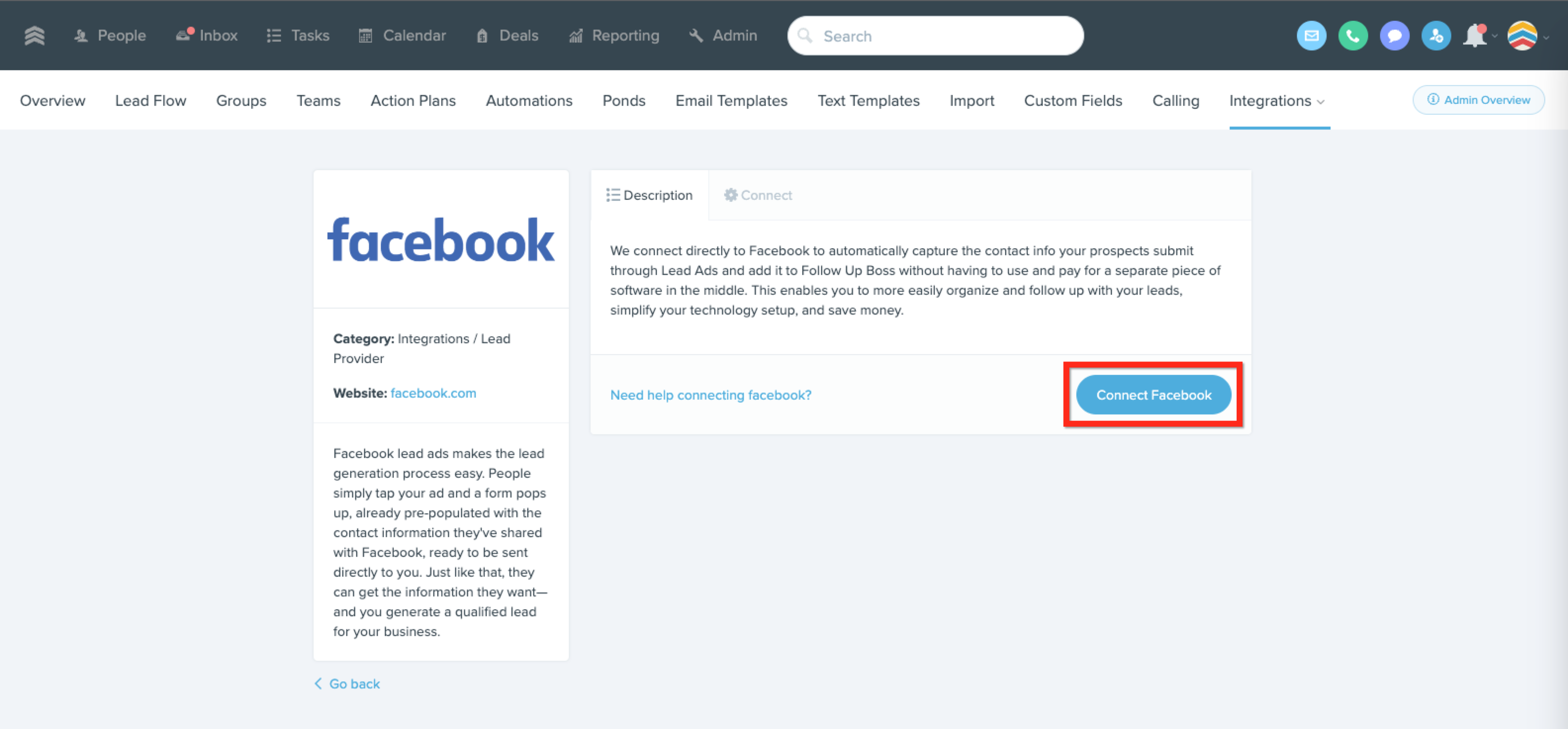 5. Select Continue with Facebook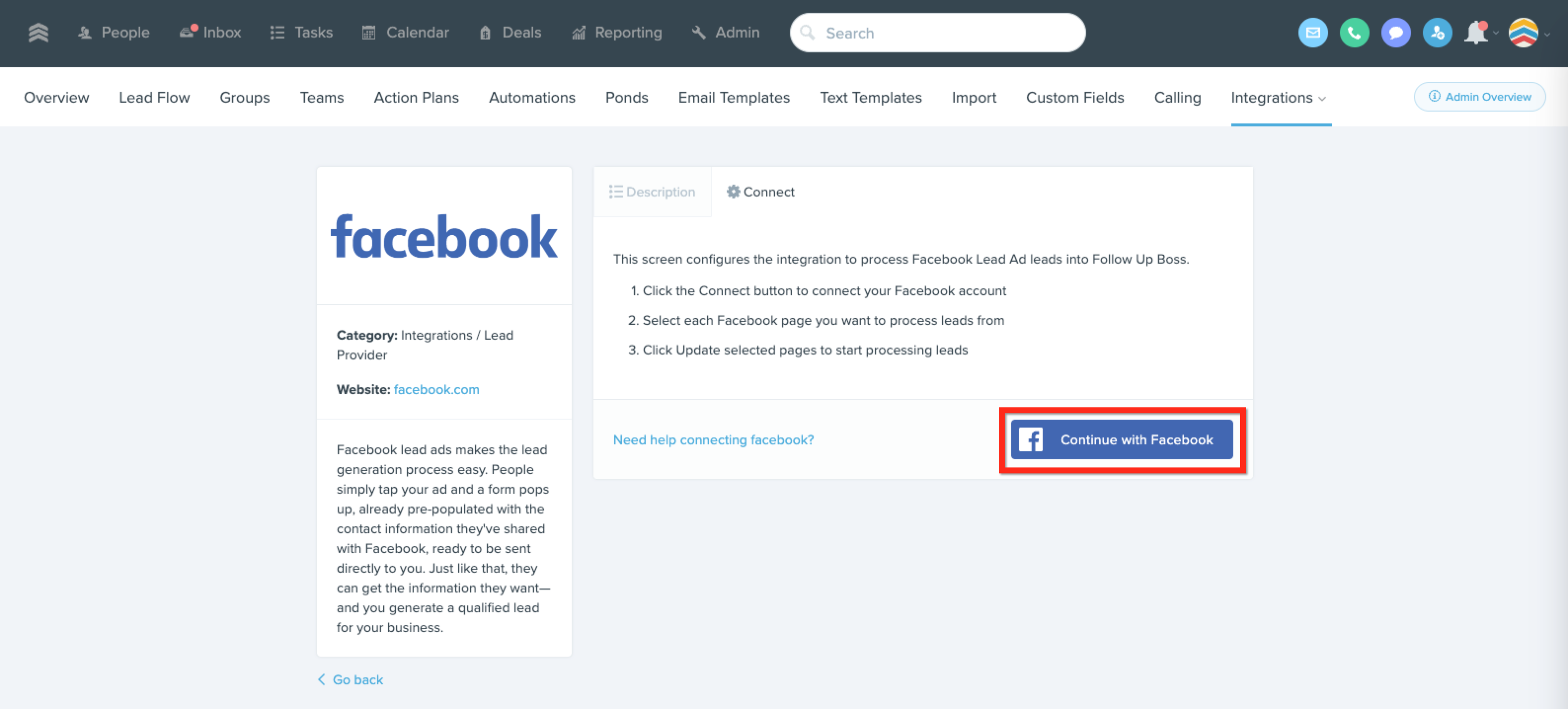 6. Log into another account or Continue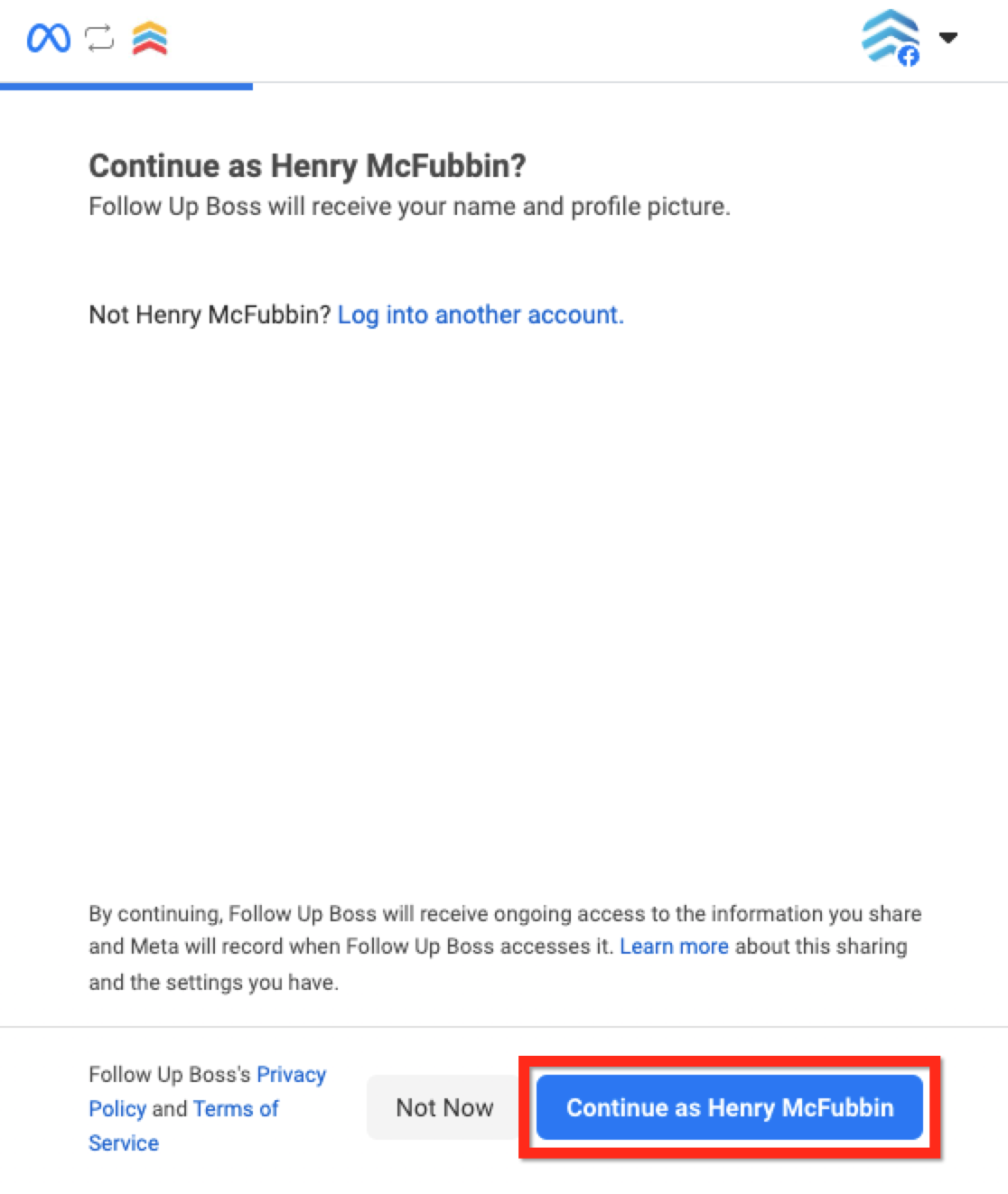 7. Opt in to all current and future Business > Continue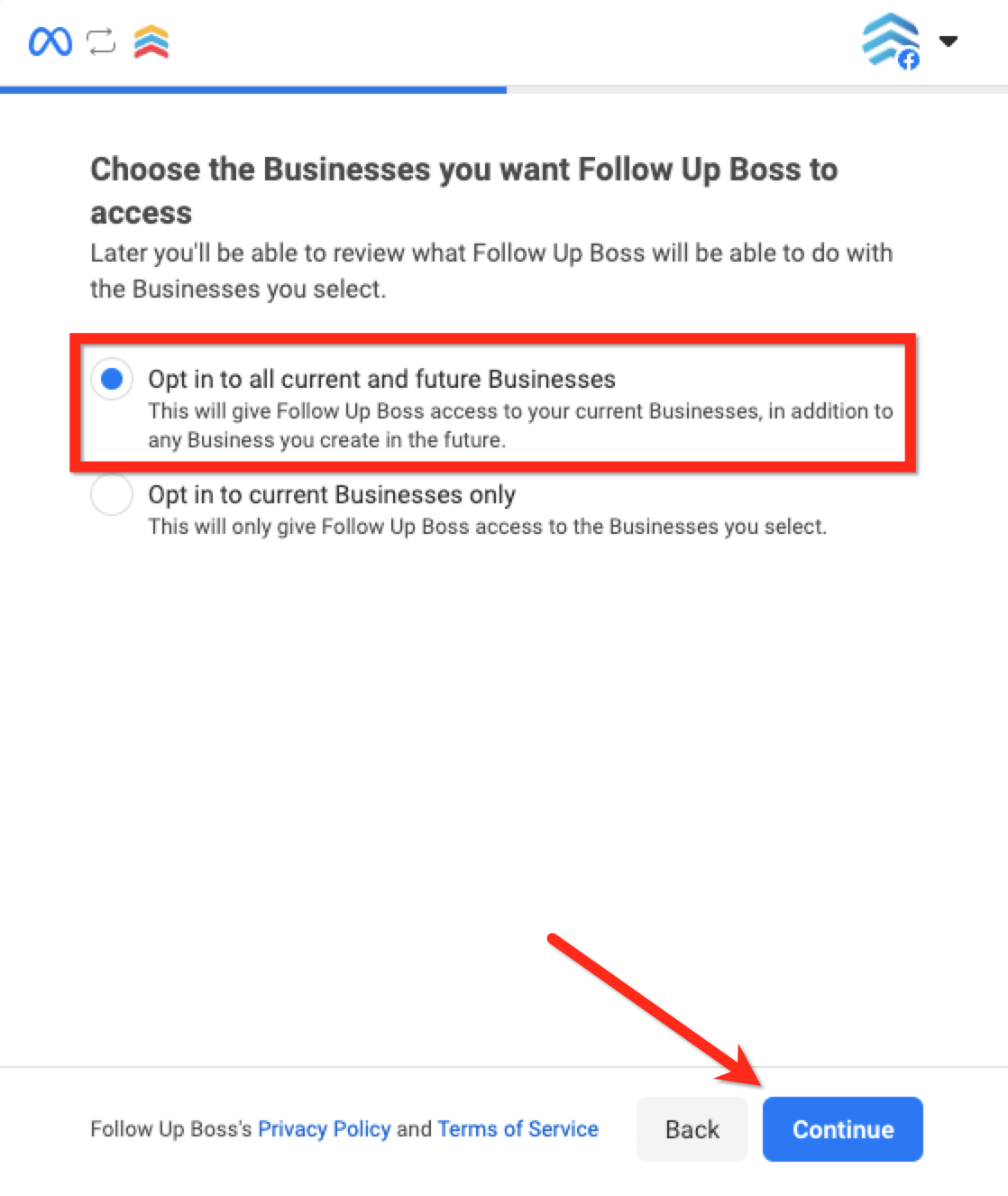 8. Click Save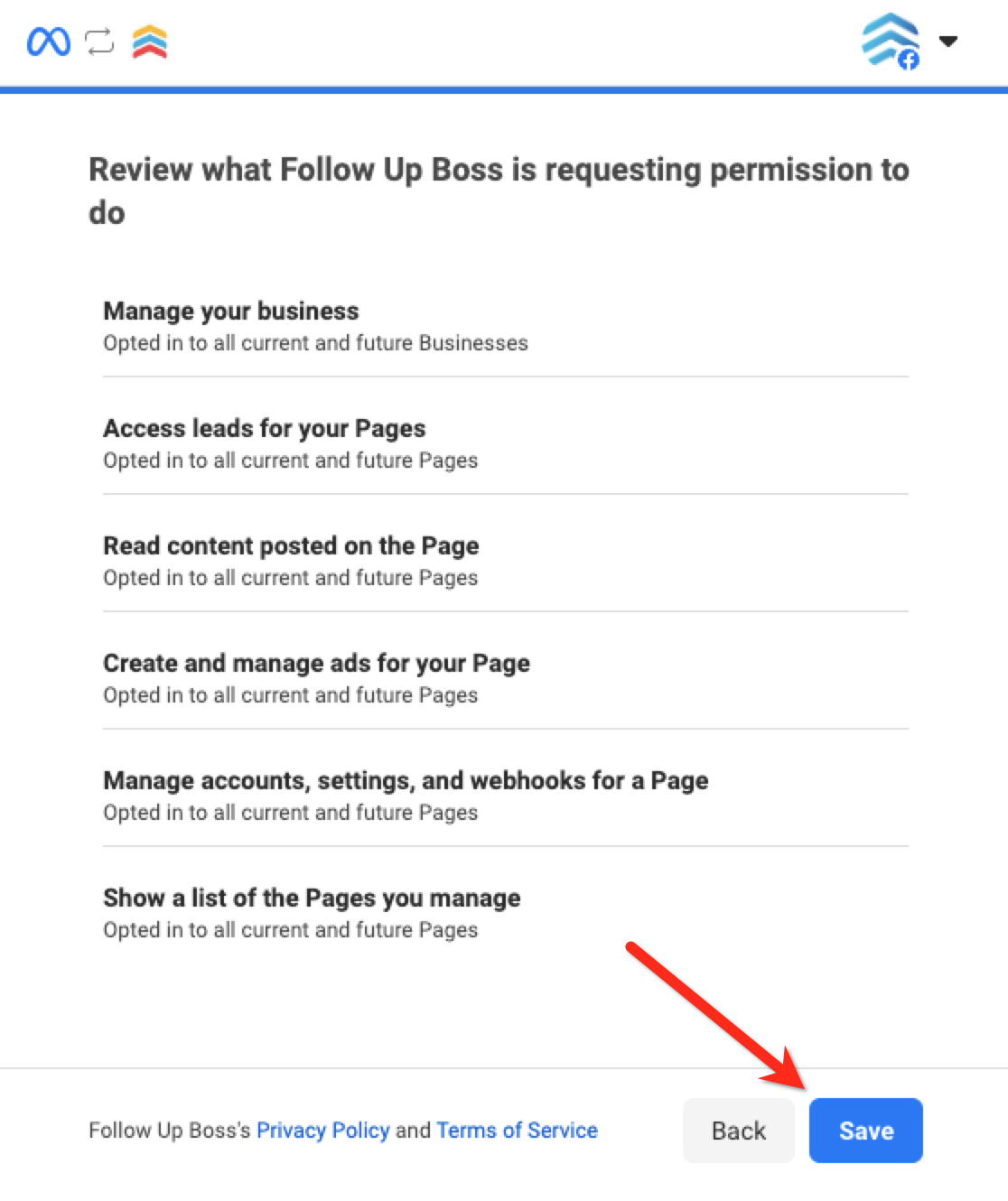 9. Click Got it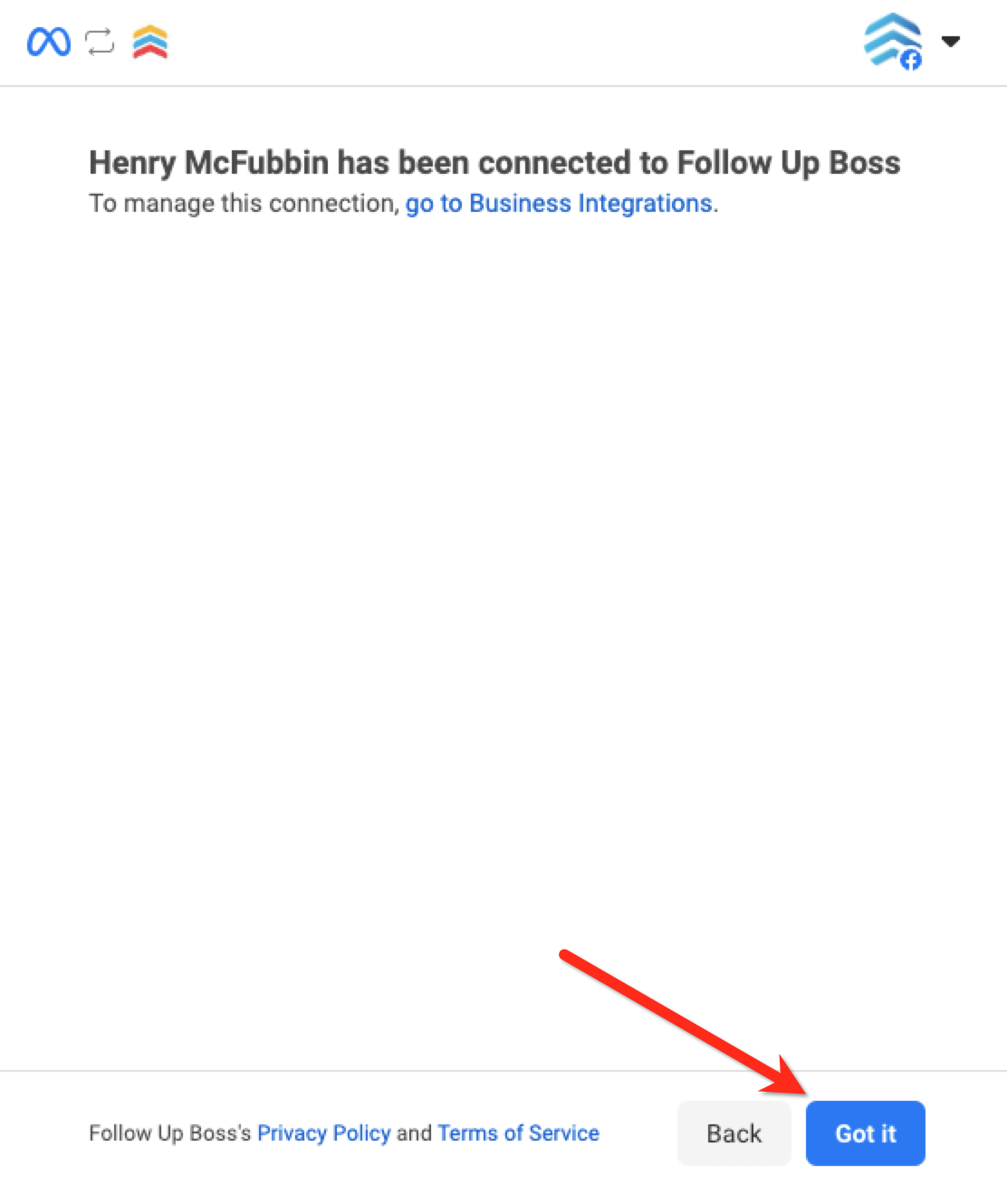 10.  You will be directed back to FUB to see that your Lead Ads are connected successfully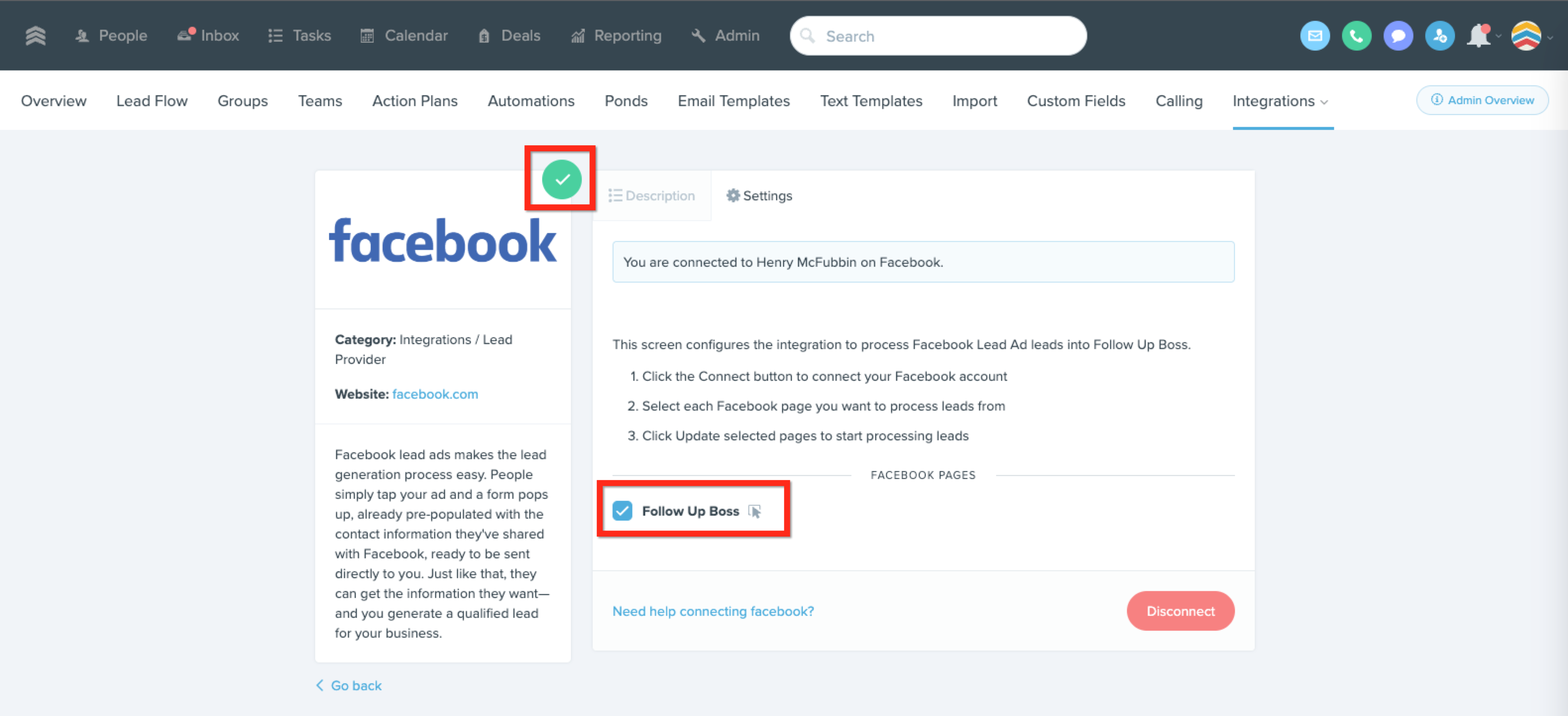 Facebook Business Account Lead Access
If you have a Facebook Business account you will also need to grant Follow Up Boss lead access to your pages.
1. Navigate to the Meta Business Settings by clicking on your Profile Picture on the left-hand side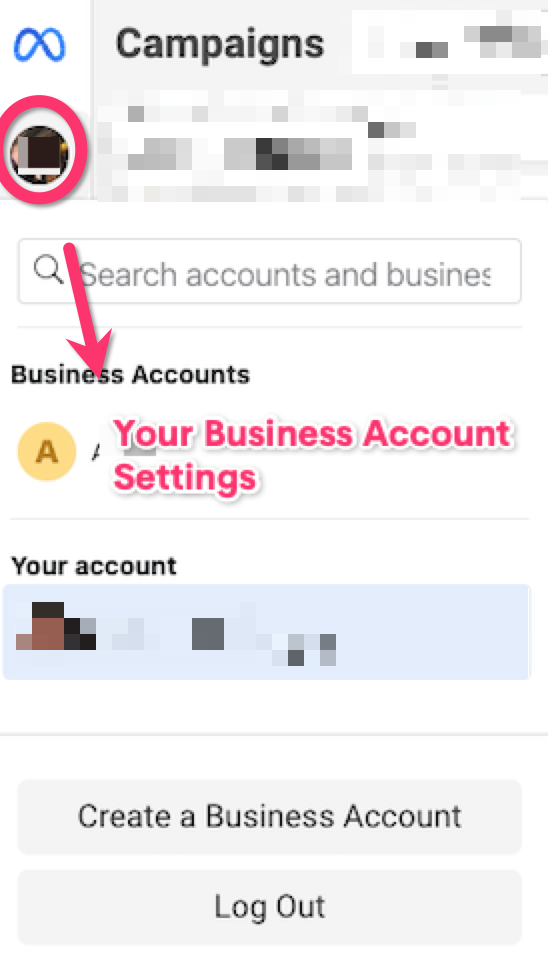 2. Navigate to Integrations > Lead Access
3. Select Facebook Page(s)
4. Select CRMs 
5. Choose Assign CRMs
6. Select Follow Up Boss
7. Check Assign Follow Up Boss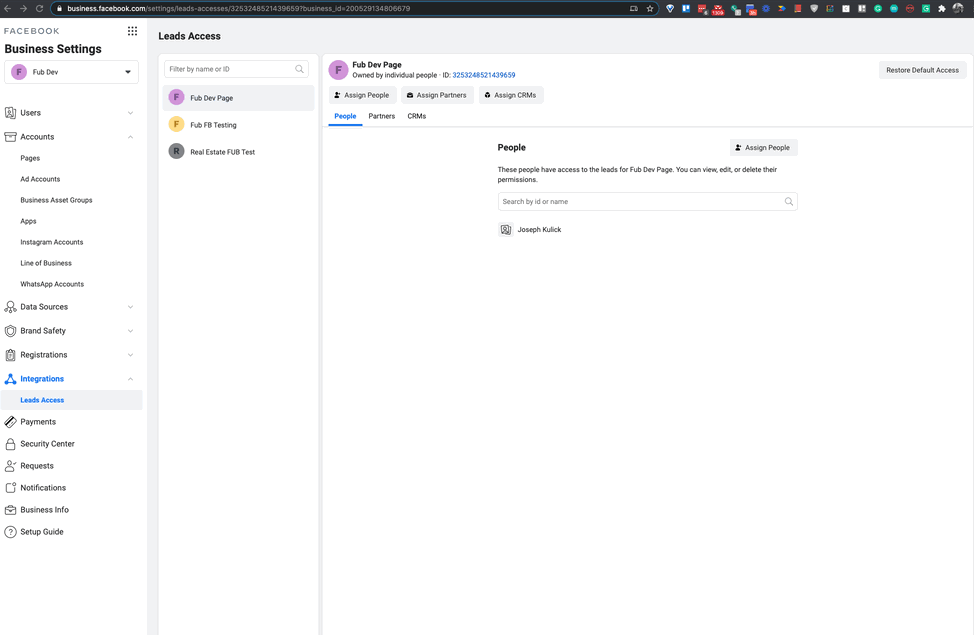 Note: Once your Facebook account is connected, new leads from your Facebook page(s) will be brought into Follow Up Boss. By default, the account used to connect to the Facebook page to Follow Up Boss will be the default assigned agent. This can be changed under Admin > Lead Flow by a Follow Up Boss Admin.
Facebook Lead Ad Form Capture
When processing a new Lead from Facebook we will look to capture the following information depending on the details captured on the Facebook Form.
Lead Details 

Name
Phone Number
Email Address
Address (Street, City, State, Postal Code, Country)
Custom Questions In the Form
Language Supported (English, Spanish, & French)

Source: will be denoted as Facebook
Tags

Note: Keep page and form names concise as Follow Up Boss has a 64-character limit for tags. 

Facebook Page
Facebook Form Name

Facebook Lead Ad Registration in TimeLine

Facebook Page
Custom Questions
Ad Name
Ad Set
Ad Campaign
Facebook Form Name
Platform: Facebook or Instagram
Routing leads by Lead Ad
Leads will automatically be tagged with the name of the Facebook page and the lead form they responded to. An Admin can use this tag to route the leads under Admin > Lead Flow.

More on advanced lead routing can be found here.
Facebook Lead Ad with custom fields
If your Facebook Lead Ad uses custom fields and you want this information to come into Follow Up Boss, you can use Zapier to integrate to allow you to map those custom fields as desired. Steps to use that integration are here: Facebook Lead Ads (Zapier Integration)
Troubleshooting Guides
Troubleshooting Facebook Lead Ad Direct Integration
Troubleshooting Facebook Direct Integration No Longer Subscribed To This Page
Troubleshooting Facebook Lead Ad Direct Integration Missing Permission For A Page
Troubleshooting Facebook Lead Ad Direct Integration Two-Factor Page Permission Warning
Troubleshooting Facebook Lead Ad Direct Integration Already Connected To Another Account