Zillow/Trulia seamlessly integrates with Follow Up Boss via a proprietary API connection called Zillow Tech Connect (ZTC). This article shows the step by step setup instructions to send Zillow/Trulia leads to Follow Up Boss (including what type of leads do and do not transfer to Follow Up Boss via ZTC).
Setup
1. Login to Zillow Premier Agent (https://premieragent.zillow.com/crm/agentlogin/) and click "Settings" in the menu under your picture.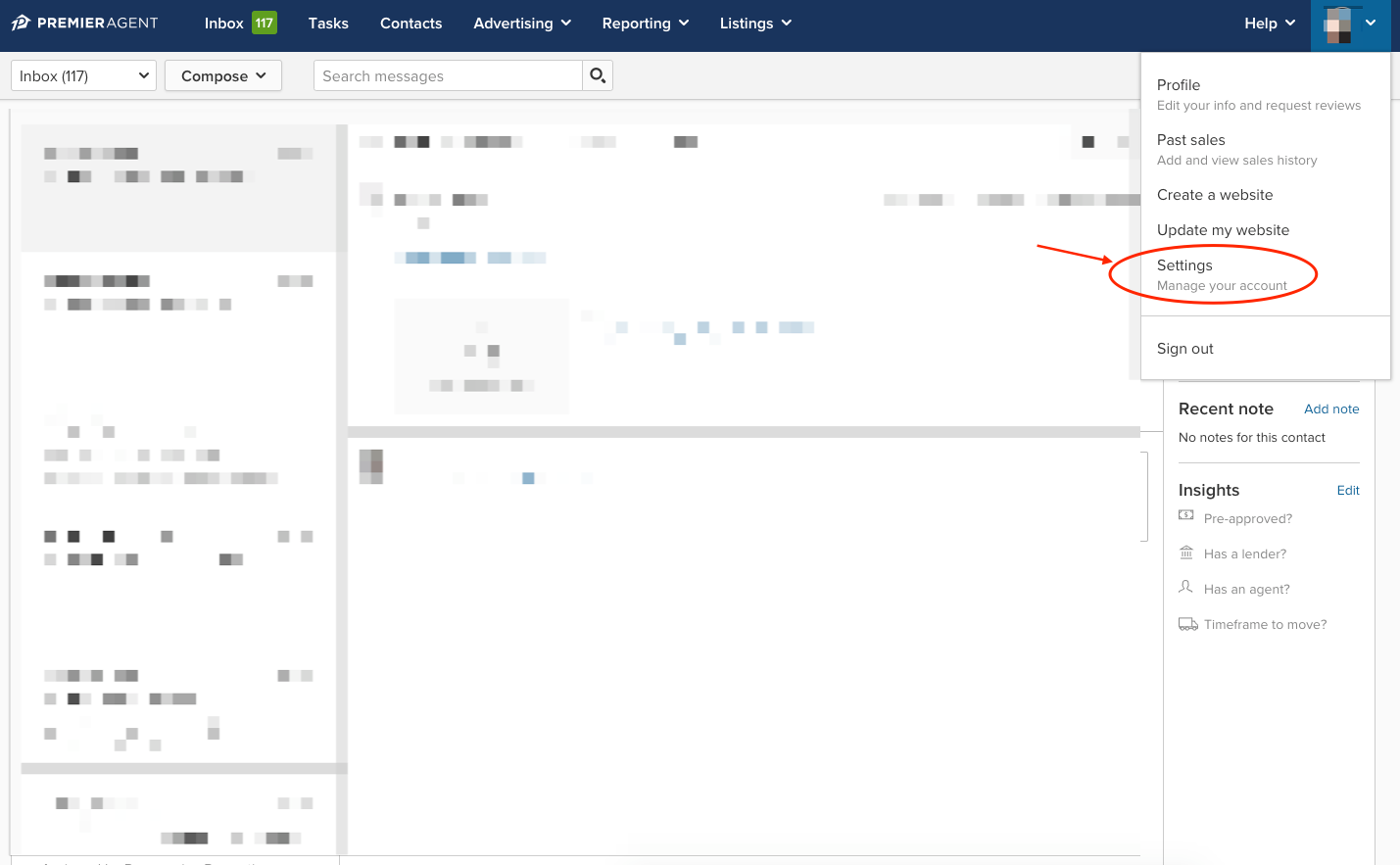 2. Click "Connect to My CRM" and then "Continue to Connect My CRM"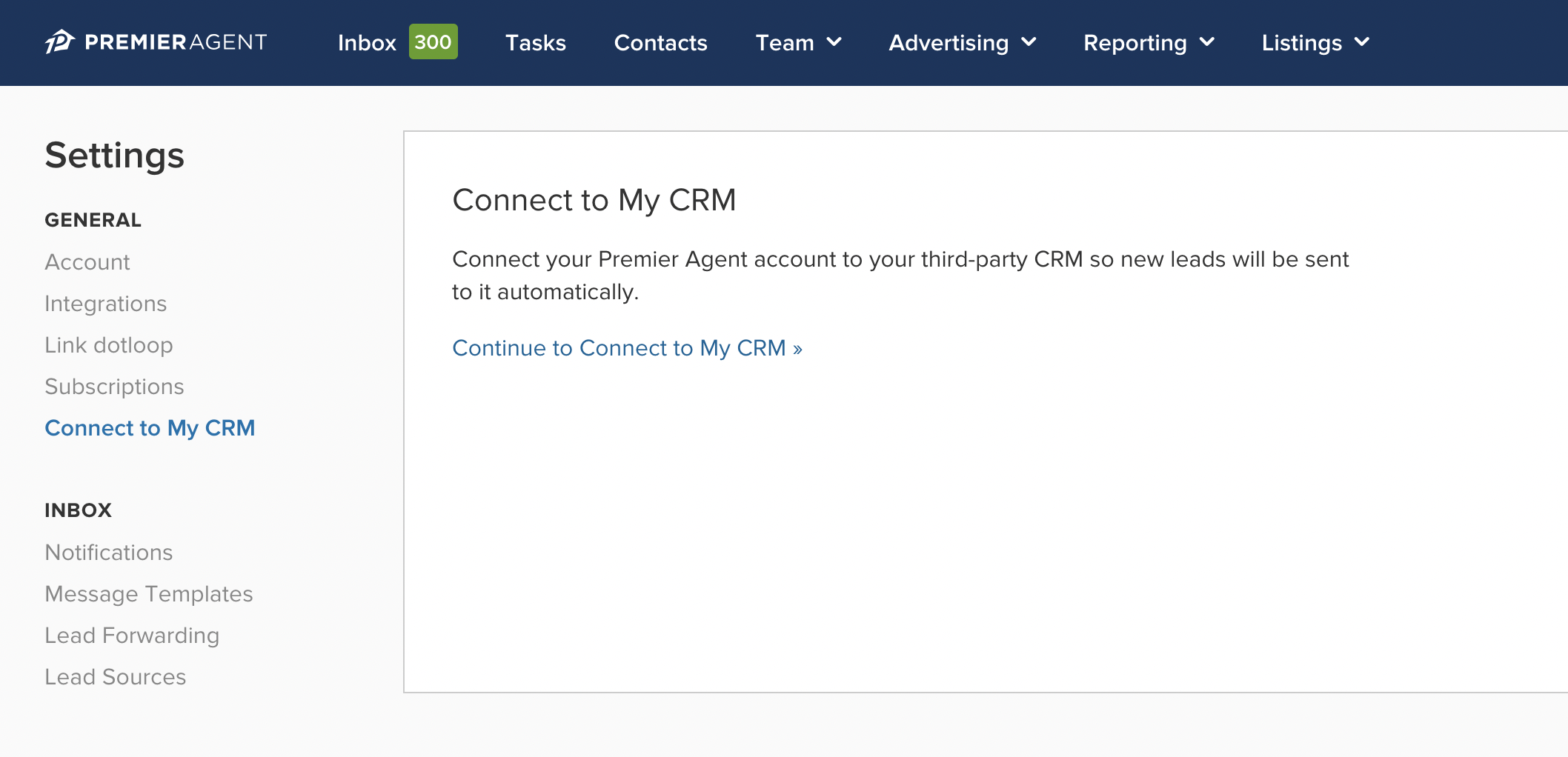 3. Click "Add Partner"
4. Select 'Follow Up Boss' as the partner
5. Enter the email address you use to login to Follow Up Boss as the Partner ID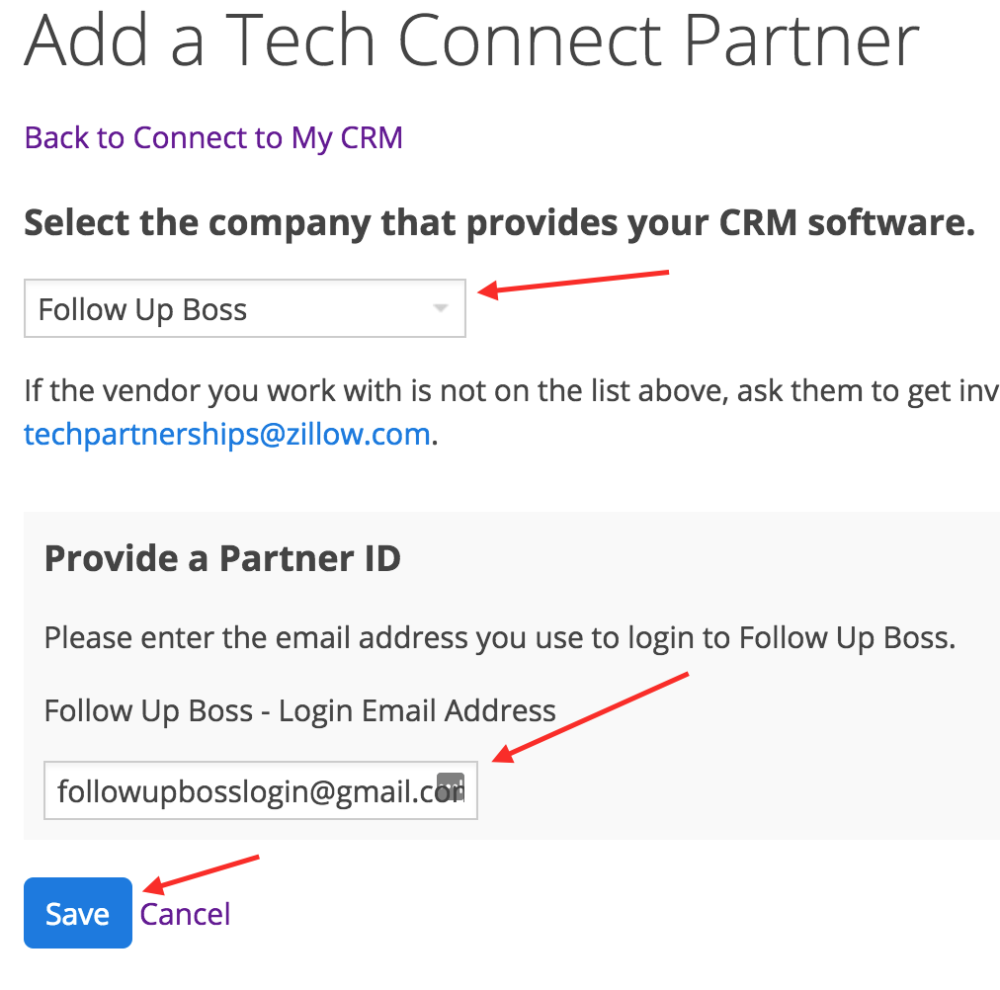 6. Click Save and you should now see the status as Active.

Zillow Lead Type Definitions
Direct Listing Inquiries (EMAIL) - These inquiries are submitted directly from an active Zillow or Trulia listing and are sent to a Zillow Premier Agent.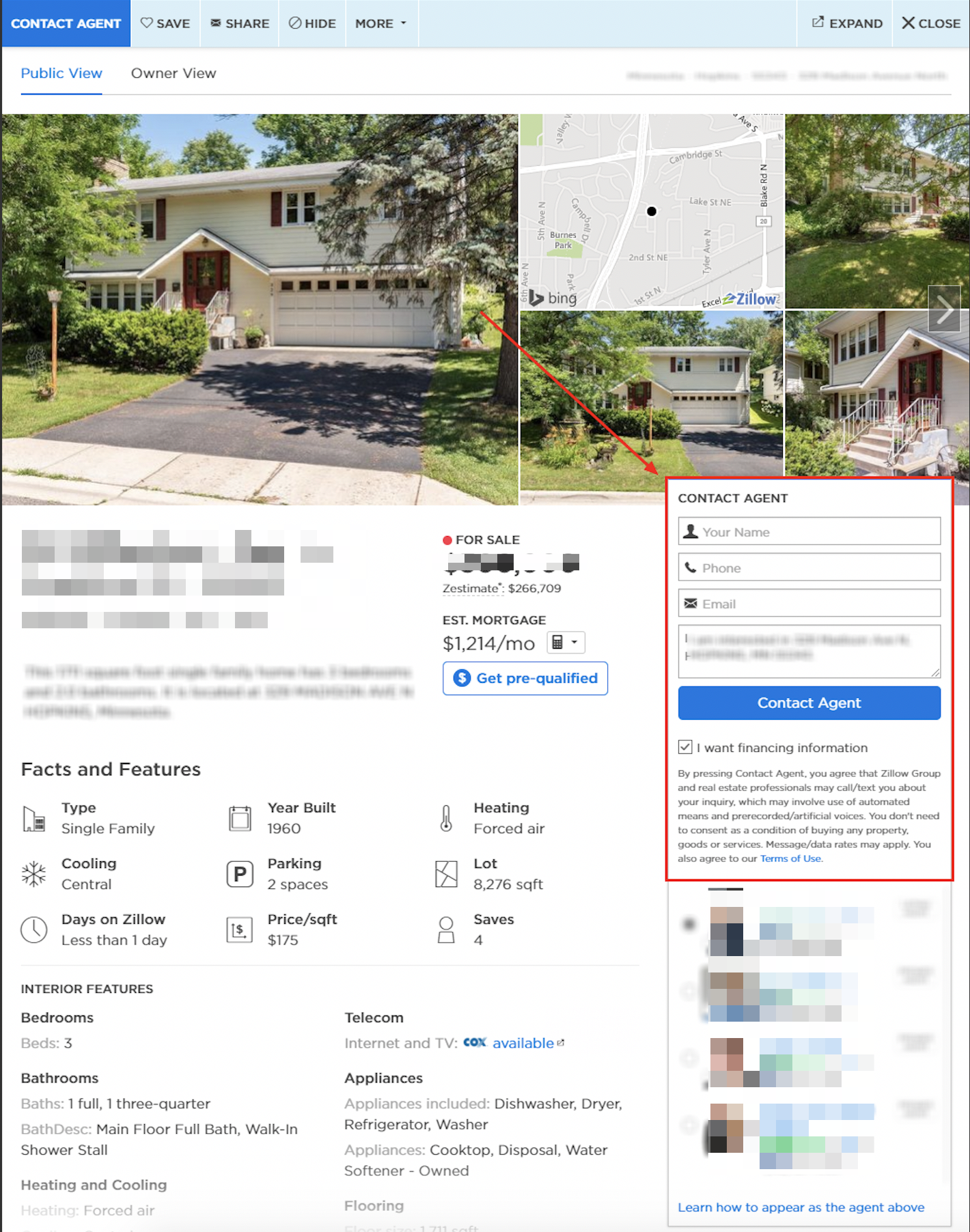 Profile Inquiry - These inquiries are submitted from an agent's Zillow or Trulia profile.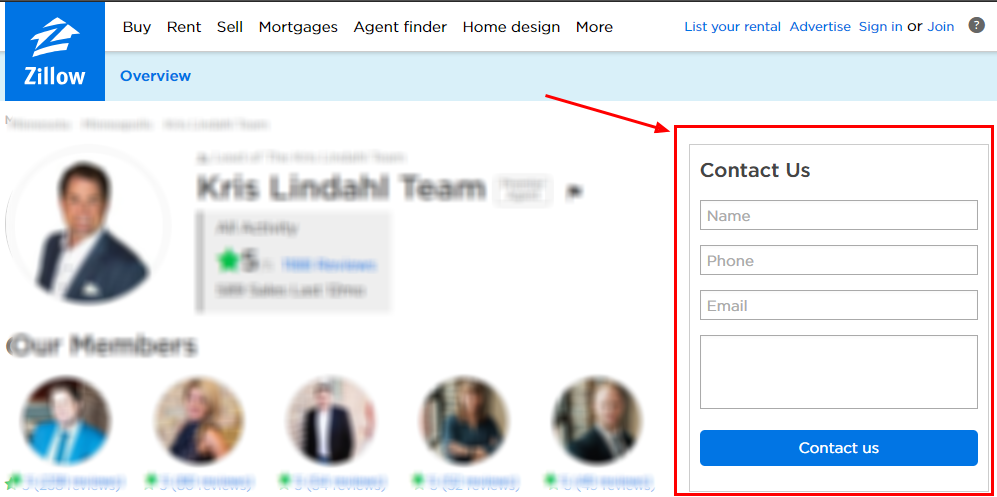 Direct Listing Inquiry (PHONE) - When a potential lead calls Zillow or Trulia unique phone number (found under Settings > Notifications in Premier Agent), the call will be routed directly to an agent's phone.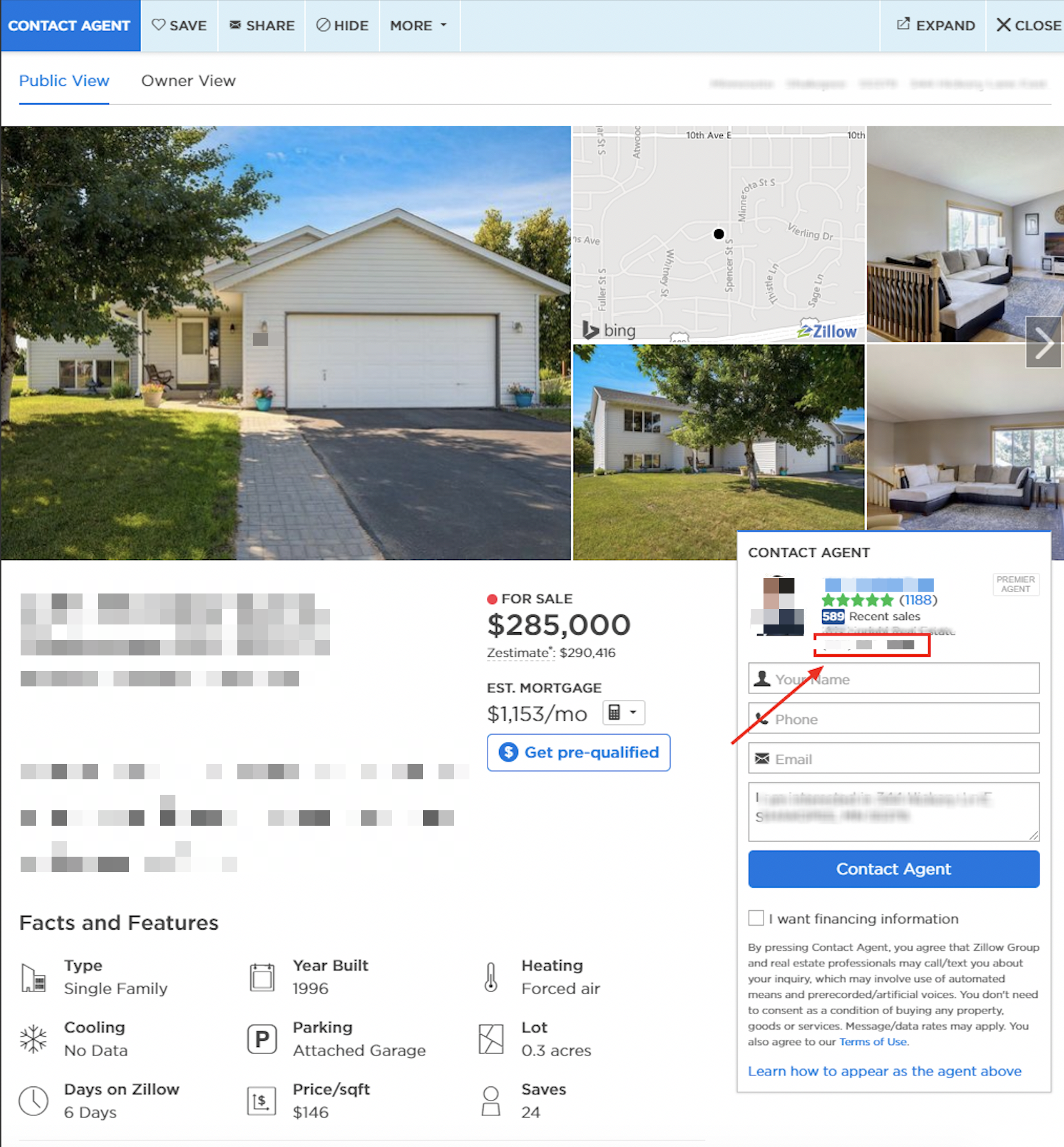 Concierge Live Phone Transfer (Zillow Connections) - Zillow Concierge reaches out to a potential lead via phone, qualifies the lead, and forwards the lead to an agent's phone
If Zillow has spoken to a lead before they send it to us, the lead will have a "Zillow Connected" tag added when added.
Zillow Lead Routing
As an alternative to using lead routing in Follow Up Boss for Zillow/Trulia leads, Follow Up Boss also supports the direct assignment of most lead types via Zillow lead routing. This setup allows you to route leads according to Zillow's routing rules in order to keep the assigned agent synced in both Follow Up Boss and Zillow Premier Agent.
Agent Matching Criteria:
We identify Zillow agents in Follow Up Boss by using the email or phone number associated with their FUB profile.
If Zillow has directly assigned a lead to an agent for which there is no matching Follow Up user, we now follow lead flow as normal. In these cases, a "Zillow Agent Not Found" tag is added to the lead.
Lead Routing Methods:
Here are the current routing methods for Zillow Lead Routing (found under Team > Routing Rules in Zillow Premier Agent):
Direct assignment - Directly assigns the lead to a specific agent
Routing by Percentage - Assigns a certain % of leads to certain agents
Routing by Round Robin - Distributes leads equally in a circle
Routing by Broadcast - All agent's phones ring simultaneously; the first one to pick up claims the lead
Lead Type
ZTC Supported
Follow Up Boss Sync Supported
Direct Listing Inquiry (PHONE)
 
 
Direct Listing Inquiry (EMAIL)
✓
✓
Profile Inquiry
✓
✓
Concierge Live Phone Transfer (Zillow Connections)
✓
✓
Zillow/Trulia Rental Lead
 
Additional Information
Note: The Zillow "Respond First" feature will cause a 3-4 minute delay in the lead transfer from Zillow to Follow Up Boss if enabled. That feature can be disabled in Zillow Premier Agent by clicking on Settings > Notifications > Edit Premier Agent Concierge > Disable Status.
Seller Leads
Zillow Offer Seller leads will have a Source name of ZillowOffers and a contact type of Seller
Traditional Seller leads will have a Source name of Zillow and a contact type of Seller
Action Plans & Routing for Phone or Unassigned Leads
Using the tags sent by Zillow, you can apply different action plans or assign leads to a different agent.
Phone Leads
You may choose to send specially tailored action plans to leads that reached out to you via phone. For instance, an action plan that doesn't include an initial text or one that emphasizes setting an appointment.
Available Tags:
Zillow Connected - Applied when Zillow spoke to the lead first. 
Zillow Direct Call - Applied to leads marked as, "direct call from a consumer."
Setting Up the Rule:
Unassigned Leads
If Zillow assigns a lead to an agent who is not in Follow Up Boss, you can choose to have those leads routed to a team admin or other user in your Follow Up Boss account.
Here's how that is setup: