If you have an IDX website integrated with Follow Up Boss, you can see who visits your website as well as various activities on the site. This is very helpful to know what your prospects are into and potentially convert them into a lead.
Website Activities Shown in Follow Up Boss
Follow Up Boss can show the following website activities, though this will depend on your website:
Property Inquiry
General Inquiry
Seller Inquiry
Registration
Saved Property
Viewed Property
Viewed Page
Visited Website
Property Search
Saved Property Search
Unsubscribed
Please note not every website sends all of these events, it depends on which specific provider you use for your website.
Where can I view this information?
Dashboard
You will be taken to the dashboard when you first log in but if you've navigated to a different page, you can go back to the dashboard by clicking on the Follow Up Boss icon at the top left of the page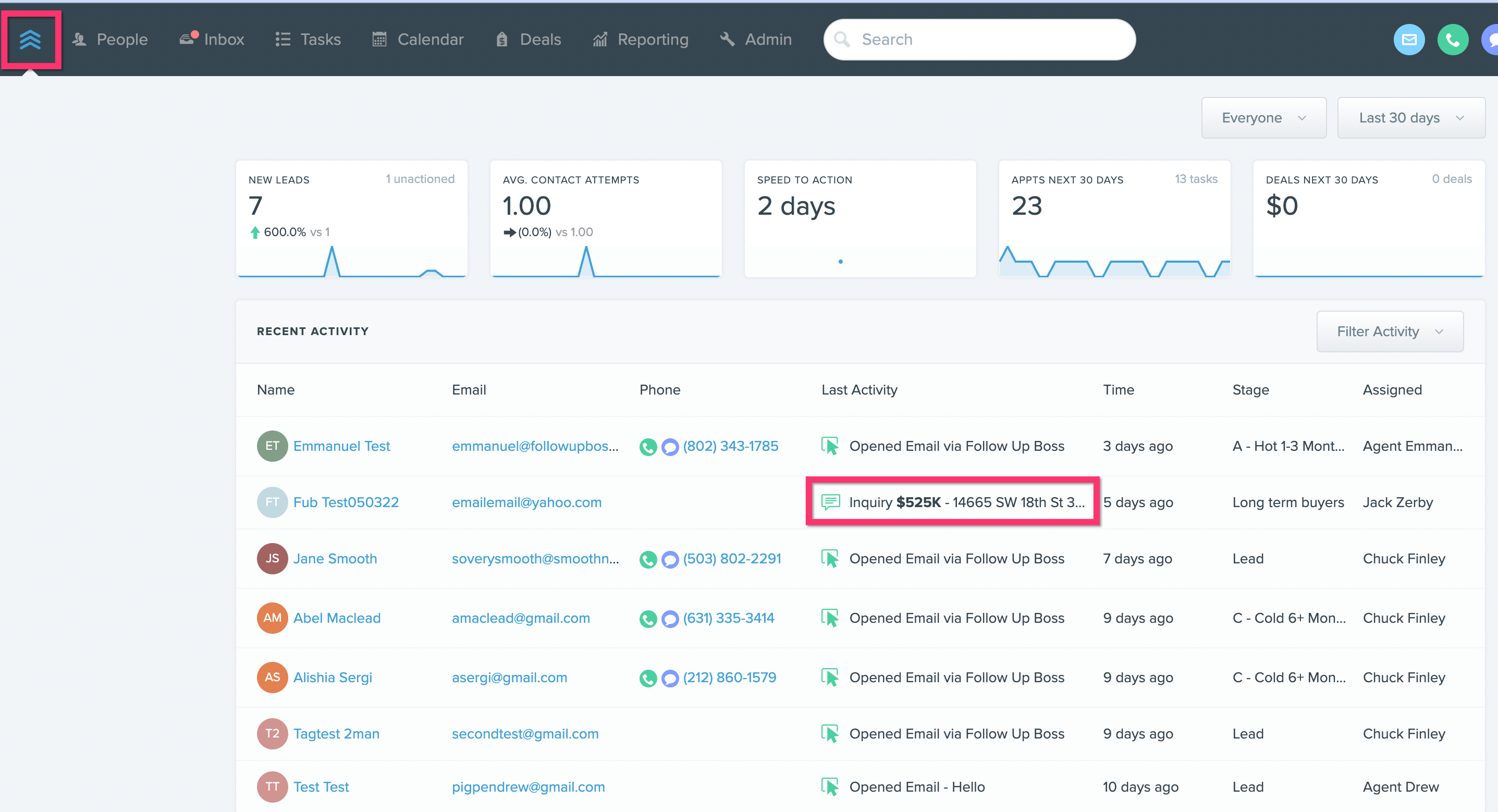 People screen
You can view things like Last Activity, Properties Viewed, Saved, Pages Viewed, and Last Visit on the People screen.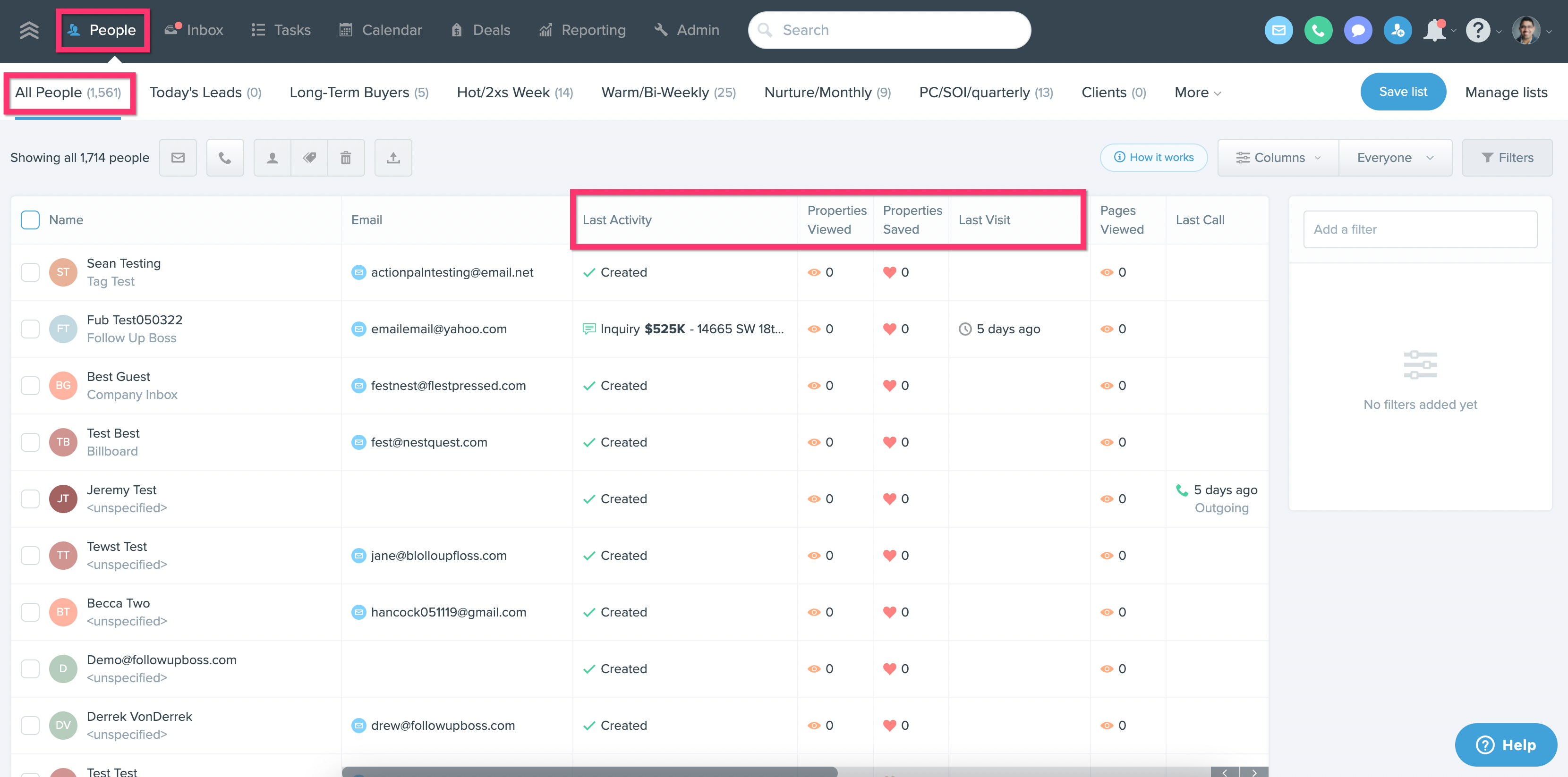 Individual Contact Profile
The Website Activity tab shows how many properties this person viewed on your website, the number of saved properties, and web pages viewed:

If you click on the View All link, it will show you more information about viewed/saved properties and viewed pages:

Other events like Property Inquiry, Registration, etc. appear on the timeline in the middle section of the screen: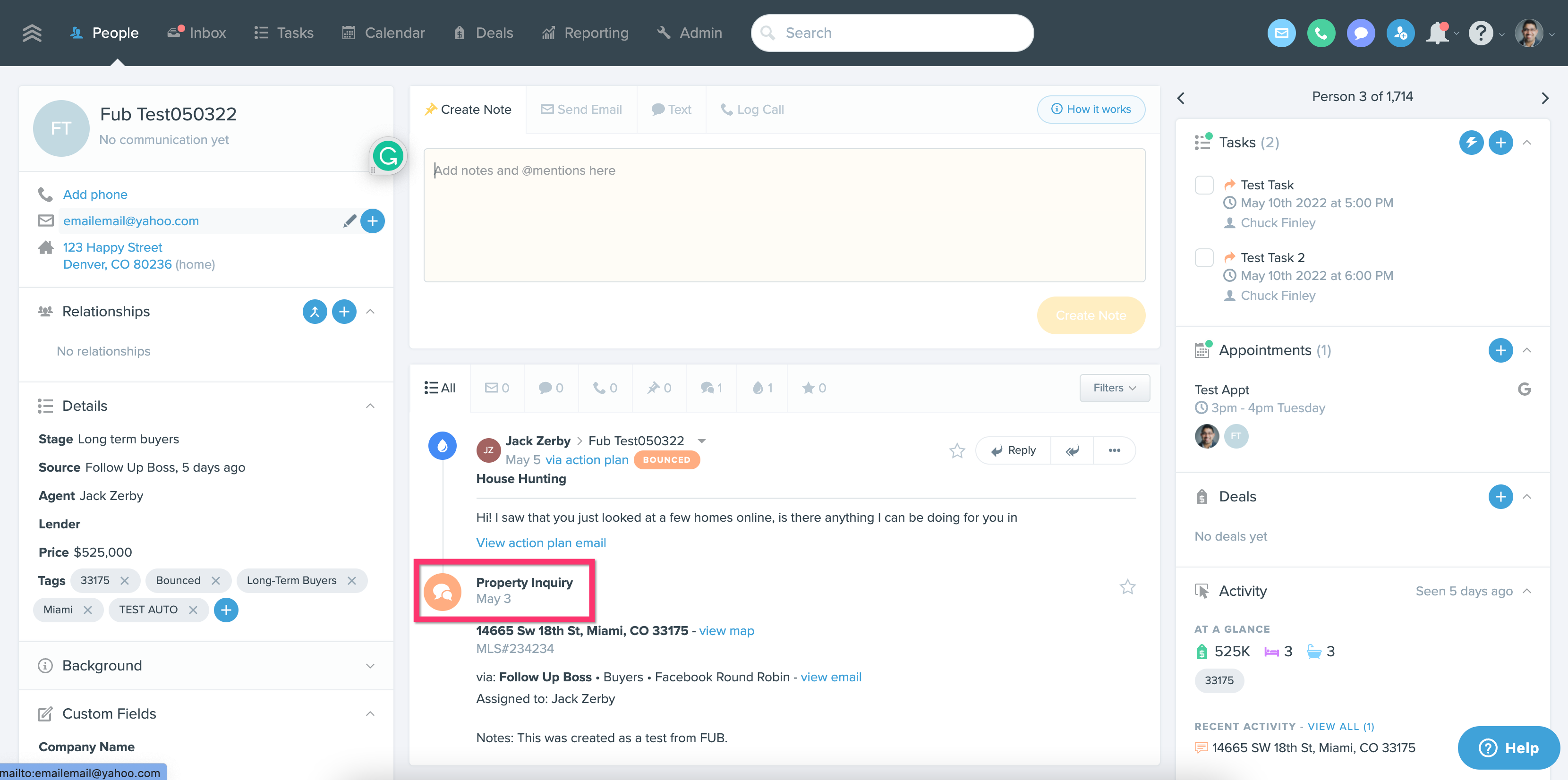 Website Activity Reports
Lead Sources
In the top navigation menu go to Reporting > Lead Sources and select different reports that provide information on website activities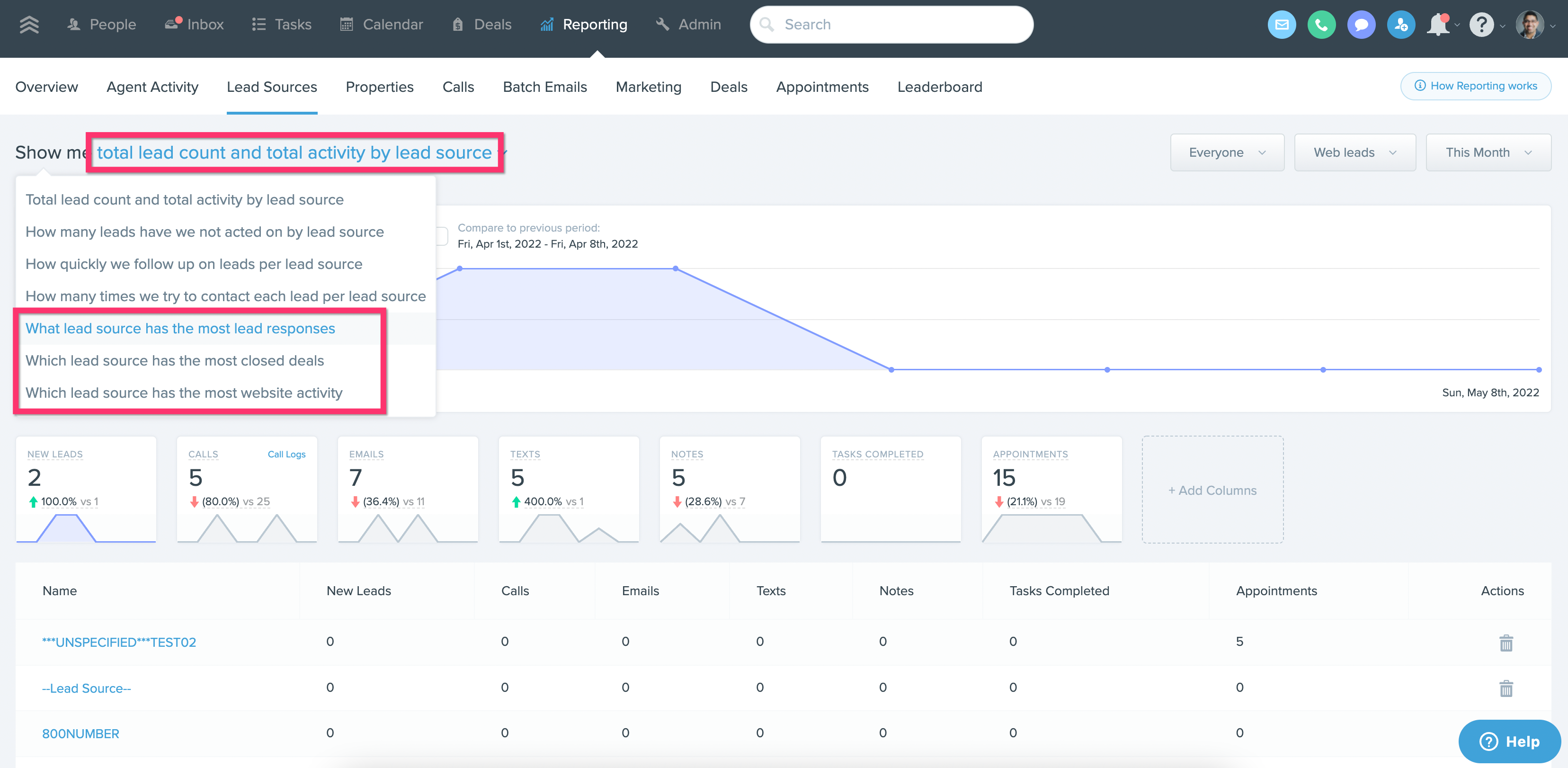 Properties
In the top navigation menu go to Reporting > Properties. You can switch between properties and zip codes in the Show Me dropdown: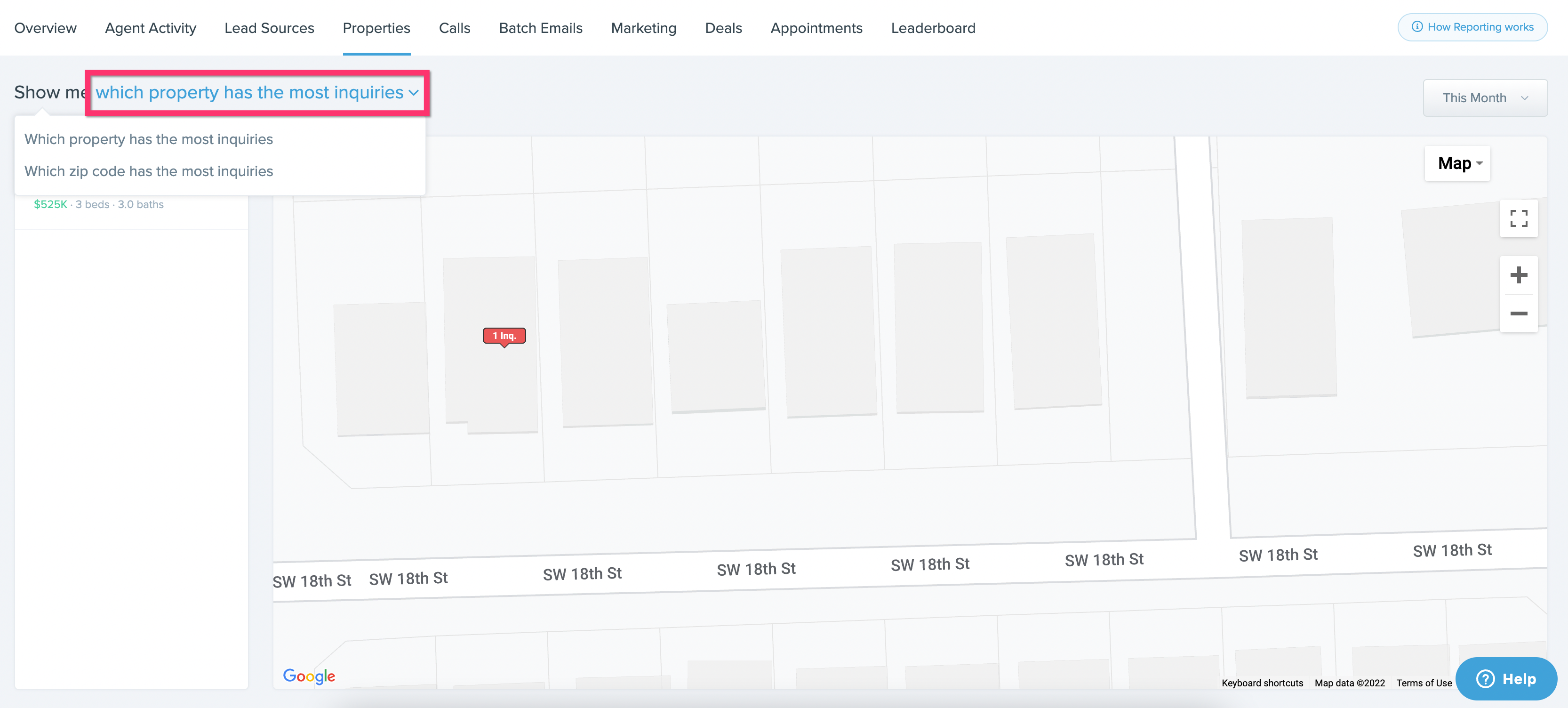 You can see people who inquired about a specific property by clicking on a specific property on the map:

Once you click on a property on the map, you'll see a list of people who sent an inquiry about that specific property:

To quickly locate a property by address press Ctrl-F (Windows) or Cmd+F (Mac) to open the browser's search prompt and start typing the address. Once the address is located on the left side, hover the mouse over that address on the left side and it will highlight the property on the map. Click on that property on the map and you'll see a list of people who inquired about that property.