Texts will be sent from your virtual Follow Up Boss number. 
This is a unique number assigned to your team (it's not possible for us to use your own mobile phone number). You can find this number under "My Settings".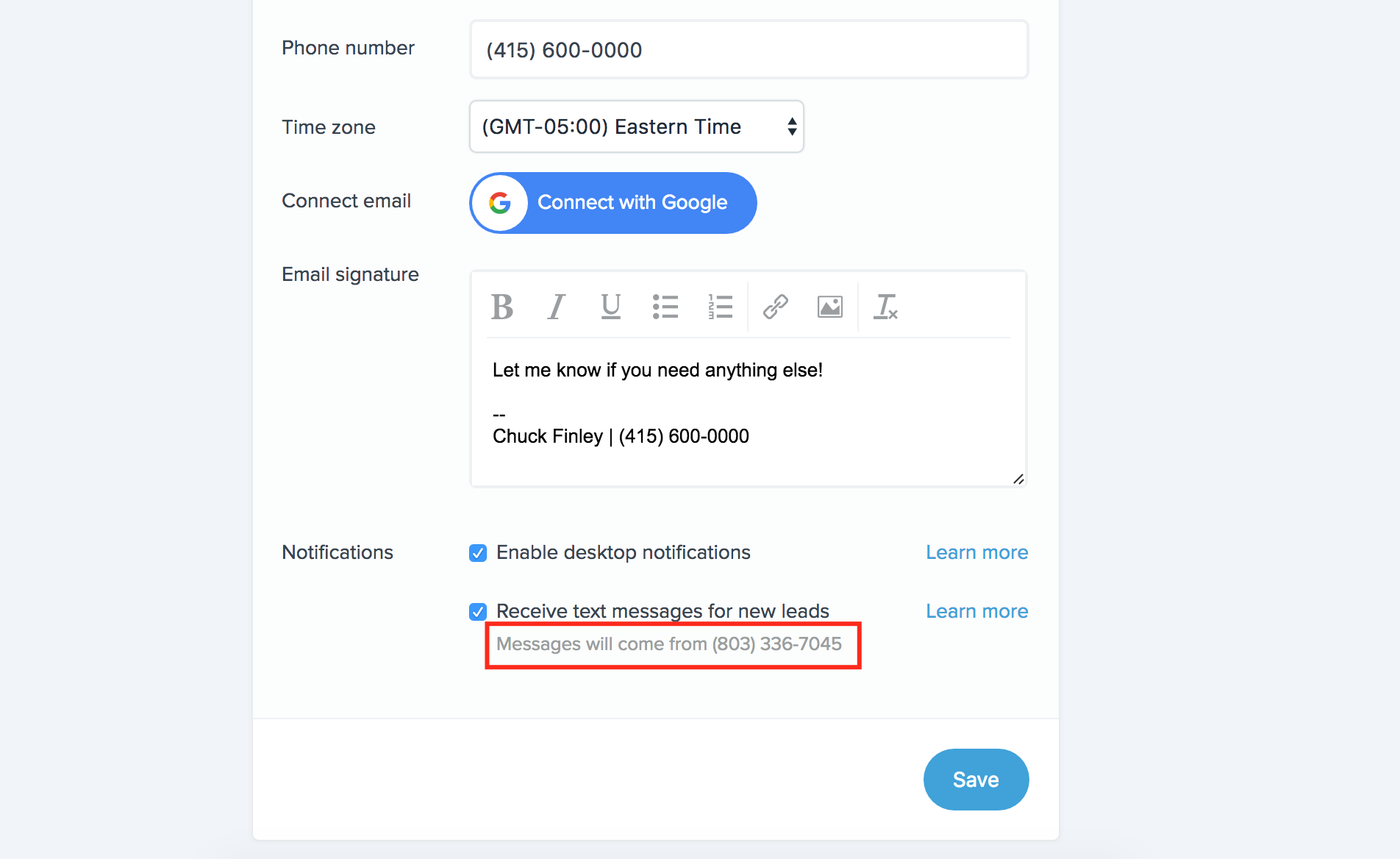 Follow Up Boss Number FAQs
What happens if a lead calls/texts this number?
If a lead calls this number, the call will be routed to the number listed on the assigned agent's settings page. 
If a lead texts this number, we will notify the assigned agent through our mobile apps. 
If the number doesn't match anyone in Follow Up Boss we will call or text the account owner as the backup and send them an email if it's a missed call. In future we'll allow these to be routed to another user.
Learn more about   Follow Up Boss Notifications.
Can I change this number to a new area code?
Yes. Keep in mind this will change the number for your entire team, and render your current number immediately inactive. This can be done under the text section of an action plan.
What if an agent is using the Follow Up Boss calling feature?
Follow Up Boss has a  calling feature that's popular for use with ISAs and agents making high volume calls from their desktop. If someone has the dialer enabled, texts to their contacts and from action plans assigned to them will be sent from their unique Follow Up Boss number.
Can I send mass texts?
We currently don't offer mass texting in Follow Up Boss because this is a form of marketing that requires an opt in from your clients. Most, if not all of your leads in FUB, have not opted in for mass text communication. We recommend calling or texting your hot leads and focusing on those first. Our initial auto-responder texts via action plans are also a great way to gauge whether or not a lead will want to communicate with you via text.
Can I use my own cell phone number?
For texting through the desktop app we use the company texting number as phone companies do not allow tracking or sending of texts as your personal cell number. Through the iPhone app you can opt to text using your own number, though note in that case the text message won't be automatically tracked.