At its core, Follow Up Boss is a powerful, customizable CRM, which means it can be used in lots of different scenarios! Use this Recipe for Success to learn tips for using Follow Up Boss for agent recruiting.
If recruiting is a big part of your business, you may want to consider opening a second Follow Up Boss account to keep it completely separate from your real estate clients. If you're using one account for recruiting and real estate, use stages and tags to separate your contacts.
Getting Organized
Start by outlining the stages and tags you'll use to categorize potential agents. These will become the foundation for your smart lists and if you're using one account for recruiting and real estate, will be how you keep your contacts separated.
Recruiting Stages
Stages can be customized by the account owner from Admin > Stages. If you're an agent and aren't able to customize your stages, use tags instead. If you're using one Follow Up Boss account for real estate and agent recruiting, be sure to include "Recruiting" in your stage names to differentiate them.
Example stages for recruiting:
Lead (Recruiting)
Hot Prospect (Recruiting)
Research More (Recruiting)
Nurture (Recruiting)
Not a Fit (Recruiting)
Recruiting Tags
Tags are helpful for further segmenting types of agents. For example, you could tag VIP or top producing agents to focus your follow-up efforts on those people.
Tracking Other Key Information
Custom fields can be used to track other key information you want to be able to sort/filter on in your smart lists. Account owners can create custom fields from Admin > Custom Fields. If you don't want to add more stages, you can use one drop-down custom field called Recruiting Stage and add the stages to that drop-down list.
Notes and Background are also helpful places to store details you want to reference during your follow up.
Following Up with Recruiting Leads
Smart Lists
Smart lists bring it all together by showing you the agents to follow up with next. Create smart lists using the stages and tags + the Last Communication field. For example, create a list of contacts in the Nurture (Recruiting) stage whose Last Communication is more than 2 weeks ago
Email Marketing
Action Plans can be used to send drip emails to your prospective agents, and batch emails are best to send newsletter-type updates to a group of prospects. Be sure to use merge fields to customize your messaging!
Tracking Conversations
Deals
Deals can be used to track conversions. Account owners can create a separate pipeline for recruiting from Deals > Settings. Choose the stage you want to count as "closed" for deal reporting: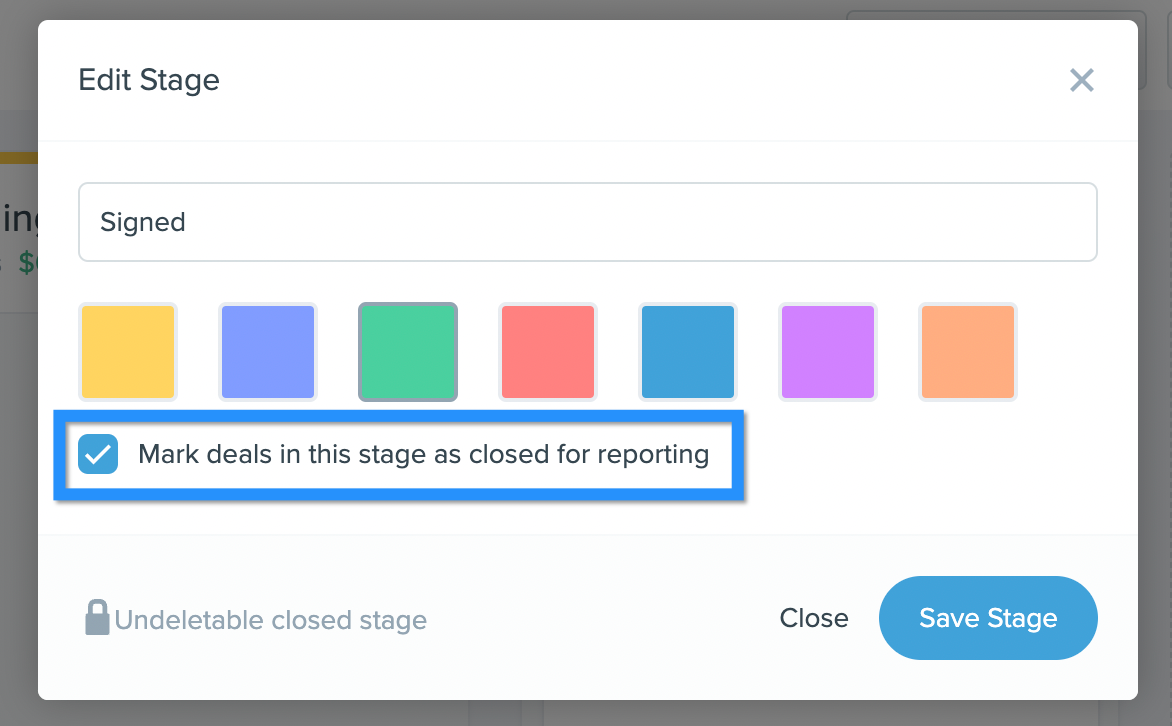 When an agent signs up with you, delete their "lead" profile from your account and add them as a user instead! 🎉 If you want to keep their lead profile for reporting purposes, at least remove their phone number and email address from it because having a users' phone numbers and email addresses on a "lead" profile can interfere with their email and phone communication syncing.