Deal reports in Follow Up Boss are updated in real-time as your team closes deals. Deal reports provide insight into:
Deals Closed Year-to-Date (YTD)

Deals Closed Month-to-Date (MTD)

Stage Averages At A Glance

Commissions and Splits

Which Marketing Sources Are Working Best

Forecast of Pending Closings
Finding Deal Reports
Go to Reporting > Deals to view deal reports.

Filters and Features

+ Add Deal: Add a deal directly from the deal tab
Export Report: Export the appointments report
Pipeline: Select the desired pipeline
Status: Select All Deals, Current Deals, or Archived
Source: Select the desired source
Users: Select the desired users
Note: Account owners can manage deal pipelines by going to Admin > Deals > Settings Gear. For more information, check out How can I add, edit, or delete my pipelines and their stages?
Deal Columns
Name: Name of the deal
Stage: Stage of the contact
Status: All Deals, Current Deals, or Archived - click here for info on creating and archiving deals.
Entered Stage: Date the contact entered the deal stage
Time in Stage: The number of days the contact has been in the deal stage
Close Date: Close date of the deal
Time to Close: Calculated using the time between the creation date of the oldest contact attached to the deal and the close date. If there isn't a contact associated with the deal, the deal created date is used.
Price: Price of the deal
Commission: Commission of the deal
Agent Commission: Agent commission of the deal
Team Commission: Team commission of the deal
People: Contact(s) invited to the deal
Team: Follow Up Boss team member(s) involved with the deal
Contact Lead Source: Source of contact
Marketing Lead Source: Marketing Source of the contact
Editing Deals from the Pipeline Deal Report
To edit deals from the deal report, simply click on the name of the deal to display the editing menu.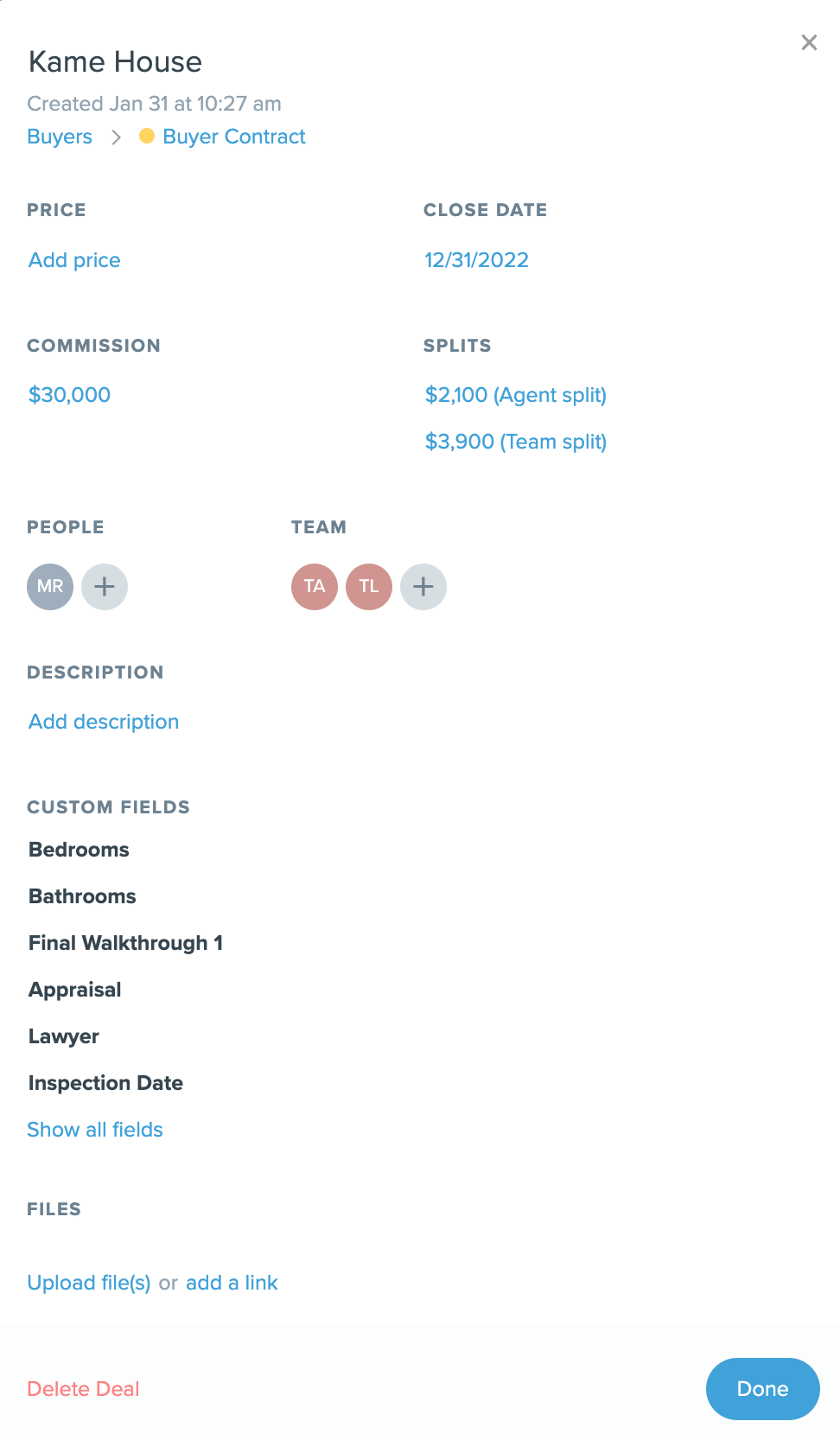 How does the graph determine what deals to display?
The graph shows all deals with a closed date, filtered by the chosen stages and time frame.