Integration Types
API
Email
Zapier
Follow Up Boss Pixel
API Integration
Note: The RealScout API integration must be completed by the owner of the account.
Create a Follow Up Boss API Key by going to Admin > API
Select Create API Key
Name the API Key RealScout > Create API Key
Press Copy
Log in to RealScout
On the left-hand side, go to Extras > Integrations
Find Follow Up Boss and enter your Follow Up Boss API Key > Connect

Now that you've connected your account you have a few different configuration options available to you.
Configuration Options
Enabled
Enable your RealScout/Follow Up Boss integration in order to:
Import new clients into your RealScout account from the leads you add in Follow Up Boss.

Make updates to clients when changes are made in Follow Up Boss.

Delete clients in RealScout when you delete leads or change a lead's stage to "Trash" in Follow Up Boss.

Reassign clients to your team members on your RealScout account when you reassign them in Follow Up Boss.
Transfer leads
This option ensures leads are assigned to the same team member in both systems. You can assign a lead to a team member in Follow Up Boss, and that client will then also be assigned in RealScout.
Note: In order to connect your Follow Up Boss team to RealScout and transfer leads to the respective team member, the RealScout Member Success team will need to connect you and your team members. To do that, please fill out this form or email support@realscout.com with the names of your team members and their emails. The team members email address must be the same as what they're using in RealScout/Follow Up Boss.
Once you've confirmed that, tick the "Transfer Leads" checkbox and click CONNECT TEAM MEMBERS.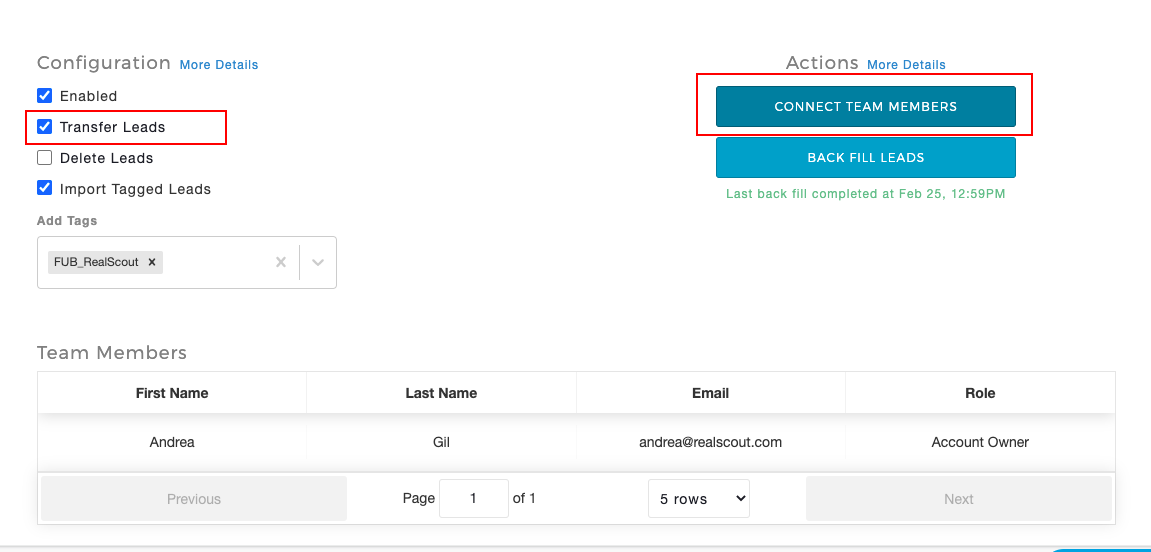 Once team members are connected and the option to transfer leads is selected, the leads from Follow Up Boss will assign to the correct team members in RealScout.
Delete leads
This option ensures leads in RealScout get deleted when the lead's stage is updated to 'Trash' or the lead is permanently deleted in Follow Up Boss. If a lead is deleted or trashed in Follow Up Boss, the corresponding RealScout client will be deleted regardless of tags or who deleted/trashed it.
Import tagged leads
This option only syncs leads from Follow Up Boss who have specific tags. If one or more of the tags provided in RealScout match a tag in Follow Up Boss, the lead will be imported, updated, or deleted from RealScout accordingly. Leads pushed into Follow Up Boss from RealScout will be tagged "RealScout" automatically. With this option enabled, the tag "RealScout" will ensure updates from Follow Up Boss get processed in RealScout.
Zapier Integration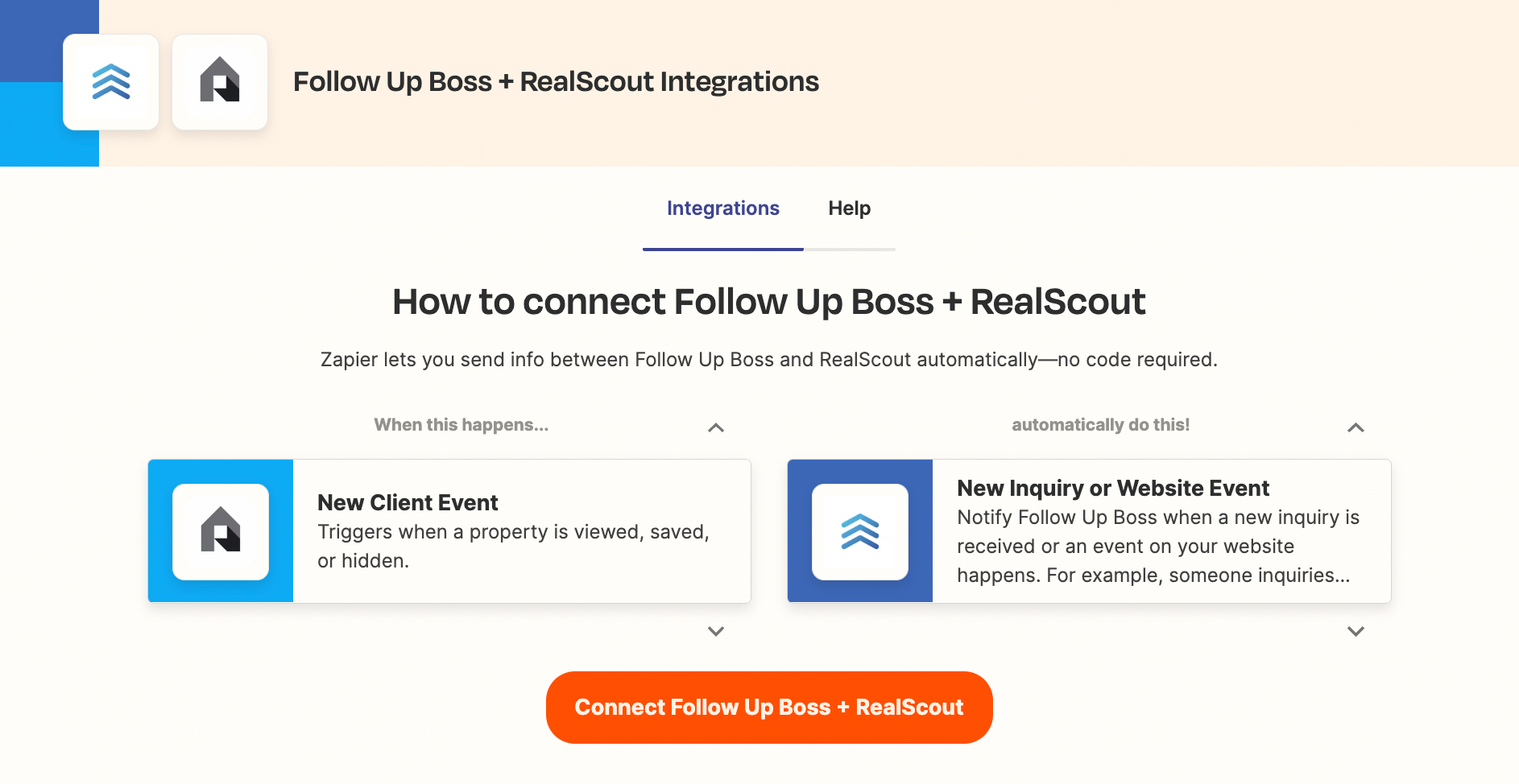 Endless possibilities when connecting Follow Up Boss and RealScout via Zapier!
Step-By-Step Zapier Instructions: RealScout + Follow Up Boss
Login or create a free account at Zapier.com
Click Make a New Zap.
In the "What apps do you want to connect today?" section, set your fields as shown below:
Click the blue, "Use Zap" button.
Step 1. of your Zap should look like the following:
Next, click where it says, Choose Account. From there, you'll get a pop-up window asking for your RealScout API key.
The last step of the RealScout portion will allow you to find data and a test lead.
From there, click, Done Editing.
In Step 2. of your Zap is where we will configure the Follow Up Boss portion. Make sure that the first portion is set to, "New Inquiry or Website Event" in the "Choose App & Event" section:
After clicking, "Continue" you'll be asked to sign in to your Follow Up Boss account. After signing in, click Continue.
Set the Event Type to "Registration" and proceed with filling in the template using the dropdowns to the right of each field:
Choose to continue to send a test to Follow Up Boss. Confirm that your test made it through to Follow Up Boss and then turn on the Zap.