This feature is currently available to free trials and customers on our Grow, Dominate, and Platform plans. 
---
Convert Leads at the Right Time Using Website Tracking
About Website Tracking
The Website Widget is a first-class website activity tracker that you can place on any of your websites to seamlessly push activity information into Follow Up Boss.
The tracker provides valuable insight into lead activity, including:
Lead Registrations
Returns to Website
Viewed Properties
Viewed Pages
Favorited Properties
Saved Searches
Automated Engagement & Retargeting
Stop chasing leads, and start interacting with the hottest leads who are looking to buy or sell right now.
Get more leads on the phone with call and text Calls to Action (CTAs) that go straight to your Team Inbox.
Tracking links in emails provide valuable insight into a contact's behavior on your website.
See who is on your website now and reach out with relevant messaging. 
Setup
1. Go to Admin > Integrations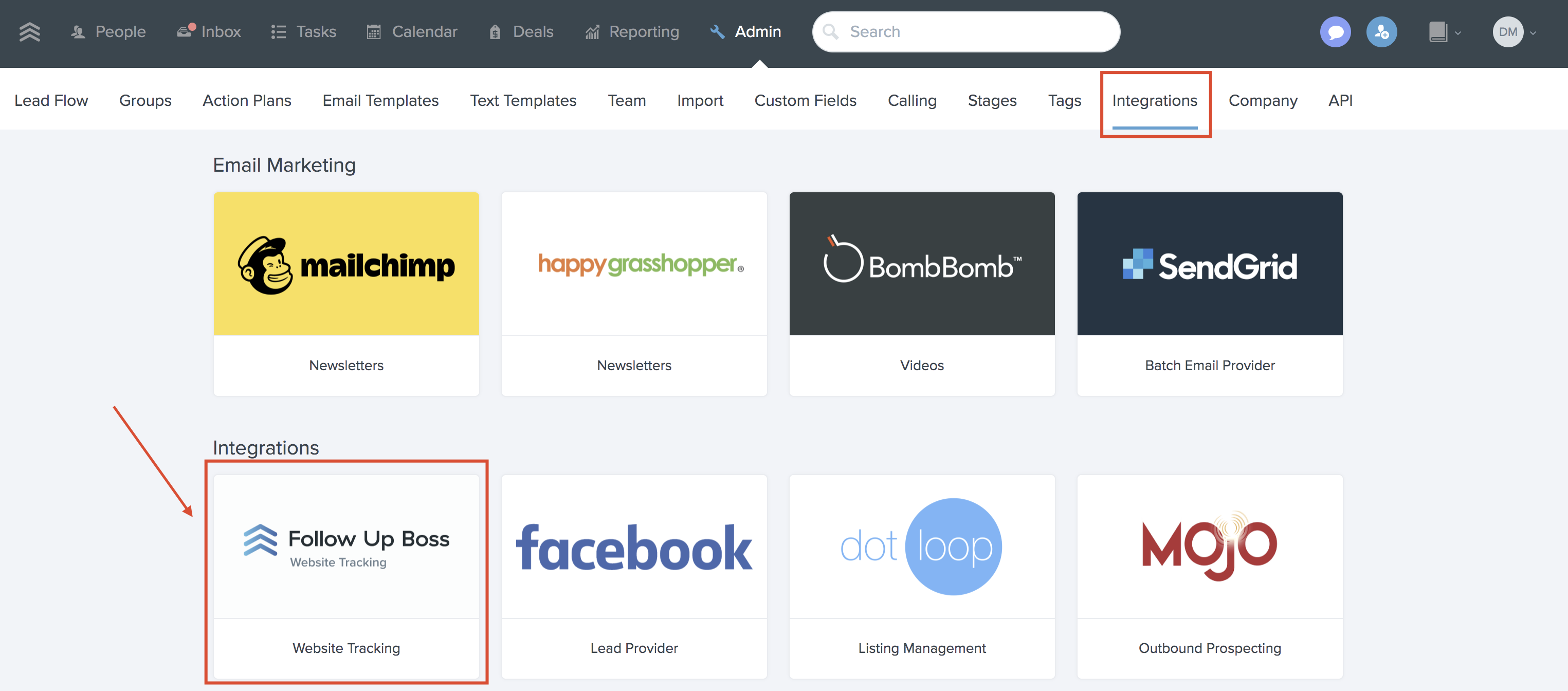 2. Choose Follow Up Boss, then click "Website Tracking Settings"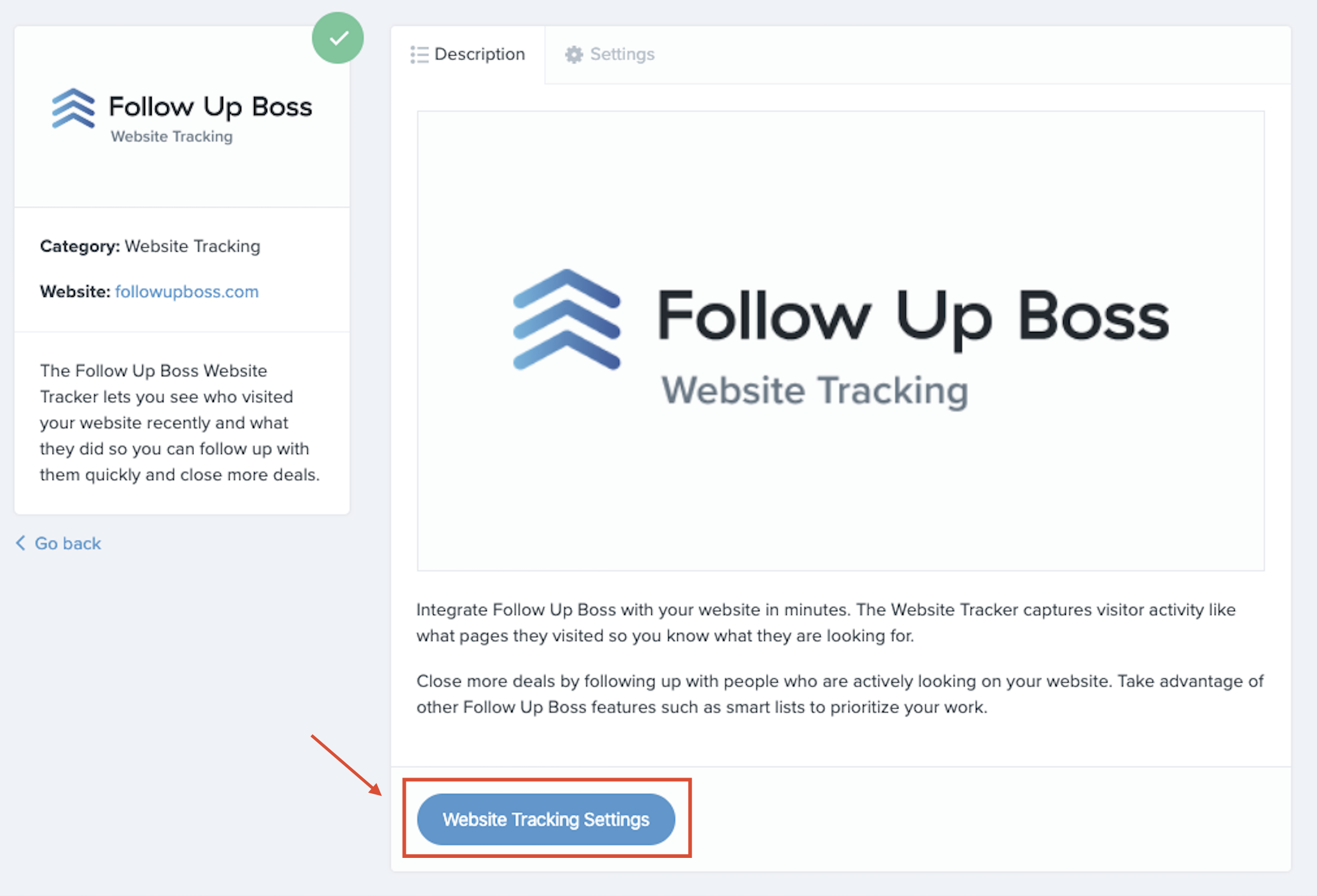 3. Select Your Options 
The tracking code can be placed on any of your websites or landing pages.
Capture more leads by choosing to display a call to action with your Team Inbox number, allowing you to route incoming calls to your most active agents.
Encourage leads to contact you on your mobile website by enabling the mobile option. 
"Enable form capture and creating new leads in FUB" will allow Follow Up Boss to capture information entered via any forms on your website. We automatically detect name, email address, phone number and a message from the lead and put them into correct fields in FUB. This can also trigger Action Plans.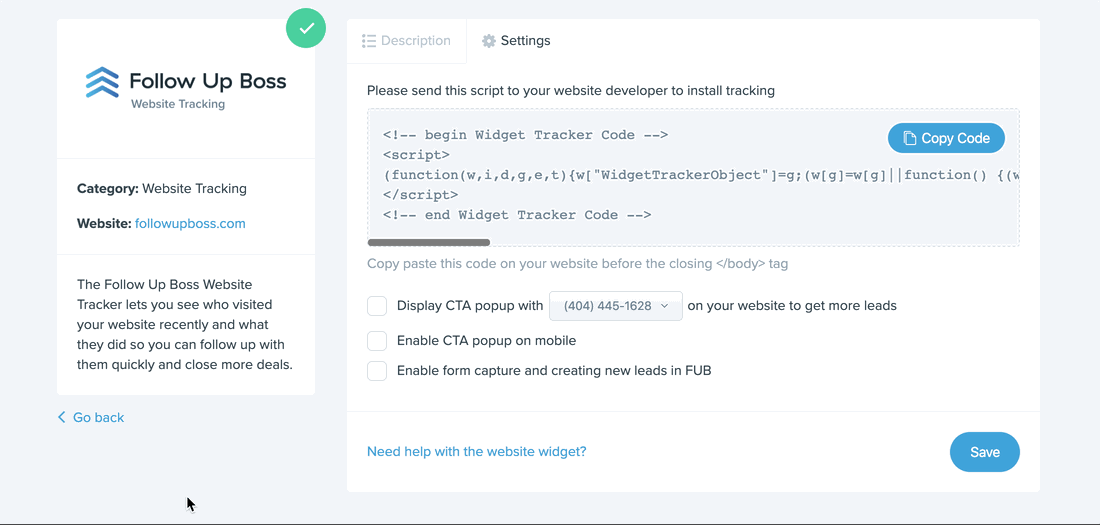 4. Copy Code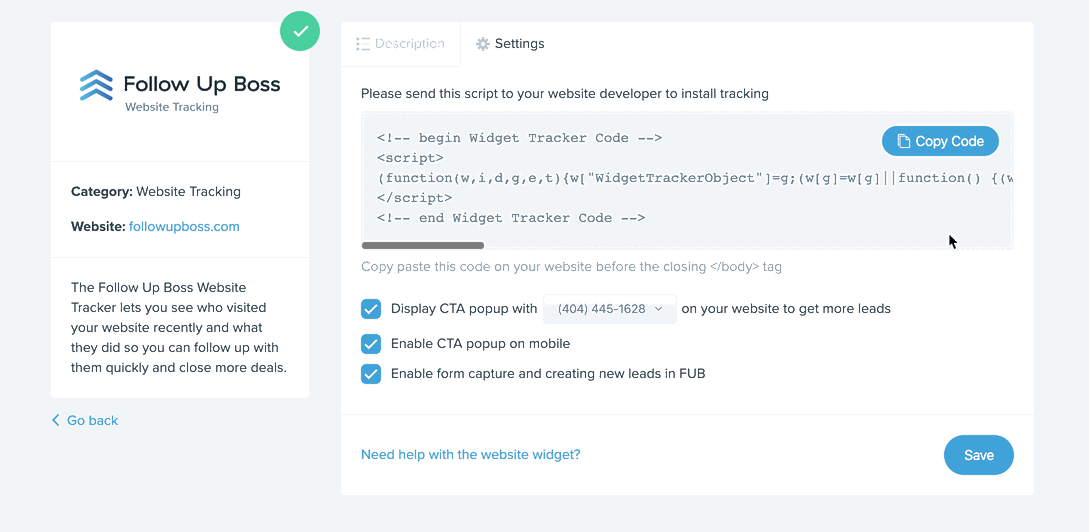 5. Paste Code Into Your Website 
You'll place this code in the area of your website that allows JavaScript.
Popular Integrations:
Need help installing your code? Reach out to our support team who will let you know the best option for your unique site: support@followupboss.com. 
Email Link Tracking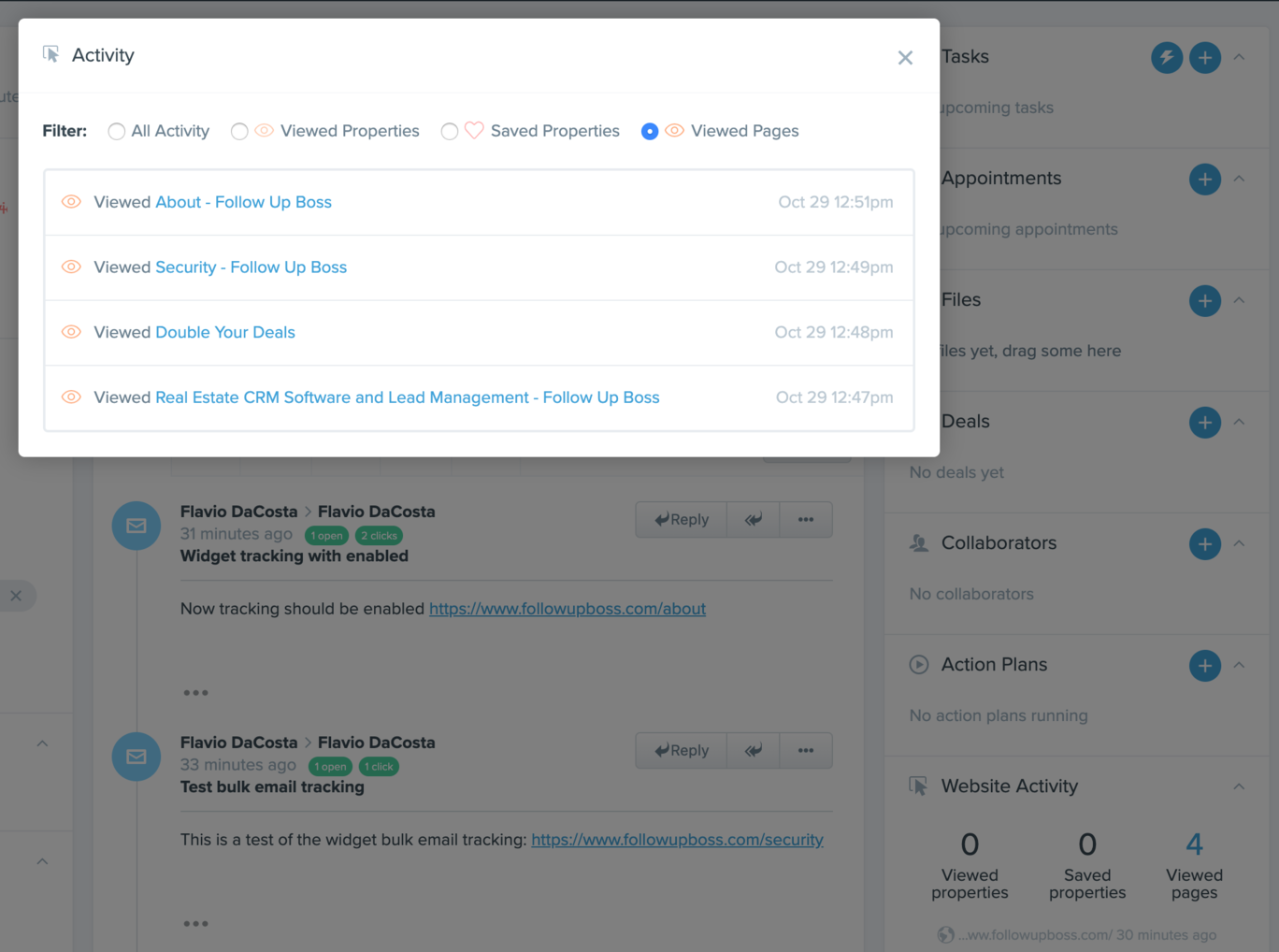 Add metadata to links in emails in order to track website page views. This works for batch emails and 1:1 emails sent from the contact's page directly, scheduled emails, or those replied to from the inbox.
This feature is also early access, submit a request to support@followupboss.com and if you would like to explore this aspect of tracking as well.
FAQ
How does the tracking widget work?

The widget is a small code snippet that can be dropped into your website in the header or footer of your pages. Once in place, Follow Up Boss can then start identifying your leads/contacts in FUB and show their website activity.

Do leads need to register first?
In order for us to track activity, the contact must first fill out a form or CTA on your website that captures their email address. Once that information is captured, we can match them in Follow Up Boss. 
Where does Website Activity show?
You'll see detailed activity in each lead profile, in addition to being able to see who's online now and filter by activity on the People Screen.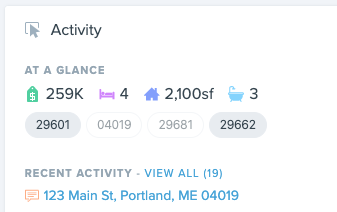 What does the Call to Action (CTA) look like on my website?
Website visitors will see a prompt at the bottom-right of the screen. The widget is a strong CTA without being invasive to their experience.
Leads can simply click the number to call your team, or they can close the prompt and continue browsing on your site.
Their activity will still be tracked, even if the CTA is closed.

What does the Call to Action (CTA) look like on my mobile site?
Visitors of your mobile site will see both a call and text prompt at the bottom of the screen. Tapping either option will automatically contact you via their chosen method.