Follow Up & Covert Realtor.com Leads
Have your Realtor.com leads flow into Follow Up Boss seamlessly through one of the strongest integrations of any CRM available.
This robust integration allows you to:
Automatically route leads to your agents.
Instantly follow up via text message and email.
Rapidly dial your database with integrated calling.
Track upcoming deals and get a handle on your pipeline.
Convert and close leads and stay top-of-mind post-close.
Level Up Your Follow Up
Your Realtor.com leads are valuable. Follow Up Boss is here to help you lock in that listing, close that client, and get a leg up on competitors.
Accelerate your success by engaging leads using these best practices:
Ace the First Call
Impress and engage your leads immediately. Learn how to win the first phone call, plus snag scripts you can use right away: Conquer the First Call Like a Boss - Winning Inbound Buyer Leads [Webinar Recording]
Follow Up with the Right People at the Right Time
Learn how to convert more leads in less time: Recommended Smart Lists
Nurture Your Leads the Right Way
Discover how to nurture your leads like a boss and set more successful first appointments: How To Nurture Your Leads - [Webinar Recording]
Popular Feature: Automatically Dial your Realtor.com Leads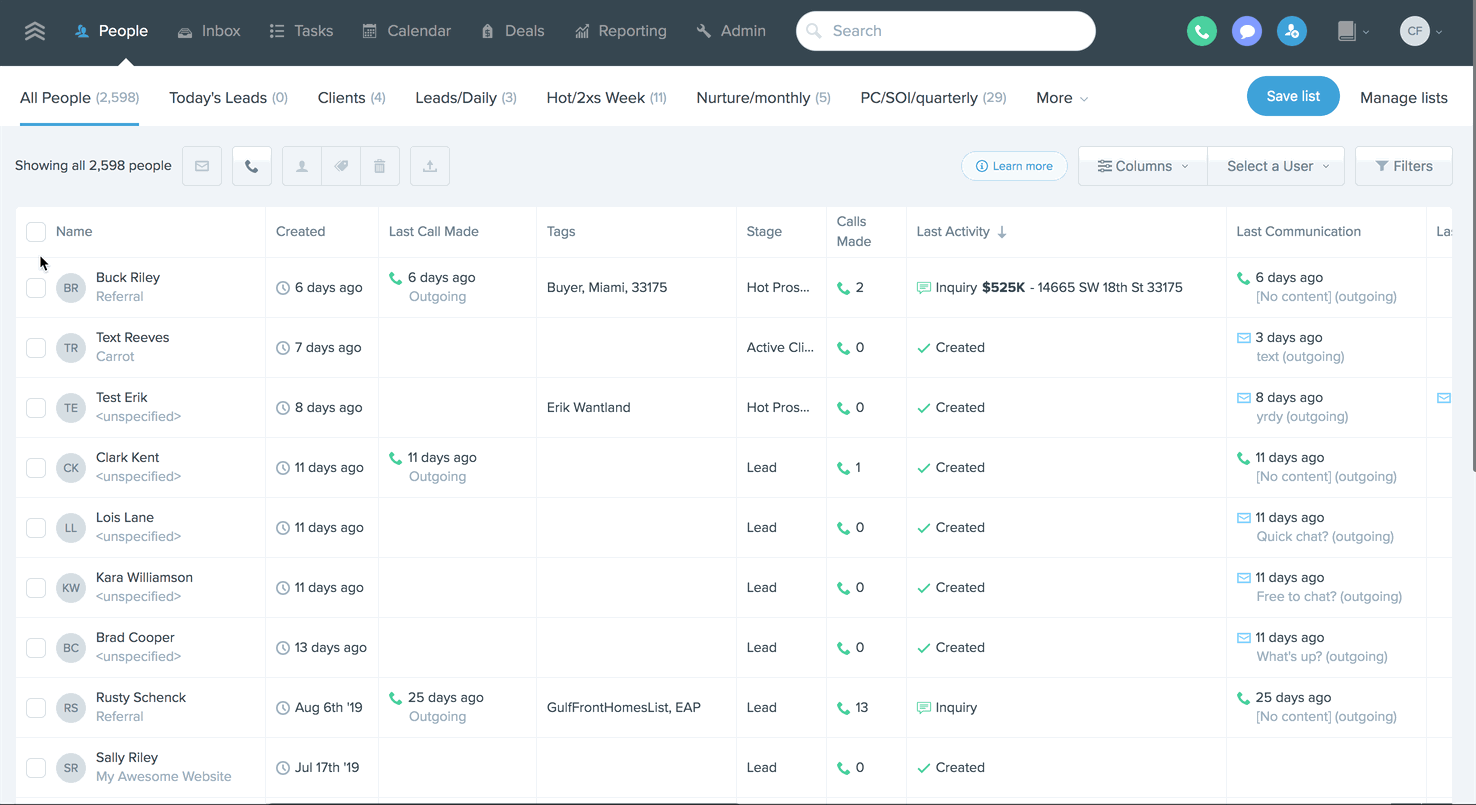 Get more leads on the phone with our automating calling feature! Call through your hottest leads, power through lead nurturing, and re-engage stale leads.
How Realtor.com Connects to Follow Up Boss
API

(Best full integration)

Email Parsing

(Gathers data found in emails only)

Zapier

(Third party)

✓
✓
Email Parsing (Required): Leads will flow into Follow Up Boss via Inbox Lead Processing or by processing leads sent to your @followupboss.me lead routing email.
API (Additional Information): This connection is an enhancement that sends additional information to Follow Up Boss.
Recommended Setup
Step 1: Enable Inbox Processing
Follow Up Boss can automatically detect leads sent to your connected Google or Office 365 email.
1. Ensure your email is connected to Follow Up Boss.
2. Enable Inbox Lead Processing
3. Route or forward your Realtor.com "new lead" email alerts to that email address, and the new leads will be created in FUB.
Step Two for Connections℠ Plus only: Add Lead Integration API (Faster Processing + More Information)
This integration sends your Connections℠ Plus leads to Follow Up Boss more quickly, and with additional lead data including listing representative, property views, and buyer saved searches. (More Info)
To enable this connection:
1. In Realtor.com, use the drop-down menu in the top-right corner of the page and navigate to: Settings > Lead Settings > Add Lead Delivery API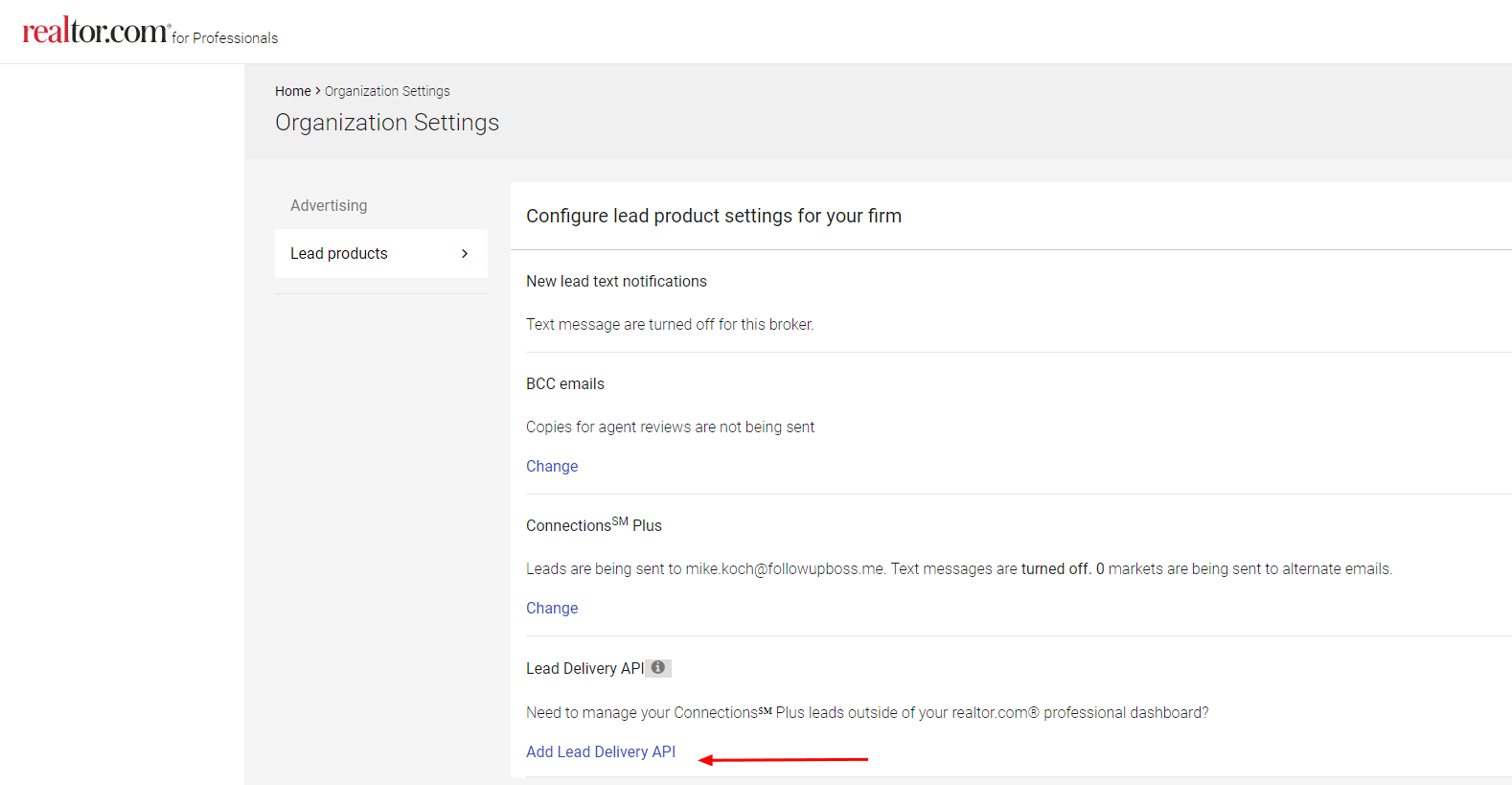 2. Choose Follow Up Boss as your API source application.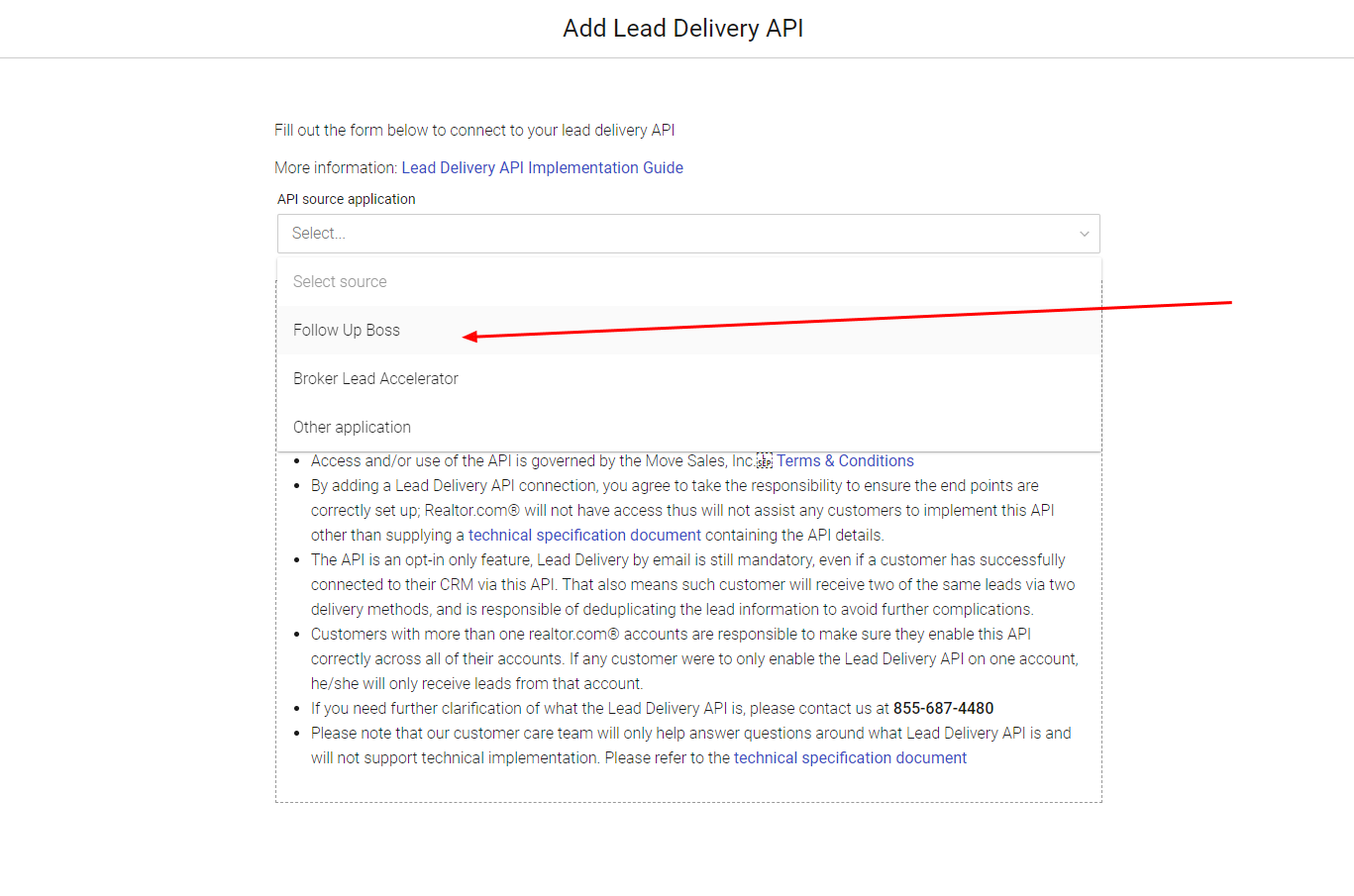 3. Enter your Follow Up Boss API Key.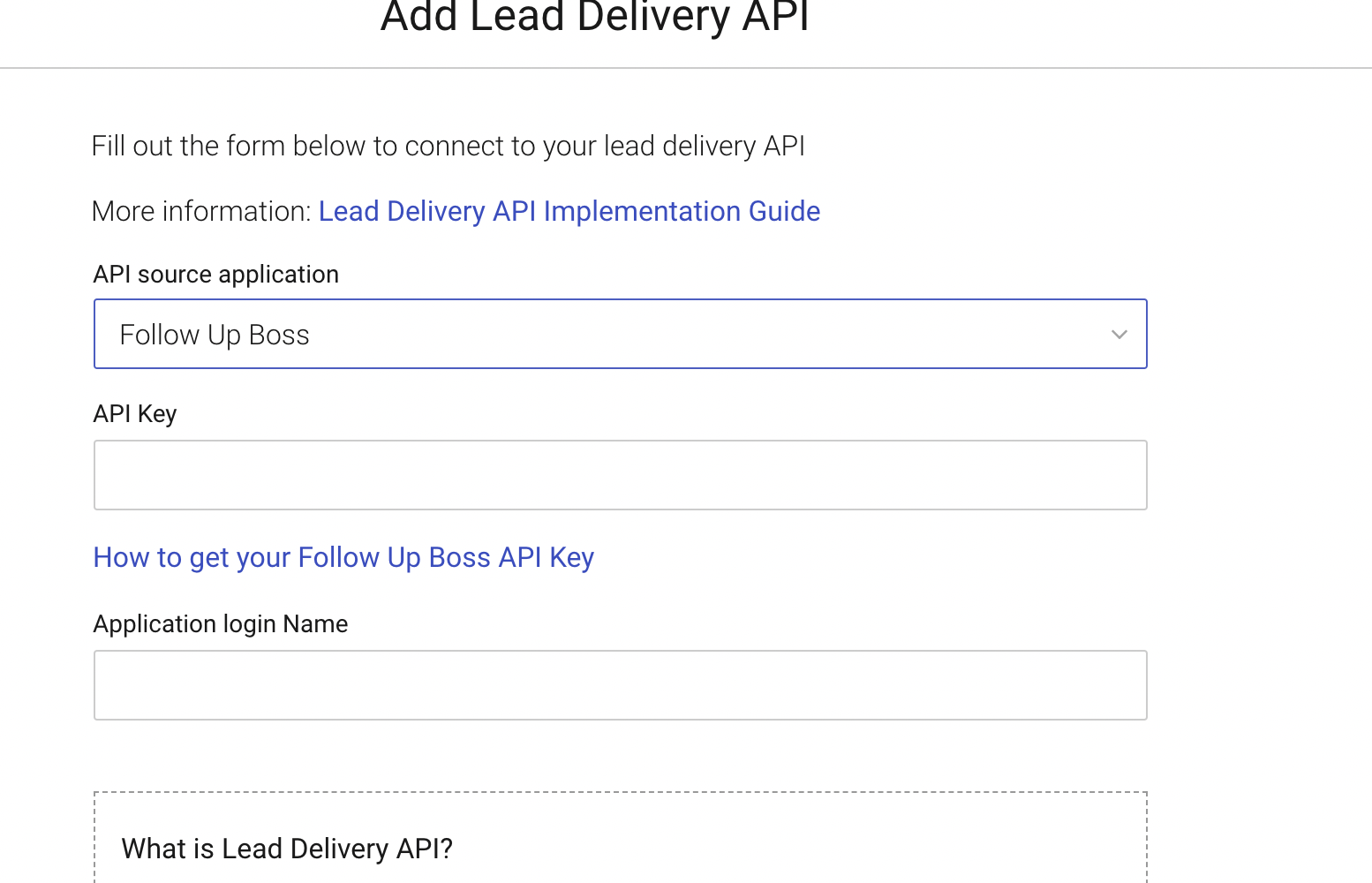 4. Enter the email address you use to log into Follow Up Boss in the space for "Application login Name."
Note: This a connection you'll want to enable in addition to Inbox Processing or the Alternative Setup listed below.
Alternative Setup
1. In your Follow Up Boss account, go to the Admin>API page here: https://app.followupboss.com/2/api
2. On that page, copy your Follow Up Boss lead routing email address.
3. Login to Realtor.com at https://dashboard.realtor.com/products-config and click your profile picture in the top right, then click "Settings."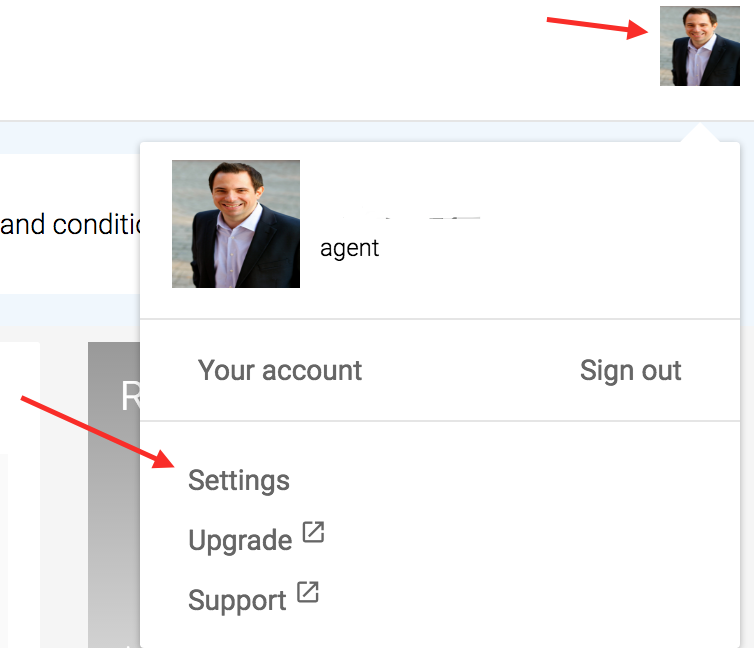 4. Under AdvantageSM Pro, Profile leads and Courtesy leads paste your Follow Up Boss lead routing email address and click save.
You can also send a test through the system on this page: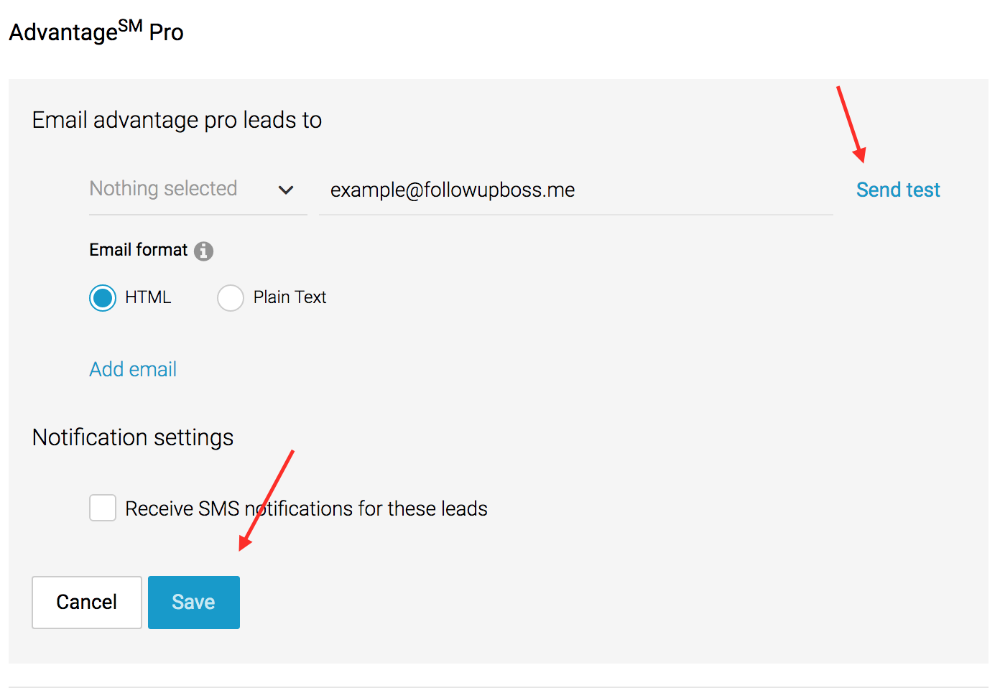 Notes
The fields parsed from Realtor.com are Name, Email and Phone Number. A copy of the original lead email will also be sent to you and stored in Follow Up Boss.