In Follow Up Boss you can add lenders as users so you can easily collaborate on leads. Lender assignment in Follow Up Boss makes it easy for the chosen lender to add notes to the contact, track communication, and work the lead alongside the assigned agent. The lender field can only be used if you have added a lender as a user. If you simply want to track lenders vs. collaborate and assign lenders to leads, use a custom field instead!
How it Works
How to add and assign a lender
Go to Admin > Team to add a user
Once you have a lender added, you can assign a lender to a lead under the lender field.
You can also automatically assign lenders to incoming leads from any source. Go to Admin > Lead Flow and select a lender or lender group for each lead source.
Assigning a lender to a lead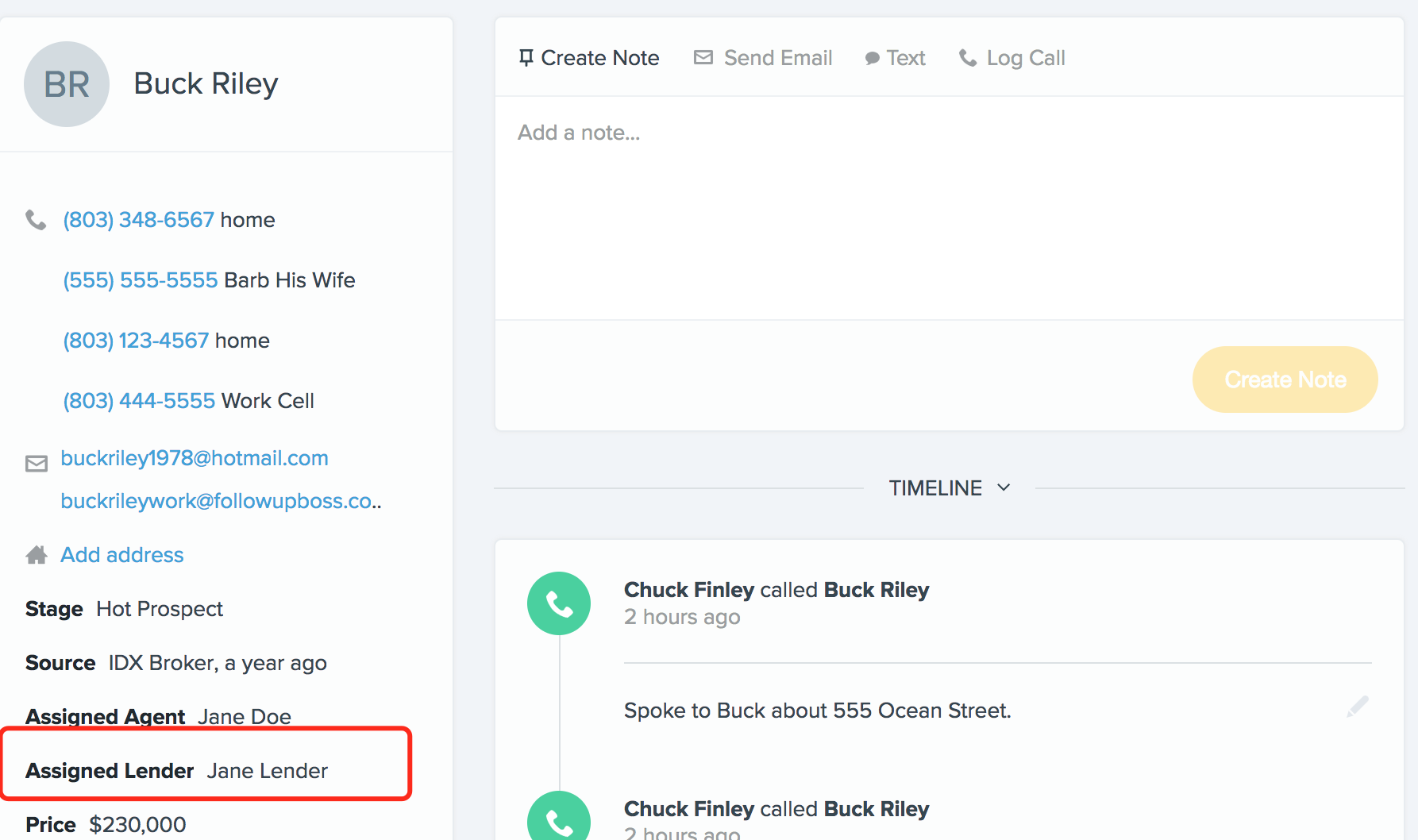 Assigning a lender to a lead flow

FAQs
Why can't I just type in the name of the Lender?
That field is to be used when you add a lender as a paid user within your account. If you simply want to track lenders in Follow Up Boss, create a custom field (Admin > Custom Fields) called lender and you can keep track of your lenders there. That way you could then search and sort that information. You could then leave lender information (email, and phone number in the background for easy reference).
Why do I have a Lender field when there are no lenders on my account?
As soon as you add a lender user, you'll have the option to use that field. If you never do, not a problem. It's just a field that every account has.
Can lenders text and call like agents?
Lenders can see and manage the lead just like the Agents. The difference is that Lenders can only text/call a lead if they have a Dialer in Follow Up Boss.
Do lenders need to connect their email in Follow Up Boss?
It's not required for lenders to connect an email address. Some lenders choose to add notes to the contact, rather than track all back-and-forth email communication for security reasons.
Can lenders be billed directly for their seat in an account?
Follow Up Boss is only set up to bill one person (the account owner) so it's clear if you part ways who owns the account and leads.
Which leads will a lender be able to see?
Lenders can only see leads assigned to them.
Can I evenly distribute leads to lenders?
How many lenders can I add?
You can add as many lenders as you would like, as long as you have open user seats on your plan.