To log a call using the iPhone app, follow these steps:
Navigate to the lead that you wish to call.
Tap the phone icon next the lead's phone number, then hit "Call" when the prompt appears.
When the call has concluded, open the app.
You will see a prompt asking if you wish to include notes for the call you just completed. Clicking No will log the call without any notes, clicking Log will let you add notes on the next screen.

Call notes screen: If you are currently on the lead's detail page in the app when the call completes, this screen may automatically appear instead of the prompt pictured above. Here you can include any relevant notes about the call you just completed. Make sure to hit Save when you are finished adding notes to ensure that they are logged to Follow Up Boss.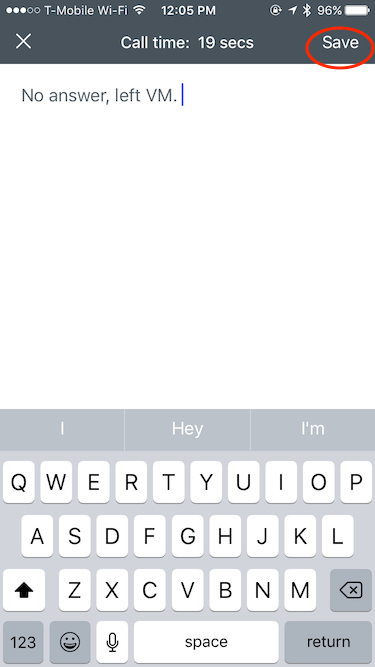 For customers using our Calling feature, both outgoing and incoming calls made with this feature will be logged to the system.
When using your real phone number, only outgoing calls initiated from the app will be logged. Incoming calls to your real number will not be logged due to privacy restrictions imposed by Apple.
Troubleshooting
If you are following the steps above and still not seeing the automated call prompt, please check the following:
Your phone call is longer than 5 seconds (the prompt will not show for calls shorter than 5 seconds).
When the call has completed and you return to app to see the lead's detail page, try waiting a couple of seconds for the prompt to appear.
Make sure you are using the latest version of our iPhone app.
Try closing other apps that my be running in the background and consuming system resources.
Avoid making 3-way phone calls.
If all else fails, you can either manually add a note for the lead using the app, or manually log the call using the web app.