Note: recent versions of REW's backend may not support the Follow Up Boss integration. REW is planning to release their own CRM with an available API. Once available, we will check if we can integrate with it for IDX activity data.
Importing your REW contacts
Step 1 - Export your REW contacts and Import into Follow Up Boss
In REW, click on "Leads"
Hover your mouse over Tools and then click "Export Leads"
Where it says Select from Available Data, click the link that says "Select All"
Click "Download Export"
Import that downloaded file into Follow Up Boss by going to Admin > Import
Doing this import before connecting REW to FUB ensures that the leads in your REW account are assigned to the same agent in Follow Up Boss, and it makes sure that events like someone coming back to visit your website don't trigger new lead behaviors in Follow Up Boss.
Step 2 - REW has an IDX integration with Follow Up Boss. To turn it on, access the Partners tab in REW and enter your API key.
Before turning on the integration, make sure you have done an export/import of your REW leads to Follow Up Boss so the correct agent is assigned already and leads returning to the website do not trigger new leads in Follow Up Boss.
Upgraded integration:
If you have an older REW backend, you may need to upgrade your integration to ensure the assigned agent is kept in sync between the systems. This is important so that the agent can adjust listing alerts when needed. Contact your REW product consultant about this.
Sync assigned agent in Follow Up Boss back to REW
Send Quick Inquire leads to Follow Up Boss
Sync tags between the system
Sync manually added leads in REW to Follow Up Boss
Send the link to the lead in the backend of REW to Follow Up Boss
Alternative while waiting for upgraded integration:
You can turn off the API integration and set up each user in your backend with their @followupboss.me address. This will ensure the same agent assigned in REW is assigned in Follow Up Boss, but will not include property views information.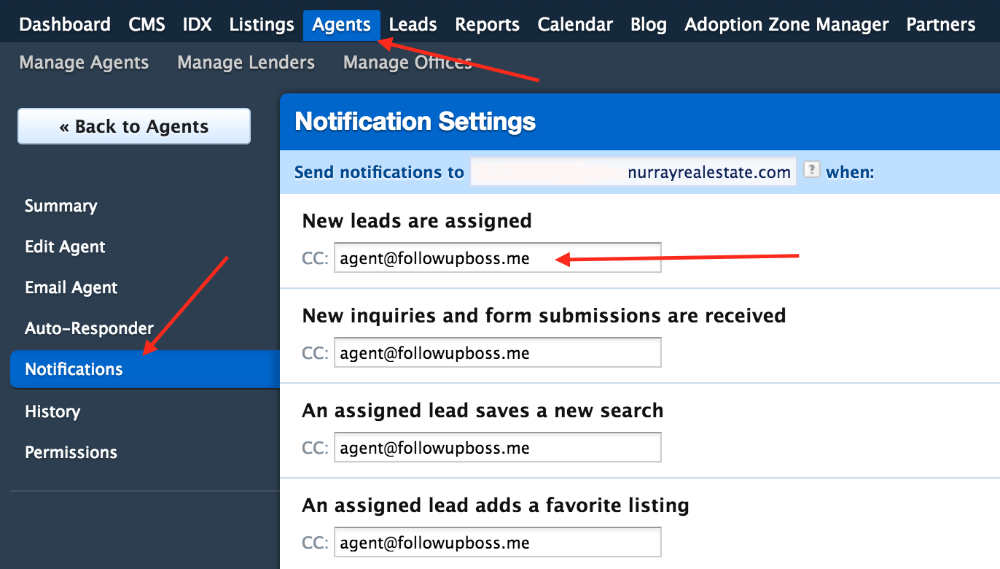 Setting notification preferences on the new REW backend:


If you're set up on the new REW backend, Follow Up Boss cannot be connected via API and you will need to send in your lead notifications via email to your @followupboss.me email. In order to navigation to where you can set notification email settings, you'll want to click the dashboard button at the top right, select Preferences, and then from the new screen click on where it says Notification Settings:

From here, you can then select which notifications you'd like to go to your @followupboss.me lead email address: