Keyboard shortcuts improve user workflow as you can navigate the platform with a few keys.
Navigation
Navigate quickly from any part of your Follow Up Boss account to another.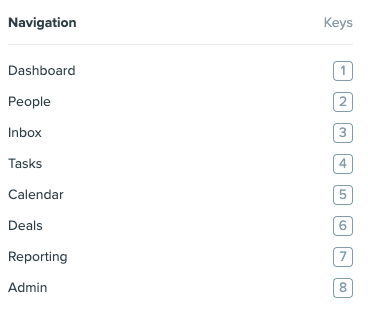 General
Take action quickly from anywhere.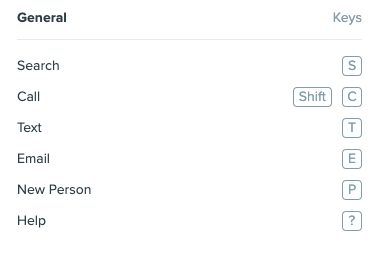 Person
Navigate the person page quickly and effectively.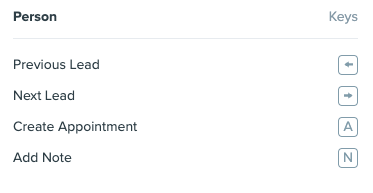 Inbox
Inbox shortcuts for quick replies.

Sending Email
When typing an email use cmd + enter to send the email faster.
Email Templates
Use the backslash/command and your template name (/templatename) to pull it up faster when inside an email.
Team Mentions
When typing a note use the @ symbol to mention a team member, the team, or pond.
Clear Filter on People Screen
Click the filter and press ESC to clear a filter on the people screen. This saves time when you have multiple filters and want to remove one of them.
Emoji Picker
We have an emoji picker for emails and texts, but you can also use emojis with things like notes and subject lines by clicking filter and then pressing ESC.
FAQ
How do I access the shortcut menu in Follow Up Boss?
1. Click the ? in the lower right-hand corner
2. Select Keyboard Shortcuts
3. The Shortcut Menu will display