Integration Types
API
Email
Zapier
Follow Up Boss Pixel
Craigslist leads can be sent to Follow Up Boss to manage. While Craigslist does not allow two-way communication with leads through Follow Up Boss due to the 2-way email relay, you can still use Craigslist to bring in initial leads for you to contact directly from your email.
Email Parsing Integration
1. Copy your Follow Up Boss Lead Email Address by going to Admin > API
2. Log in to your Craigslist account
3. Click Setting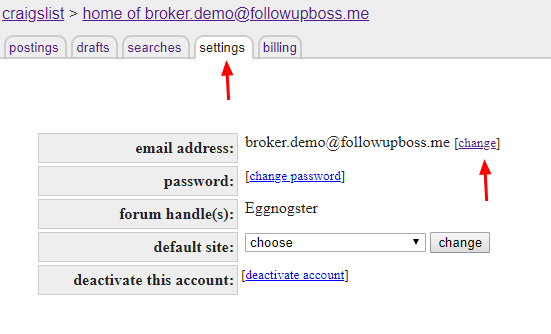 4. Select Change next to your current email
5. Enter your Follow Up Boss lead email address as your new Craigslist email address
6. Confirmation emails will be sent to your current email and your Follow Up Boss lead email address (both contain a link and both links must be clicked to change your email)
Note: When the message comes to your Follow Up Boss lead email address, we'll forward it to you automatically. Look for an email from forwarding@followupboss.com.
Known Limitations
Craigslist has made some changes to their relay system in an effort to prevent spam/scam email addresses, as shared in this clip from their help article.

Due to this relay, Follow Up Boss cannot be used to directly communicate with contacts (as Craigslist filters out our provider). Once your contact's email address has been obtained, update their profile to begin communicating within Follow Up Boss.