About This Source
Auction.com is a leading real estate marketplace offering over 30,000 discounted residential bank-owned and foreclosure home deals.
How We Connect
API

(Best full integration)

Email Parsing

(Gathers data found in emails only)

Zapier

(Third party)

✓
Office 365, GSuite, and Gmail users: Leads will flow into Follow Up Boss automatically. Ensure you have enabled Inbox Lead Processing.
Other email platforms: Have the provider send leads to your @followupboss.me lead routing email as shown in "Setup" section below.
Email Parsing Setup
NOTE: This is for FUB users not using Inbox Lead Processing via Office 365, GSuite, or Gmail.
1. Get your unique Follow Up Boss email address, e.g. team.fub@followupboss.me.
2. Log into your Auction.com account at www.auction.com.
3. Go to "Your Profile" and put in your unique email address from Follow Up Boss in the "Email" field. Hit "Save".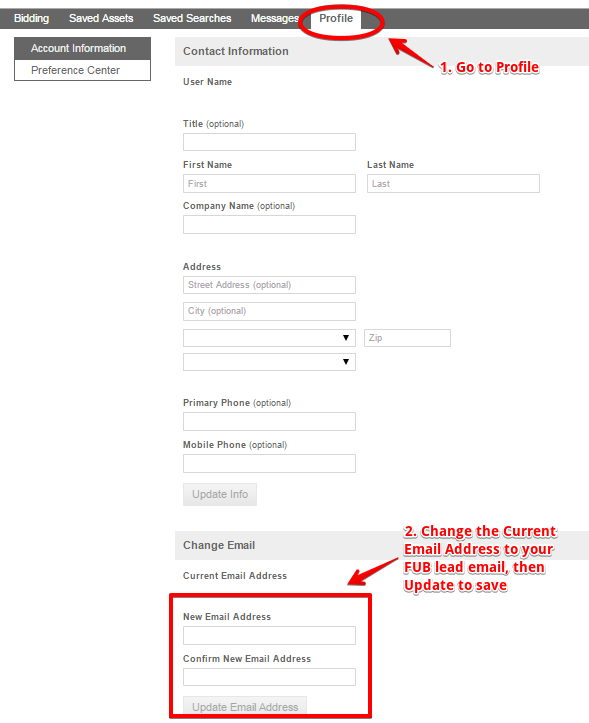 Testing the Connection
Once you have changed over your Auction.com email address you can test it out by going to Auction.com, finding your profile and submitting an inquiry. You should receive an email notification from Follow Up Boss and see the lead in the system under "Leads Today" and the "Leads" stage.
Notes
The fields parsed from Auction.com are Name, Email and Phone Number. A copy of the original lead email will also be sent to you and stored in Follow Up Boss.
Remember once you change your email address in Auction.com, your Follow Up Boss email address will be the one you use to login. We suggesting using a password manager like LastPass.com to remember this.
Resources