Goal
Have leads flow into Follow Up Boss from your Commissions Inc. website to centrally manage these leads alongside those from your other lead sources.
Popular Ways to Use the Integration
Rapid Follow Up with Automated Dialing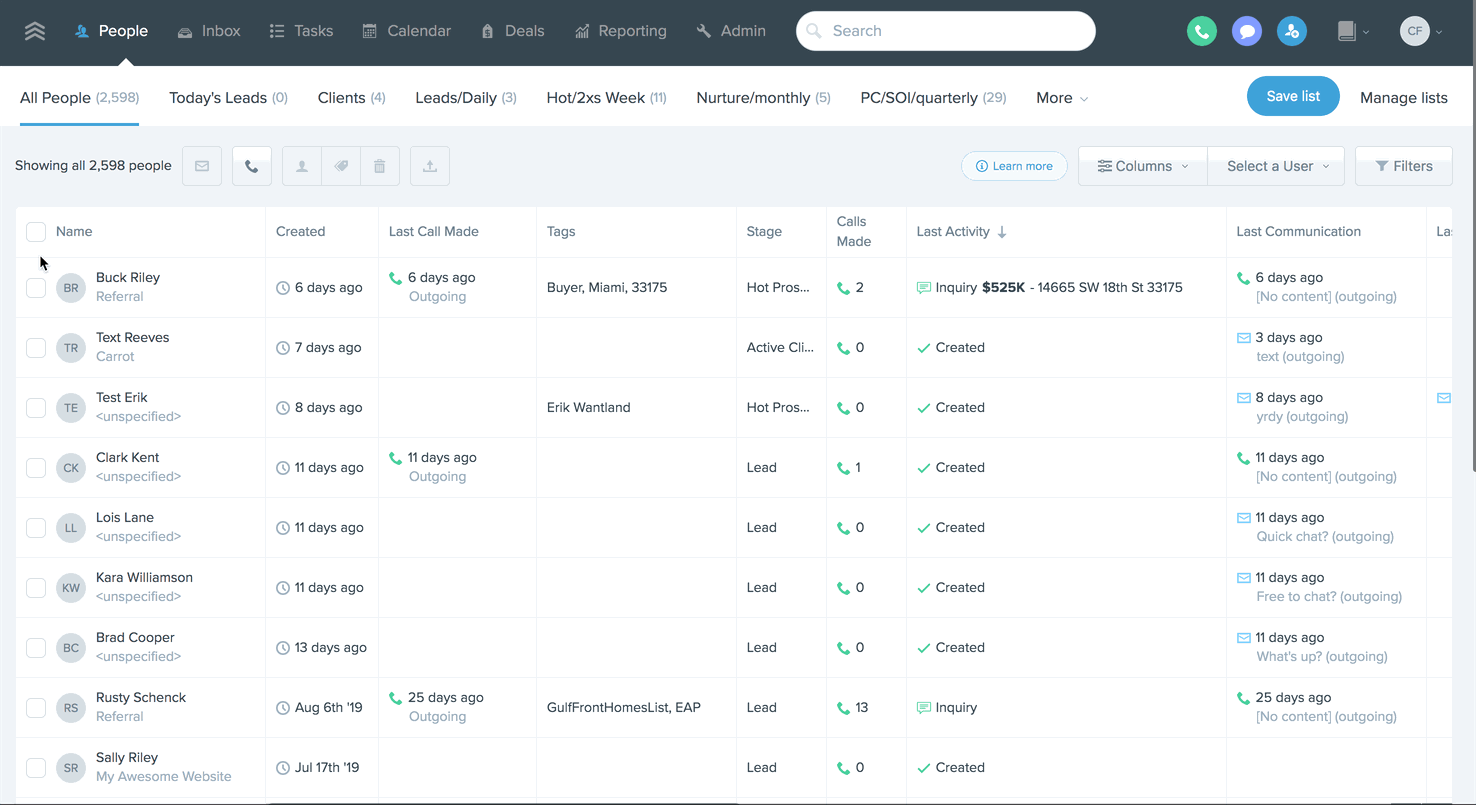 Quickly engage new leads with our desktop and mobile-friendly Calling Feature.
Automatically dial through your follow ups without the need for a third-party platform using Call Lists.
Centralized call reporting to track team performance, including easy discernment of meaningful conversations versus hang up calls or voicemails.
Lead Management in One Central Platform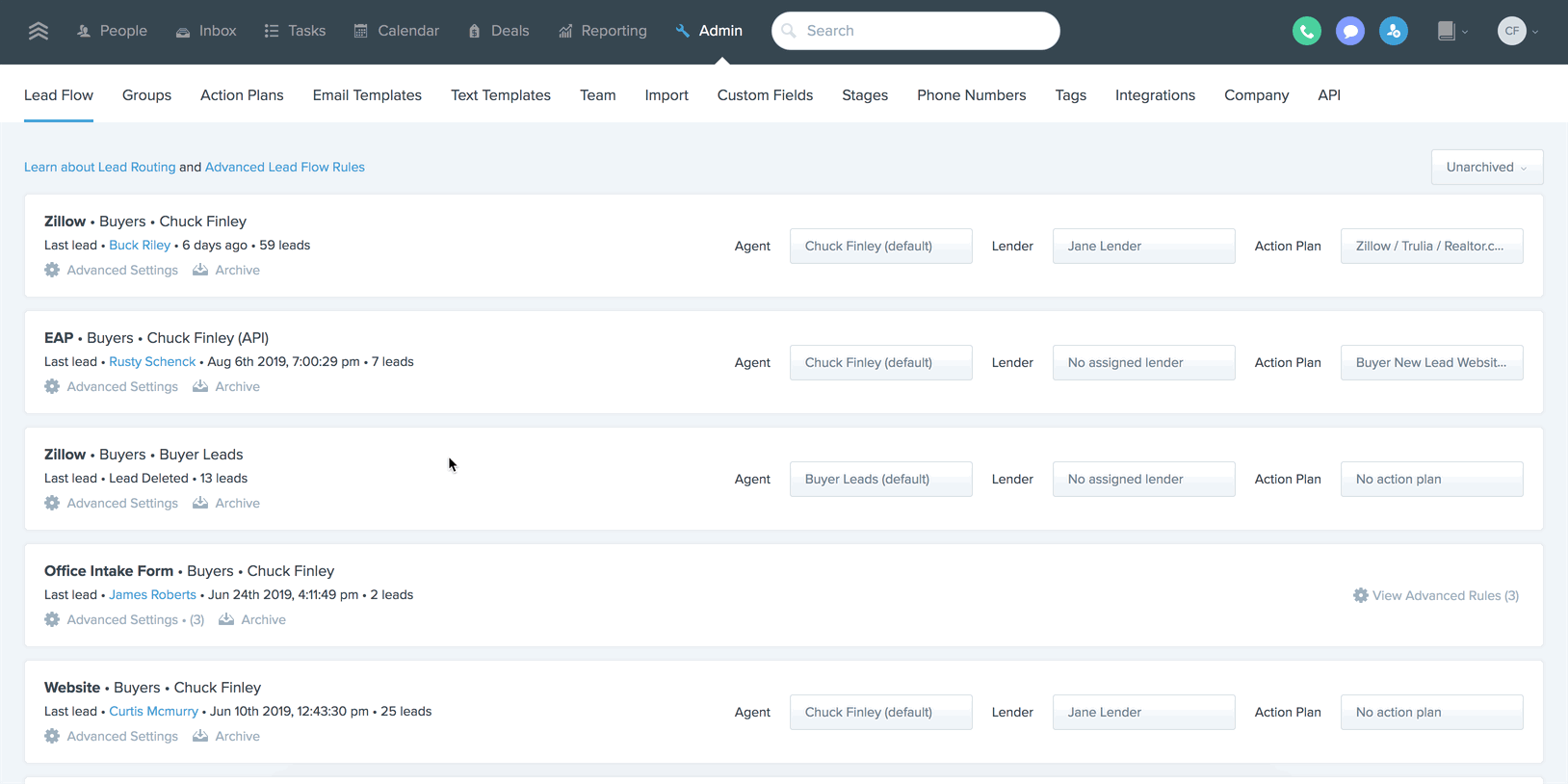 Seamlessly match lead assignment from CINC to Follow Up Boss.
Distribute, engage, and manage leads from your website plus 200+ lead sources.
Streamline notes, calls, texts, and more into one easy-to-use system.
No need to switch CRMs if your website or lead generation tools change.
How Commissions Inc. Connects to Follow Up Boss
Available integration types:
API

(Best full integration)

Email Parsing

(Gathers data found in emails only)

Zapier

(Third party)

✓
✓
✓
Email Parsing (Recommended): Follow Up Boss uses email parsing to track when someone registers on your website, returns to your website, and when someone saves a property.
Follow Up Boss Pixel - Contact the CINC Support Team with your tracking code to install.
Easy Data Syncing Using Zapier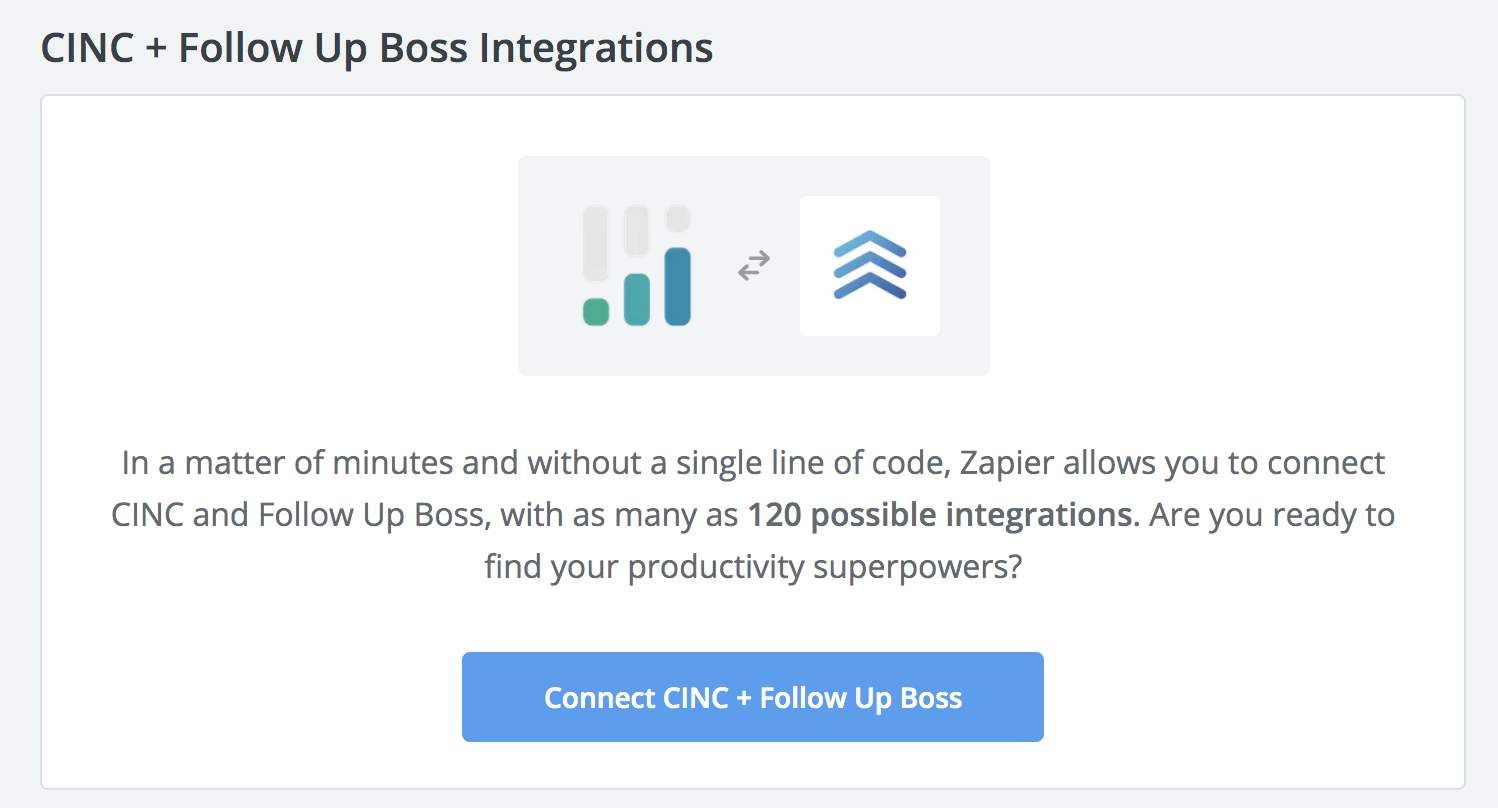 Sync notes and deals between Follow Up Boss and CINC without the need to enter data into multiple systems.
Trigger targeted action plans in Follow Up Boss when pipeline changes occur in CINC.
Automatically add tags in Follow Up Boss when labels are applied to leads in CINC.
Dozens of possible automations.
Setup
Individual Setup
1. Copy your Follow Up Boss lead routing email address.
2. Log in to Commissions Inc.
3. In the top-right corner of CINC, click your name and then click "Profile and Settings."
4. Go to the Advanced section.
5. Paste your Follow Up Boss lead routing email address (from step 1 above) in the "Lead Alert CC" field.
6. Click Update.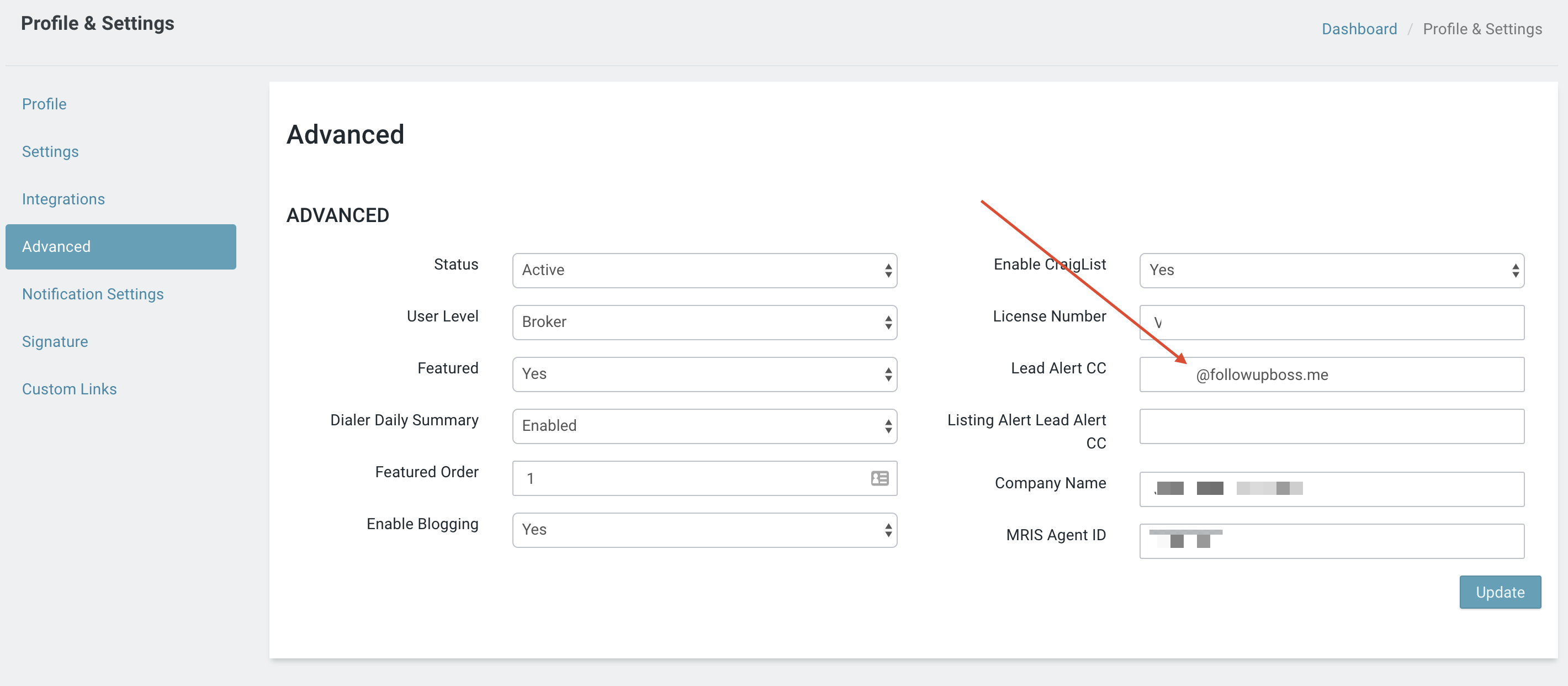 Team Setup
Note: If you have a team of agents, you will want to complete the above steps for each agent while logged in as an admin. This will ensure agent assignment matches between the systems.
Agent profiles can be accessed/managed through the account owner's login under Agents > Manage Agents > Agent Name > Advanced. This setup will make sure leads match assigned agents between CINC and Follow Up Boss.
You can visit the Admin>API page in Follow Up Boss to copy each team member's Follow Up Boss lead routing email address.
About Commissions Inc.
Commissions Inc. provides websites and lead generation services to help top real estate agents and brokers manage their business and connect with active and engaged home buyers.