Tracking your deals in Follow Up Boss lets you connect lead source to closed transaction. This can help you manage the process, see where your deals are coming from, and importantly, let you report on exactly how big your pipeline is.
Each deals pipeline holds a series of stages which represents the lifetime of a deal from creation to close. In Follow Up Boss, you can create your own custom pipelines to represent your sales process and keep track of all the deals flowing through your sales team. Follow Up Boss comes with two pipelines named 'Buyers' and 'Sellers' that should fit most organizations' basic needs for tracking deals. The stages' ordering is always from left to right, so the first stage will be to the far left of the page.
Note: Only the account owner may change pipelines and their stages.
Creating a Deal from the Deals Screen
Press the plus button in the stage that you want to create a deal in. Most deals will start in the first stage, located on the far left of the page.
When creating a deal, you can specify a name, the price, projected closing date, contacts that belong to the deal, and team members that belong to the deal. Team members who are non-admins will not be able to view deals unless they are added the deal. This information may be edited at any time, so don't worry if the terms of your deal change! To finish creating your deal, press the blue Create Deal button at the bottom.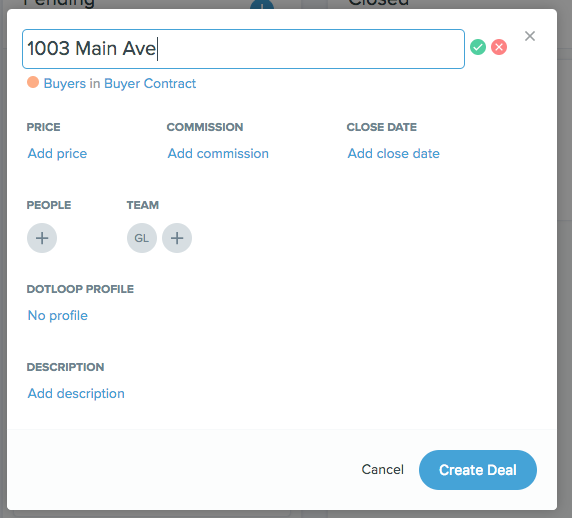 Following creation, the deal appears in the stage that you assigned it to.
Note: Non-admin users will only see deals that they are part of.
Creating a Deal from the Contact Page
Deals may also be created from the contact page. Press the plus button in the Deals box, located in the bottom right of the page. Enter the information, specifying what pipeline and stage the deal should belong to, and press Create Deal. Any team members assigned to the user will be automatically added to the deal.
All deals that the contact belongs will be shown in the Deals box on their page.
Note: Non-admin users will only see deals that they are part of.
Editing Deals
To edit a deal, click anywhere on the card. You can edit deal information from the Deals page or from a contact's page.
Moving Deals through Stages
As the deal progresses, drag and drop the deal into the stage that best represents its current state. Follow Up Boss will track when a deal moves to a new stage for reporting purposes.
Viewing Deals for Other Users
If you are an admin, you can filter deals for a specific user on the deals page by using the dropdown located in the top right corner of the page.
You can also create deals on the iPhone app! You can find more information about that here.