Follow Up Boss Caller ID provides agents a quick way to identify which contact is calling on the go.  Stop guessing who's calling and enable Caller ID on your iPhone! 
Enabling Caller ID on iPhone
1. Click your Initials/Image in the upper left-hand corner

2. Select Turn on Caller ID
3. Tap Open Settings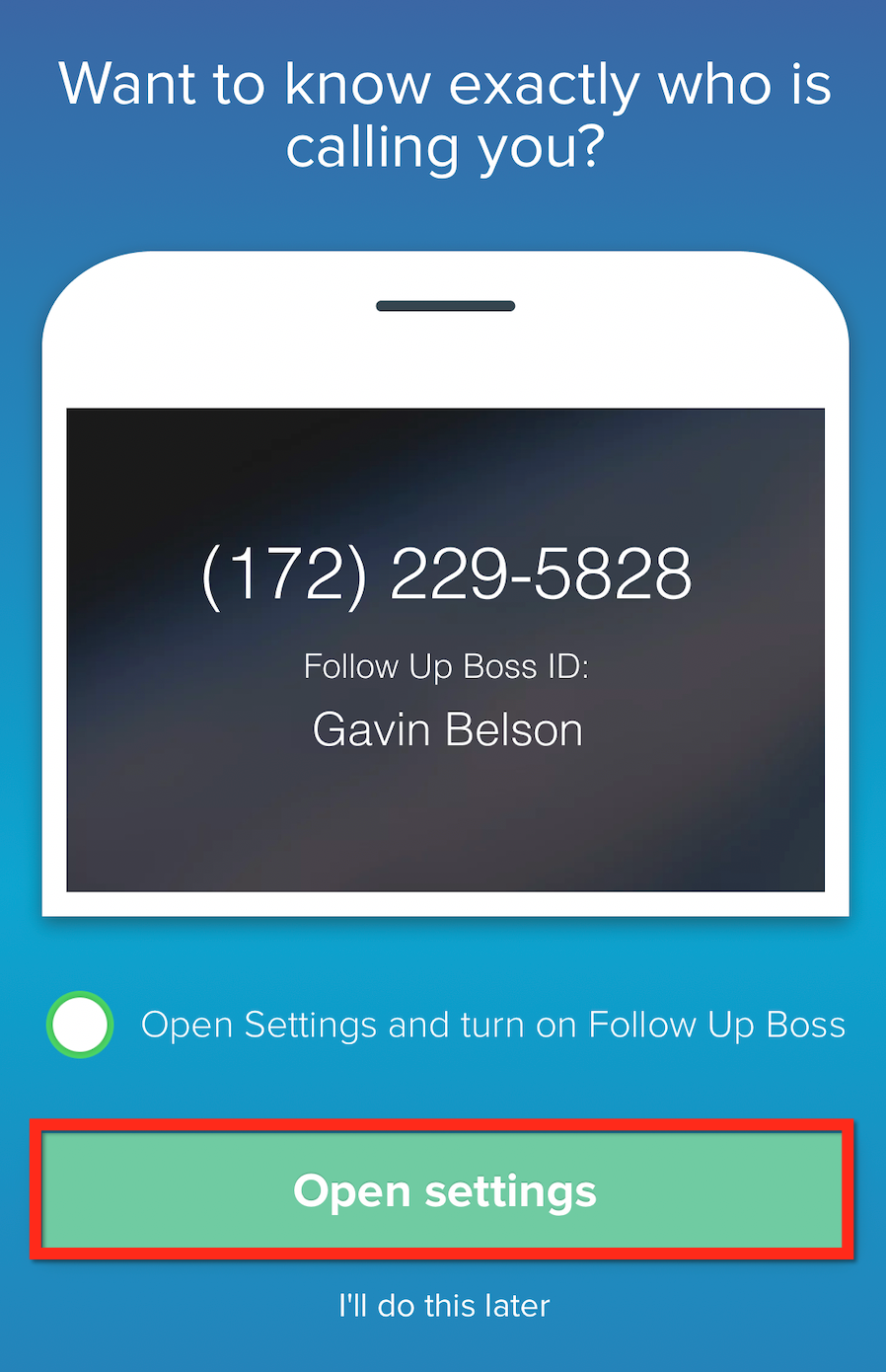 4. You will be directed to Call Blocking & Identification
Note: You can manually navigate here by going to Settings > Phone > Call Blocking and Identification. 
5. Toggle on Call Identification for Follow Up Boss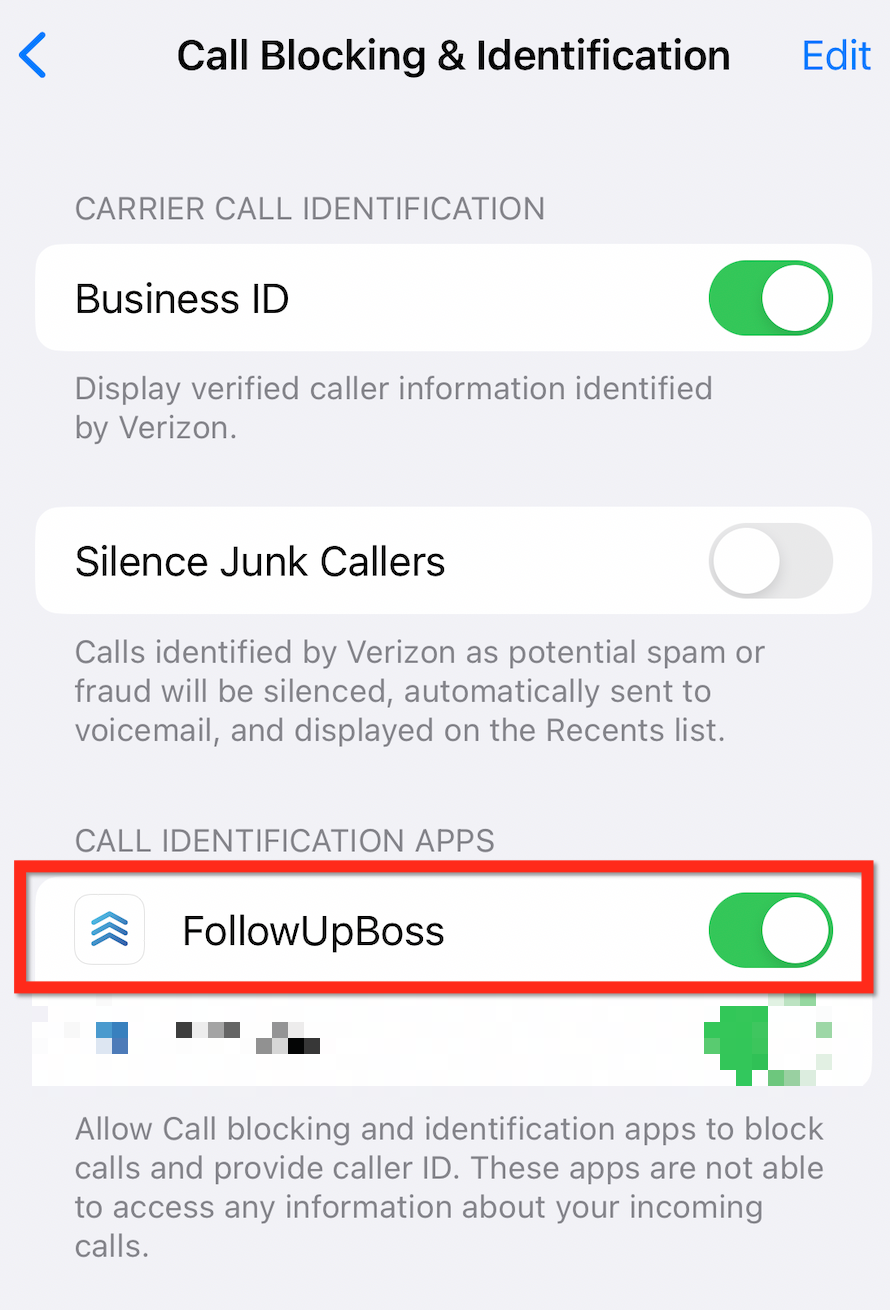 6. Caller ID is now enabled for Follow Up Boss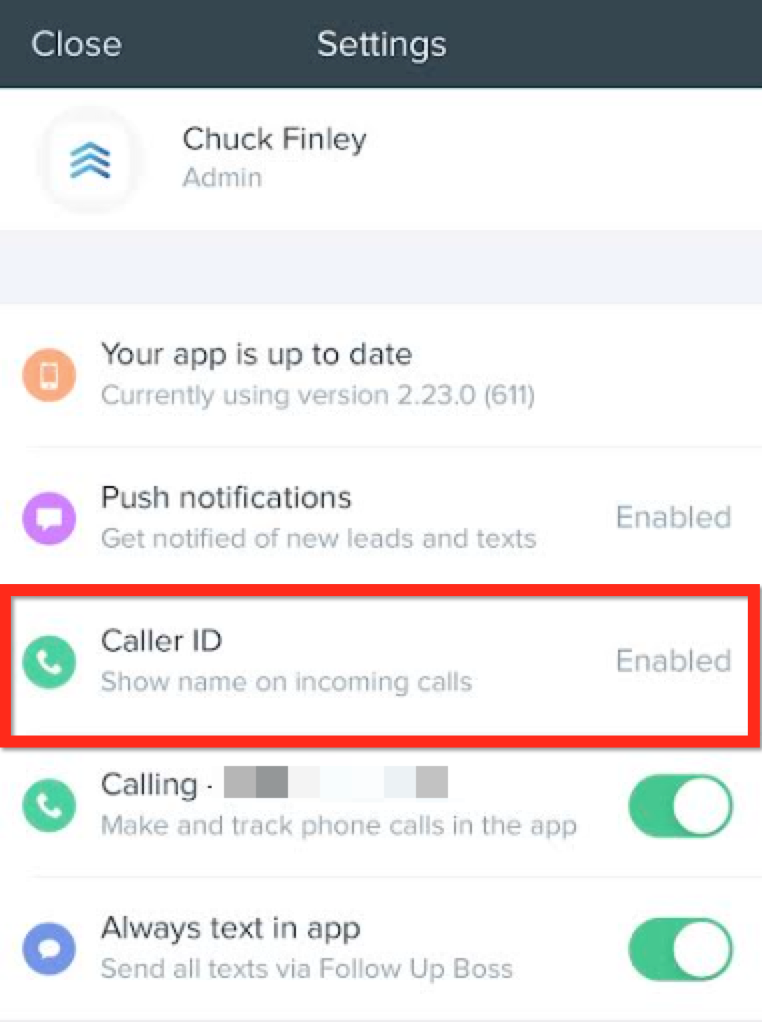 Confirm Background App Refresh is Enabled 
When Background App Refresh is enabled, the Follow Up Boss app periodically syncs your Caller ID. This means that even when the app is not actively in use or displayed on the screen, it can still access the internet and update its content.
1. Go to iPhone Settings > General 

2. Select Background App Refresh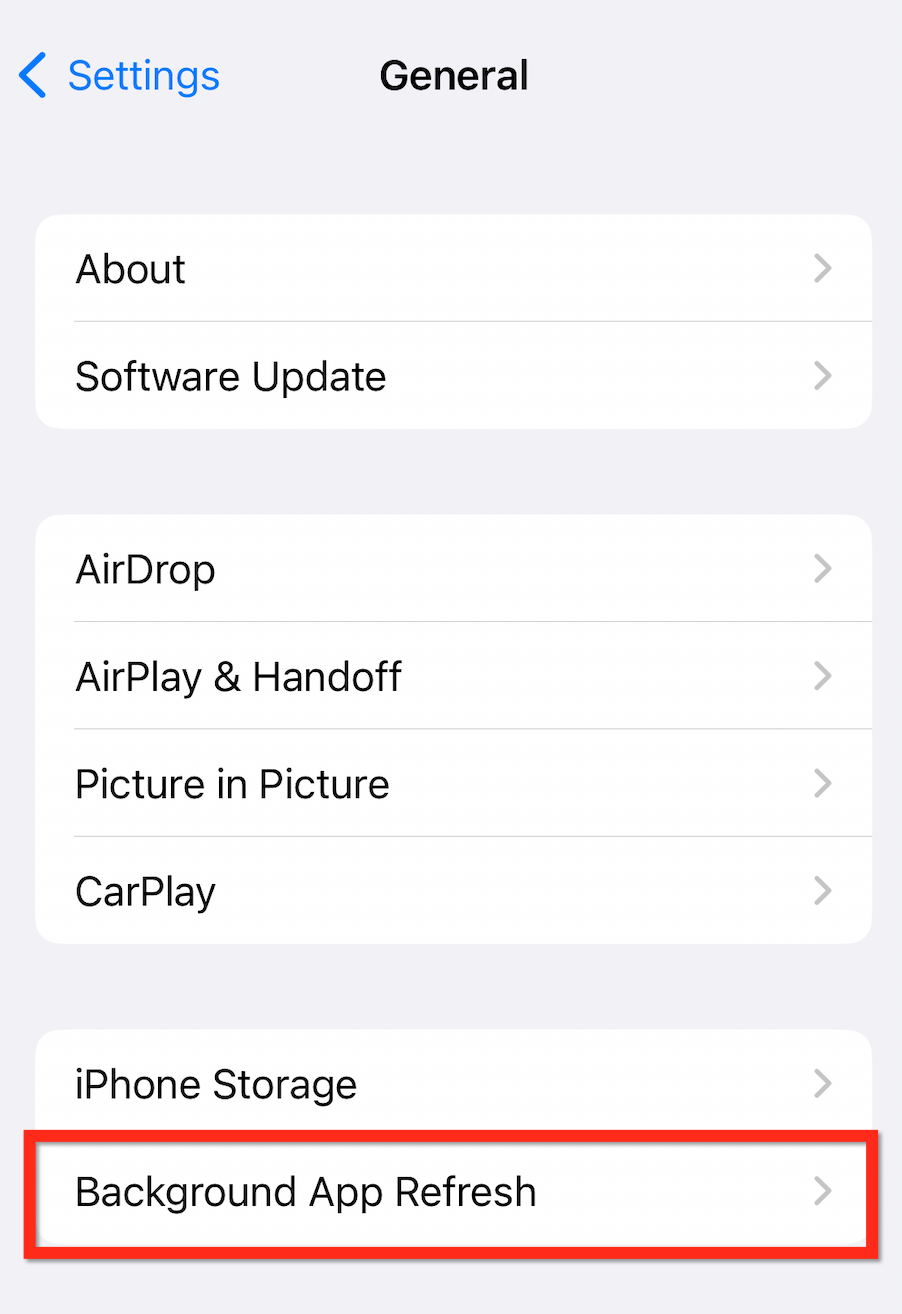 3. Turn On Background App Refresh > Toggle On for Follow Up Boss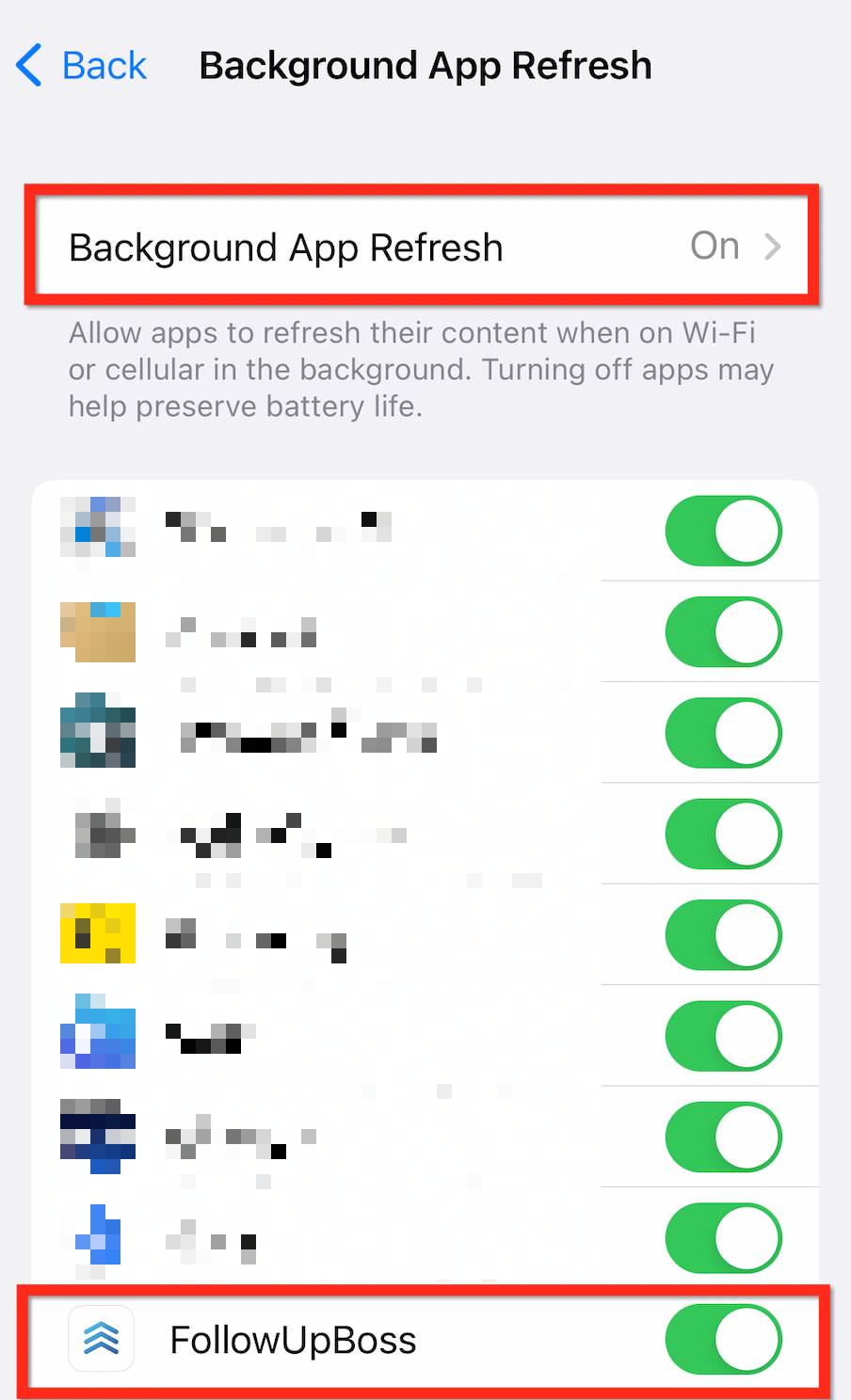 How will FUB Caller ID appear?
Incoming calls from existing Follow Up Boss leads will appear on your cell as shown below.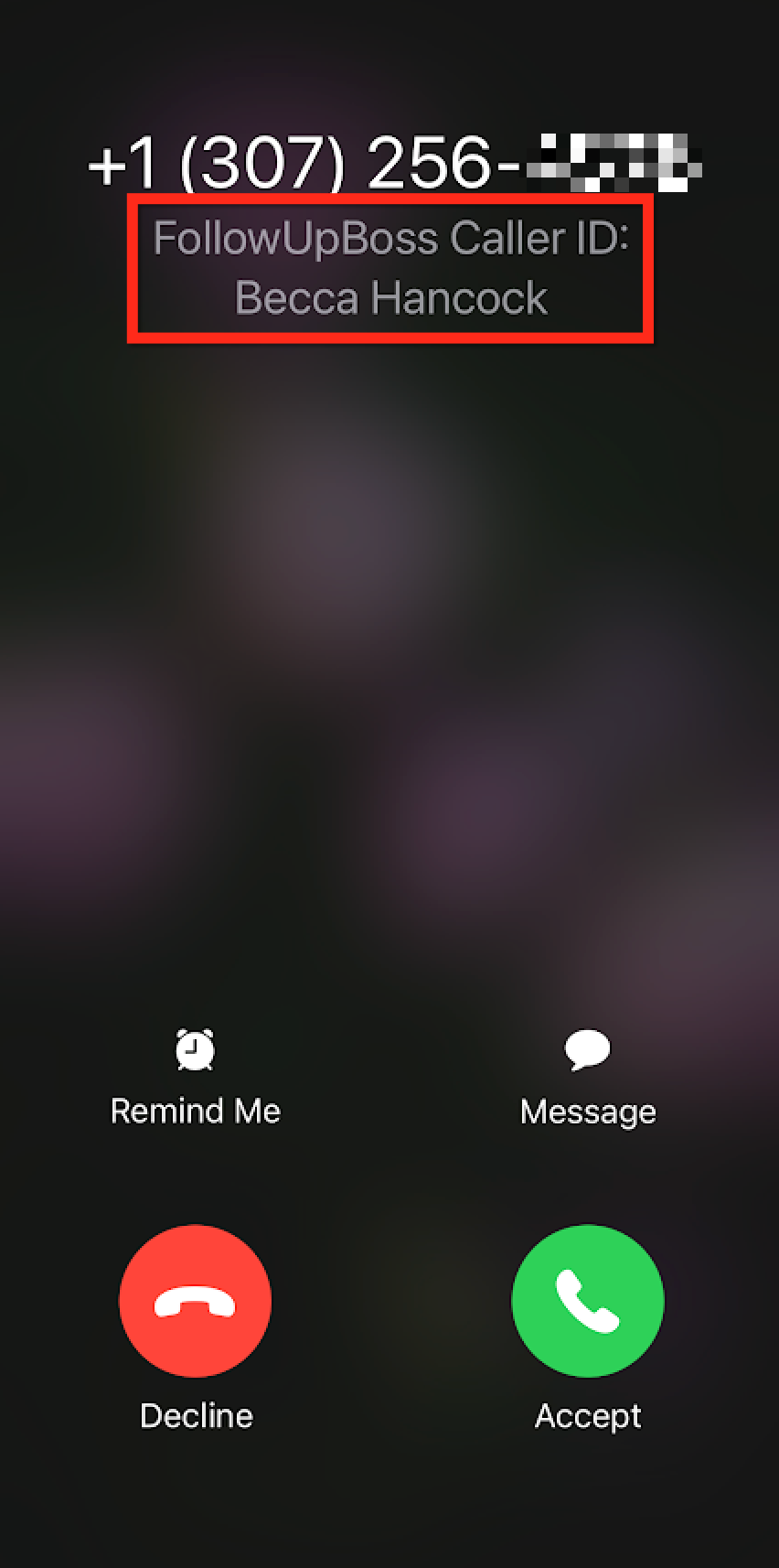 FAQs
What happens if the person calling is in my contacts as well?
Caller ID will only work for leads that you have access to in Follow Up Boss. If you already have a phone number listed in your phone's contacts app, your phone will automatically use that name for caller ID instead of showing Follow Up Boss caller ID.
Will contacts in Follow Up Boss be synced to my phone contacts?
Contacts in Follow Up Boss will not be added as contacts via the contacts app on your phone, they will simply be identified when incoming calls are received.
How can I tell the Caller ID is syncing? 
As the phone book is downloading, you'll see this symbol next to contacts' phone numbers indicating their number is waiting to sync. If the number has been synced, this symbol will not appear the next time you open the contact.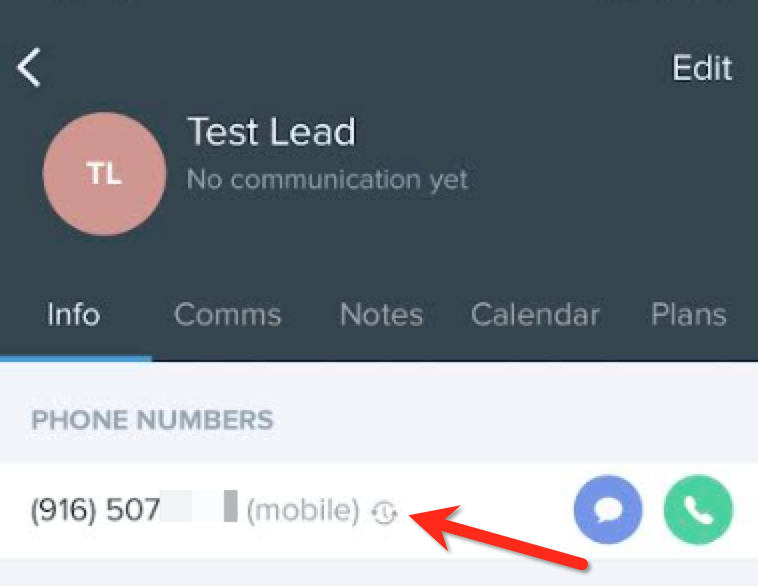 What numbers will sync to my phone's Caller ID?
Any contact you have access to within FUB will be synced to your phone's Caller ID. 
When do numbers sync to Caller ID?
With Caller ID and Background App Refresh enabled, Caller ID will sync new numbers every 15 minutes while the FUB app is being used.
Numbers added within the app are synced immediately.
Additionally, Caller ID will re-sync a fresh copy of all numbers daily.
Note: Apple determines exactly when to start Caller ID sync in the background. Background syncs will not occur while Low Power Mode is active. To ensure background syncs are able to run, turn off Low Power Mode, if active. 
Tip: Ensure your phone has sufficient charge throughout the day. Leave your phone plugged into a charger at night.
How can I force the app to run a Caller ID sync?
To force the system to complete a full Caller ID sync, log out of the app and then back in. This is generally unnecessary, as the app has several mechanisms for syncing itself.
Does the number of phone numbers in Follow Up Boss impact the Caller ID sync?
For app versions 2.24.3 and later, there are no longer limits to the number of phone numbers synced to Caller ID. If you have hundreds of thousands of phone numbers, the initial sync (after logging in) may take a minute or so.