A contact's lead profile provides a centralized location for information, communication, appointments, deals, and activity. Never miss a beat as information for your contacts can be accessed on the desktop and app!
Contact Information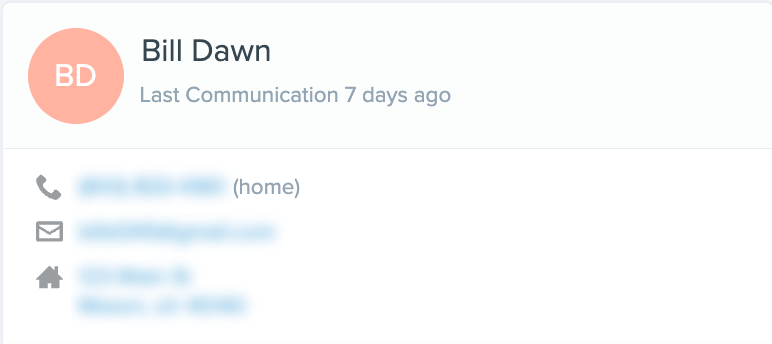 Name: First and last name of the contact, used in Merge Fields
Image: Pulled from a Google search of the contacts name
Last Communication: Number of days since the last 1:1 text, email, or call
Phone: Phone Numbers for the contact, including bad and unsubscribed. For performance reasons, each lead profile can have up to 25 phone numbers total (including Relationships' numbers).
Email: Email address of the contact, including Unsubscribed Emails
Address: Addresses of the contact used for Mailing Labels
Relationships

Relationships are used for spouses, family members, or anyone related to the primary contact. To learn more about this feature, check out Contact Relationships Overview.
Details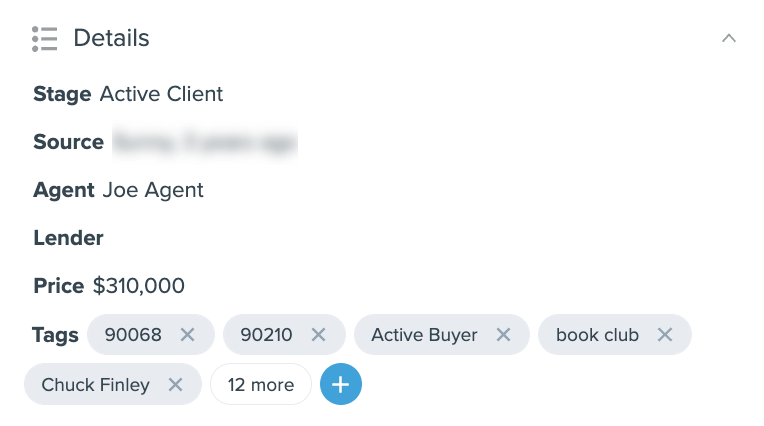 Stage: Stage the contact is in during their buying or selling journey
Source: The source of the contact
Agent: The assigned agent to the contact
Lender: The assigned lender to the contact
Price: The top of the contact's price range
Tags: Tags are used to group and identify contacts
Background

The background section of the lead profile is best for high-level notes that are frequently referenced.
Social Profile

The Social Profile provides contact insights by searching the contact's name and email address on Google.
Custom Fields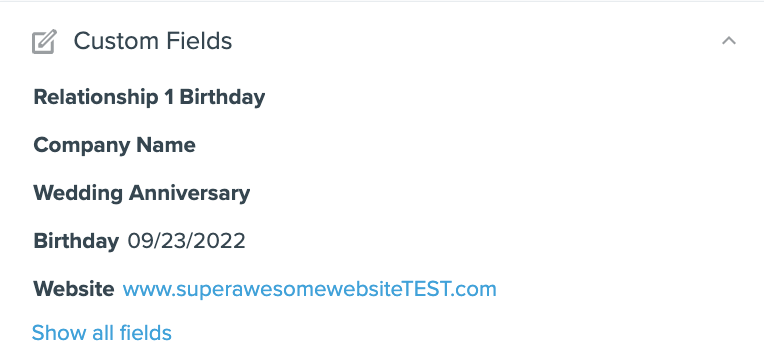 Custom fields provide quick access to specific information on the lead profile and filtering options on the people tab. Date custom fields can also be used to trigger Automations.
Note: If the information doesn't need to be searched, we recommend adding it to the notes section (below).
Take Action

Create Note: This is the best catch-all field that is searchable. Commonly used for Team Mentions and quick notes regarding the contact.
Send Email: Send 1:1 (or group) emails from the lead profile
Text: Send 1:1 (or group) texts from the lead profile
Log Call: Manually log calls and jot down notes during your call. It's the best place to put searchable notes based on client conversations. Great for reporting and smart lists as they let you reference who you spoke to and when!
Timeline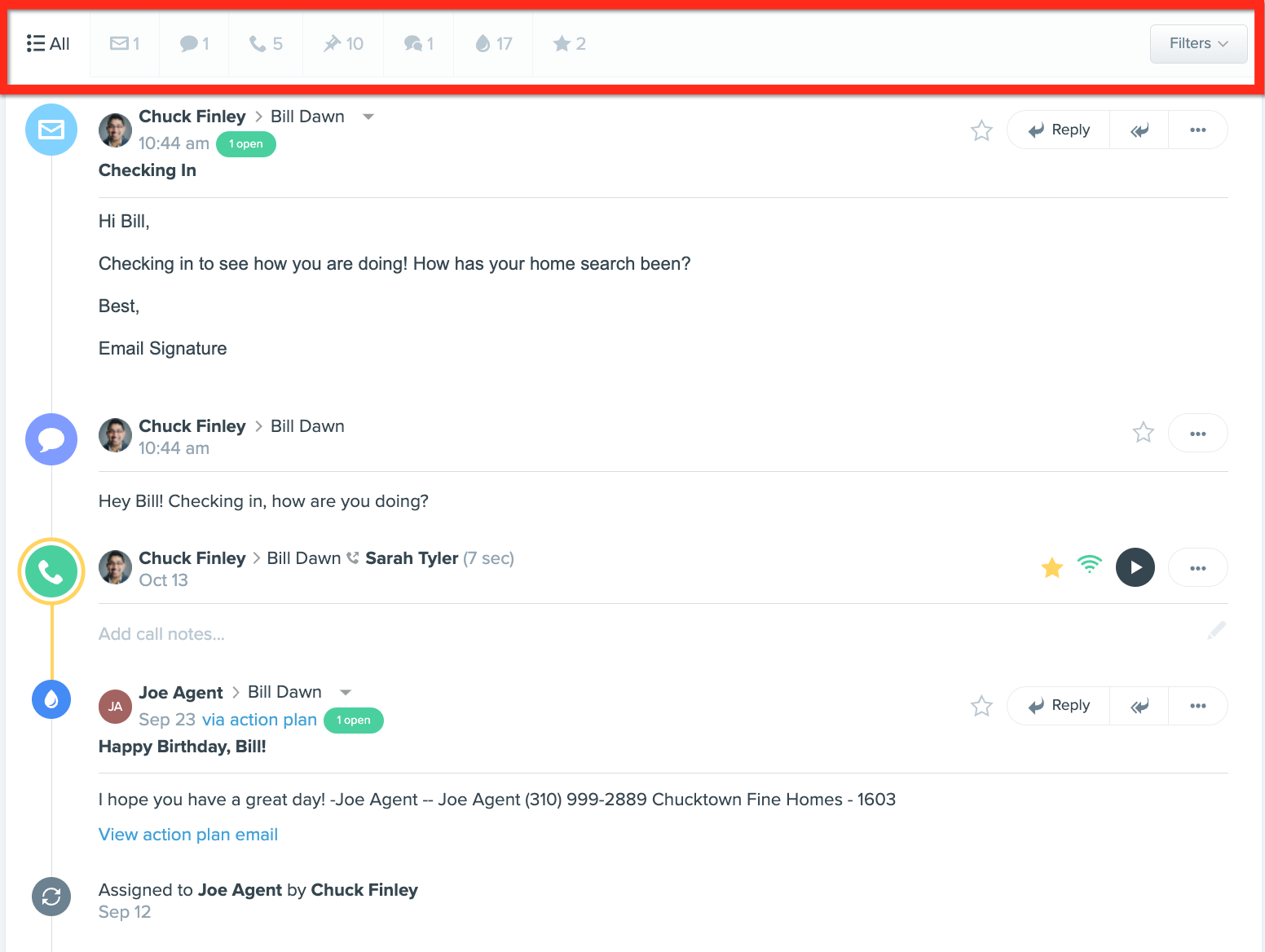 There are 8 tabs on the timeline for easy access to each type of communication. Click on each tab to expose the corresponding communication.
All: This tab includes all information as well as a filtering option in the upper right-hand corner to view specific types of communication.
Emails: 1:1 (or group) emails with the contact
Texts: 1:1 (or group) texts with the contact
Calls: Calls logged manually or automatically in the system
Notes: All notes added to the profile (manually and via API)
Activity: Web activity including Registration, Inquiry, Seller Inquiry, Property Inquiry, General Inquiry, Viewed Property, Saved Property, Visited Website, Incoming Call, Unsubscribed, Property Search, Saved Property Search, Visited Open House or Viewed Page
Marketing Emails: Batch Emails, Action Plan Emails, and marketing emails from Mailchimp and SendGrid
Starred Items: Any item on the timeline that is starred will appear here for quick reference
Tasks

Tasks can be created, viewed, and completed on the lead profile page.
Appointments

Appointments can be created and managed on the profile as well as the calendar.
Files

Files provide a secure location to upload client files.
Deals

Deals can be created and managed on the lead profile.
Collaborators

Collaborators are team members that can also view the profile for collaboration.
Action Plans

Action Plans can be added, paused, and viewed to automate communication.
Activity

This includes website activity sent to Follow Up Boss via IDX websites or the Pixel.
Embedded Apps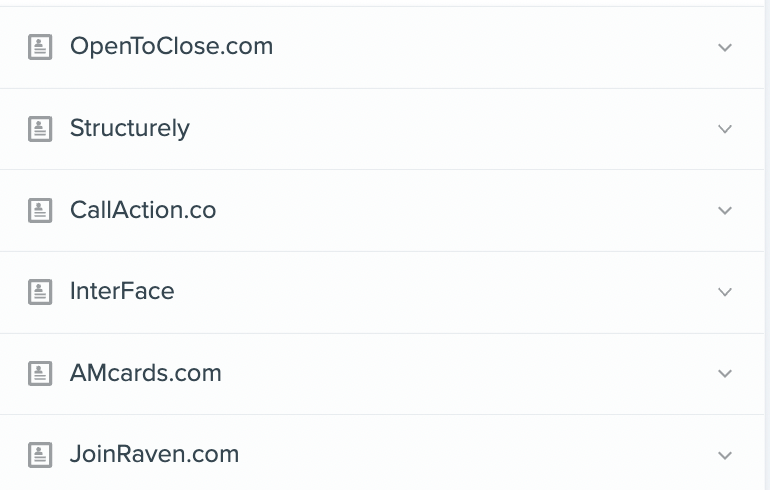 Embedded Apps are created by third-party systems with our open API. Integrated embedded apps will appear on the right-hand side of the lead profile.
Customization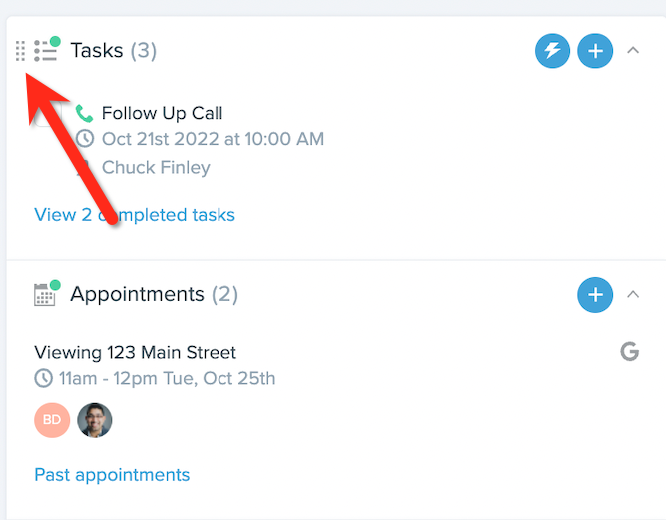 The lead profile can be customized to your needs. Simply place your mouse over the section title > click and drag to the desired order.
Note: Sections can be reordered vertically on each side of the page.
Delete Person

Contacts can be deleted by admin users. Once a contact is deleted, all information is permanently erased.