The cell bridge enables users to initiate calls on the desktop and bridge to call to your cell provider network for the best call quality. This feature is key for users who don't have a strong internet connection.
Enabling the Cell Bridge
Admin users can enable the cell bridge power-up by going to their initials/image in the upper right-hand corner > Power-Ups > Cell Bridge > Toggle On.

Making a Call
1. Click on the contact's phone number > select Call via cell bridge.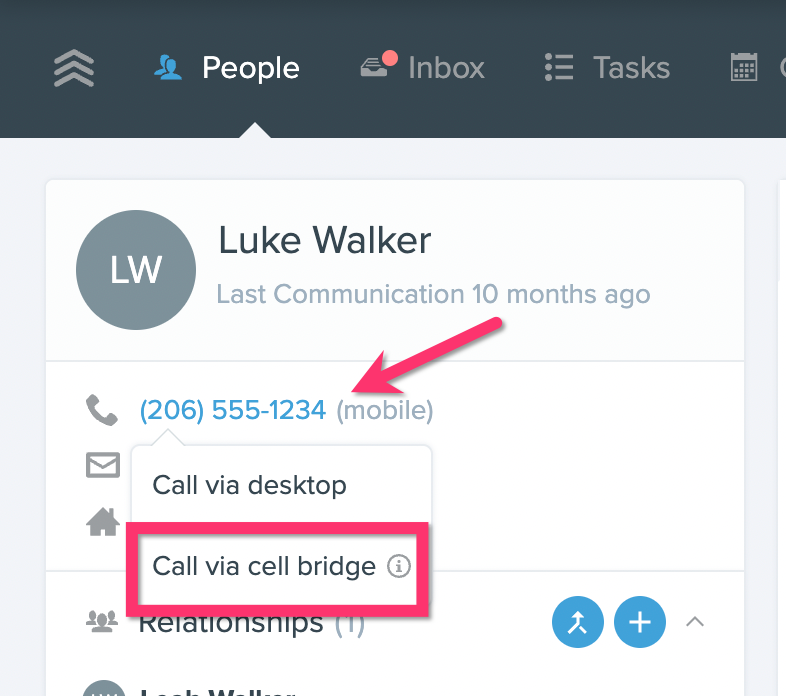 2. Then you will receive a call from your Follow Up Boss number to the number listed in your settings.
3. Answer the call and make sure to say something. If the call is answered in silence, the call will be disconnected.
4. Then the call to your contact will begin.
Note: The contact will always see your Follow Up Boss outbound number on caller ID.
Troubleshooting
Pro Plans: If the cell bridge is not available when clicking on a contact's number, it is most likely due to the Cell Bridge and Call From power-ups being enabled. The Call From power-up overrides the Cell Bridge function, therefore they cannot be enabled at the same time to use the cell bridge.