Troubleshoot your Microsoft 365 OAuth Connection
Work vs. Personal Account
When connecting your email, make sure to select Work Account for a successful connection. If you accidentally selected personal and have a work account, disconnect your email and reconnect with the work account.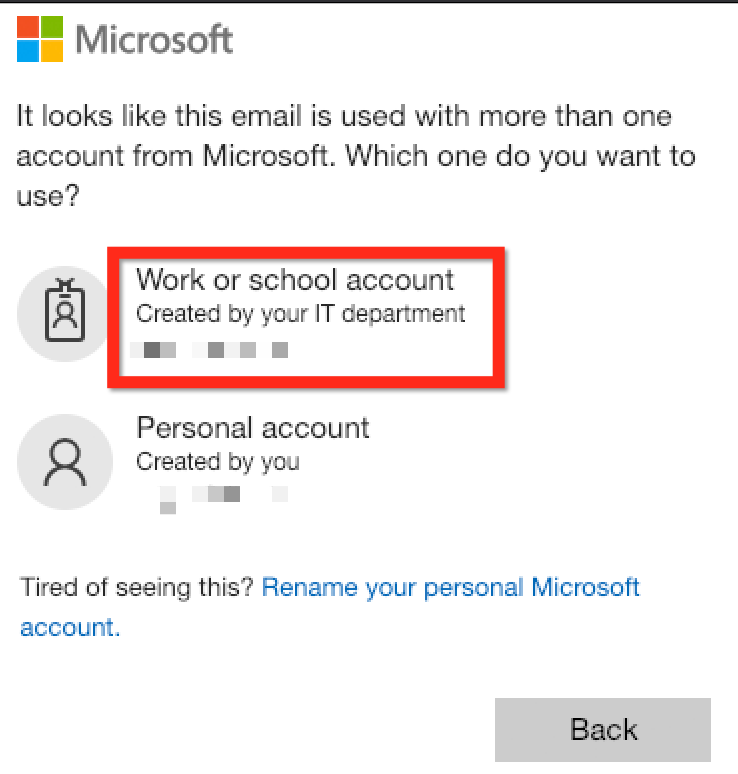 Enable SMTP & IMAP Authentication
In order to successfully connect your Microsoft 365 account to Follow Up Boss, SMTP and IMAP must be enabled. To enable SMTP and IMAP a Microsoft account admin will take the following steps from the
Admin Portal
. (If you do not have access to Admin Portal, please contact your system administrator and request that SMTP be enabled):
Click "Users" 
Choose "Active Users"
Select a user's name
Under the "Mail" tab in the pop-over window, click "Manage email apps"
Select "Manage Email Apps"

Select Authenticated SMTP & IMAP and Save:
Note: If it is already selected first uncheck the box and save it so it looks like the screenshot below. Then recheck the box and save it again.

Mimecast or Proofpoint 
If you are using Mimecast or Proofpoint, you will be unable to connect your email to Follow Up Boss. To check if you are using a security layer such as this go to MX Lookup, enter your domain, and choose MX lookup.

If you see Mimecast or Proofpoint listed on this page, you will be unable to connect.
Language Settings
To connect your email to Follow Up Boss the email inbox language will need to be in English. 
This is a critical step because Follow Up Boss searches for the "All Mail" folder to connect to and sync emails from. If that label is in any other language, we will not be able to recognize it. 
If the English language is already selected and the inboxes have not changed to English, select a different language, save the setting, revert the setting to English, and then save the setting again. Restart Outlook, and then check whether the folder names appear in English. Directions on switching to English in the Microsoft email inbox. 
You can let us know your language preference by sharing this feedback via your FUB Account on the Roadmap page!
Microsoft Through GoDaddy 
If you are encountering an error and are using Microsoft through GoDaddy, we are unable to connect your email. We recommend that you use a Microsoft Business account or switch to Google Workspace.

Microsoft Exchange
Some company-provided emails do not allow third parties to connect to your email for security reasons. If you have a company-provided email that will not connect, please reach out to the system administrator and ask for IMAP and SMTP to be enabled.
Connecting Outlook or Hotmail
OAuth is not supported for Outlook or Hotmail accounts. If you try to connect, you will see an error. We recommend that you use a Microsoft Business account or switch to Google Workspace.
Requesting Admin Consent to Connect to Follow Up Boss
To connect your Microsoft 365 email to Follow Up Boss using OAuth, you must first have permission from your Microsoft admin to give apps consent. If you do not have permission, when you attempt to connect to Follow Up Boss you will see this pop-up prompting you to request access from an admin: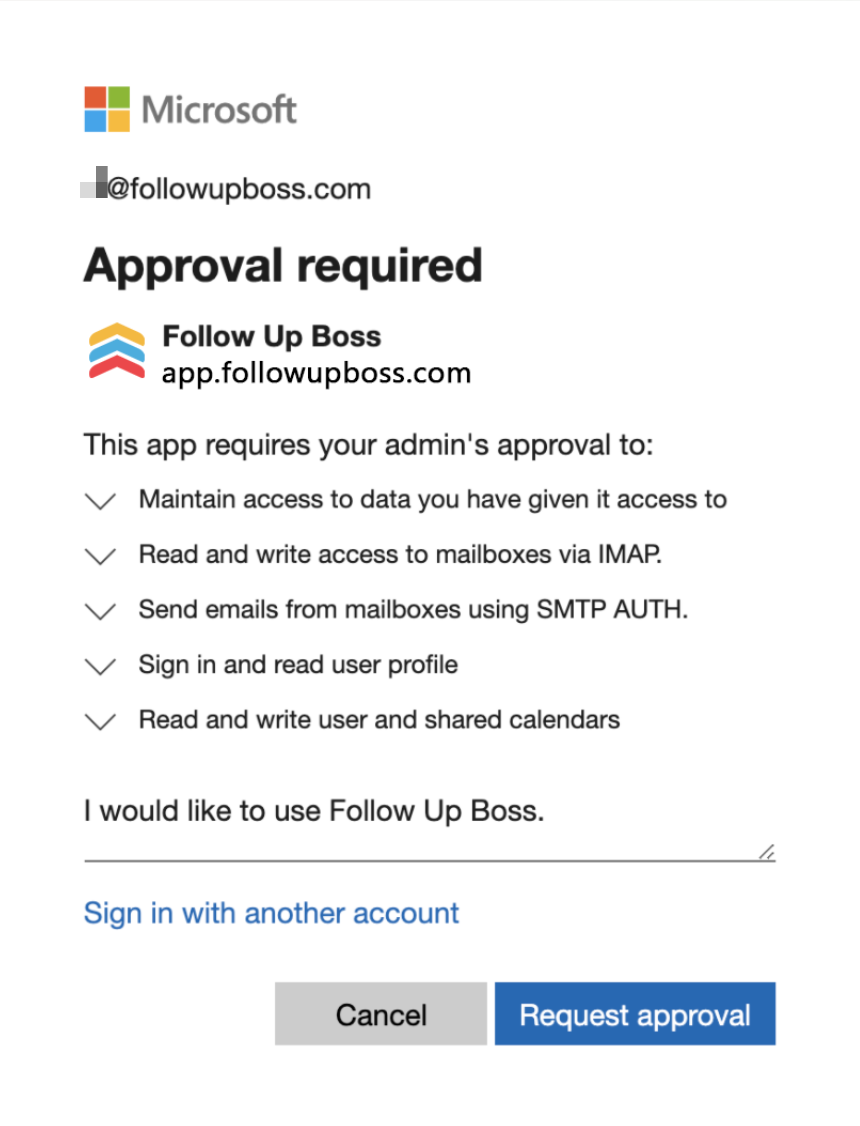 When you see this, type in a reason and choose "Request approval". This will send your Microsoft admin an email prompting them to give you access. Your Microsoft admin can either approve Follow Up Boss directly or they can go to this link to give you access to approve apps. While you are waiting you can connect to a different email.