Jotform is a platform for creating custom webforms. Get started for free by signing up on jotform.com.
Jotform is great for:
Embedding forms on your website and having those entries flow into Follow Up Boss.
Distributing manually entered leads to agents via Round Robin or First to Claim. (E.g. Phone leads, people you meet in person or at events, etc.)
Quick forms that can be used as simple landing pages.
In-person client intake.
Creating a Form
1. Log in to Jotform and access the My Forms tab.
2. Click the orange Create Form button.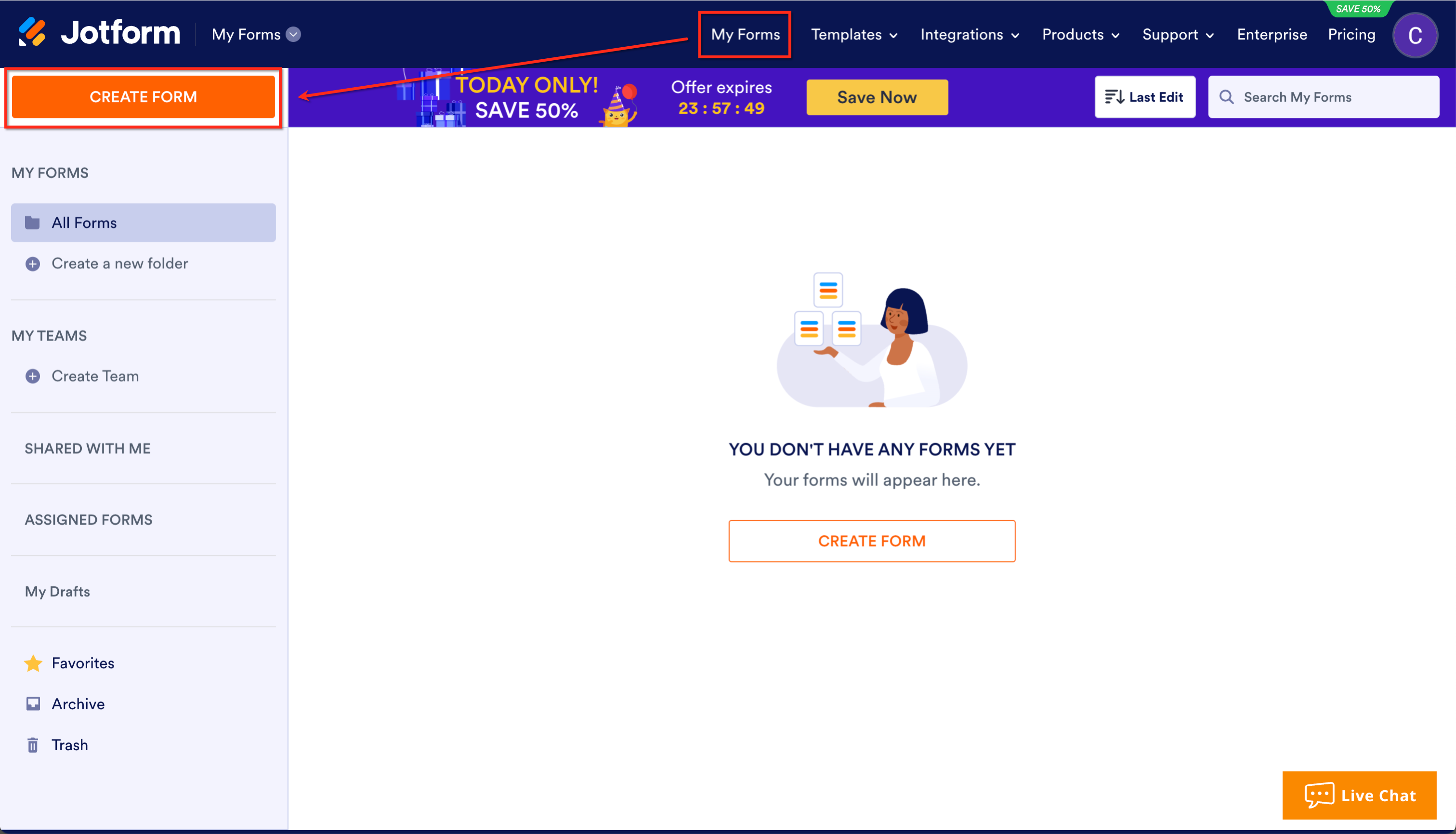 3. Follow the Prompts to create your form. We recommend that you start from a blank form by selecting Start From Scratch and then click Classic Form. The form can be as simple or in-depth as you like. The minimum requirement is an email address or phone number field.
Note: In Jotform, it's possible to add a variety of widgets to your form in addition to standard form fields. Not all of these widgets are compatible with FUB's email parsing format.

For example, the multiple selections widget, which creates a field in the form that allows the user to select multiple answers for one question, will not parse properly into FUB. Only the first piece of data selected will be parsed into FUB.

The solution is to replace the widget field with a simple drop-down, or select Yes for the "Disable multiple selection" option in the Widget Settings (which will effectively turn it into a drop-down).
Integrating Your Form with Follow Up Boss
1. Log into Jotform.
2. Go to the My Forms tab.
3. Select your form from the list and then click on Edit Form.

4. Click on Settings and then select Emails from the menu on the left.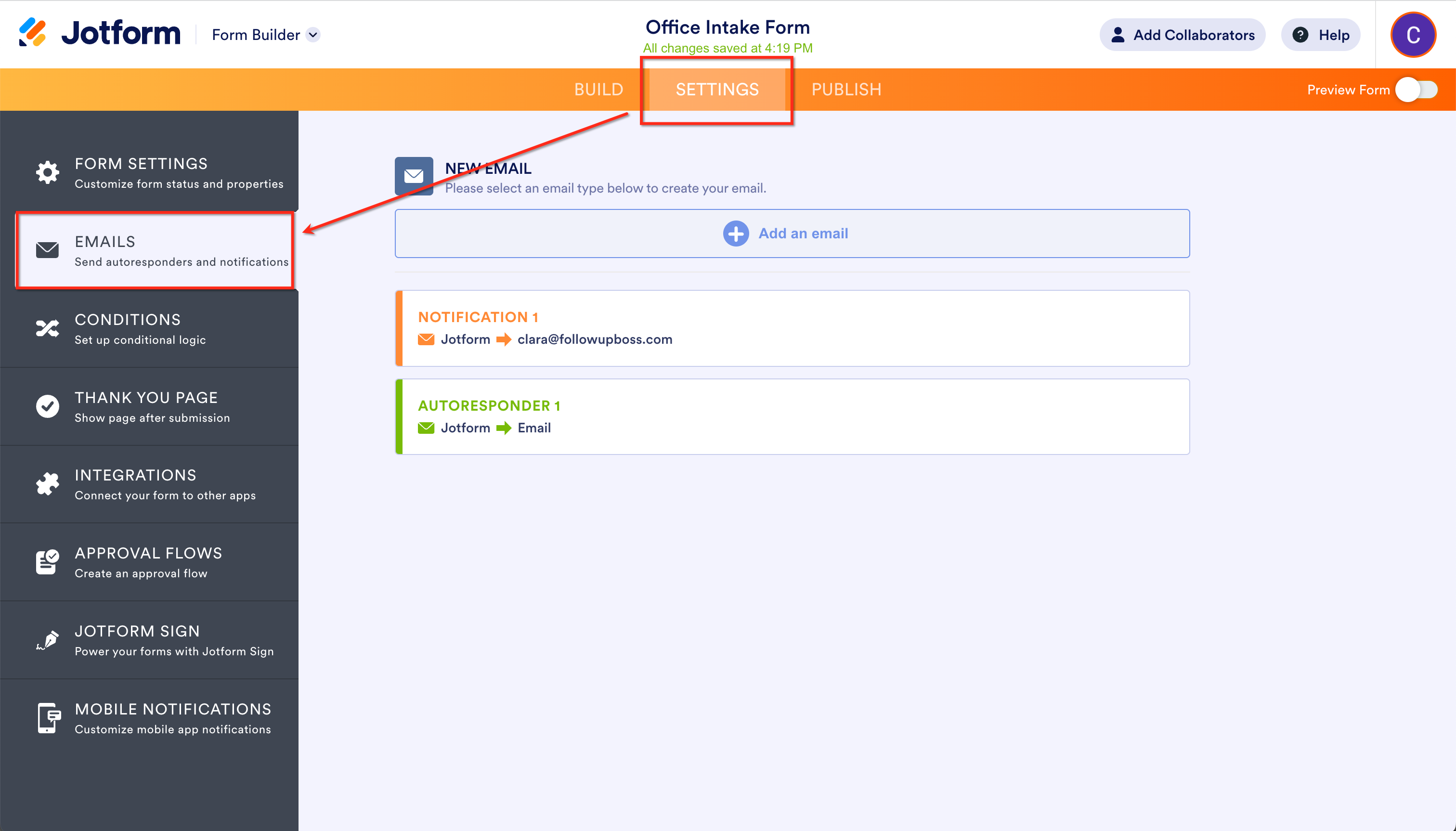 5. Hover over Autoresponder 1 and then click on the Trashcan Icon to delete the autoresponder. On the next page, click "DELETE" to confirm.
6. Hover over Notification 1 and then click on the Pencil Icon to edit.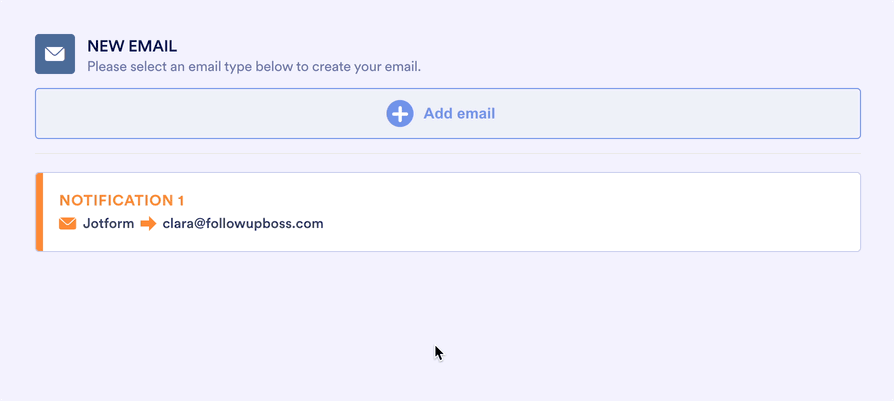 7. Copy the blank version of your preferred Email Parser Format (Short, Full, or Advanced) from this document: Follow Up Boss Email Parser
8. In the Email Content text box, delete all email content.
9. Paste the Email Parser Format into the email content text box.
10. Match Information to each row in the email using Jotform's Form Fields. To select a Form Field, click on the + Form Fields button in the upper right corner of the Email Content text box.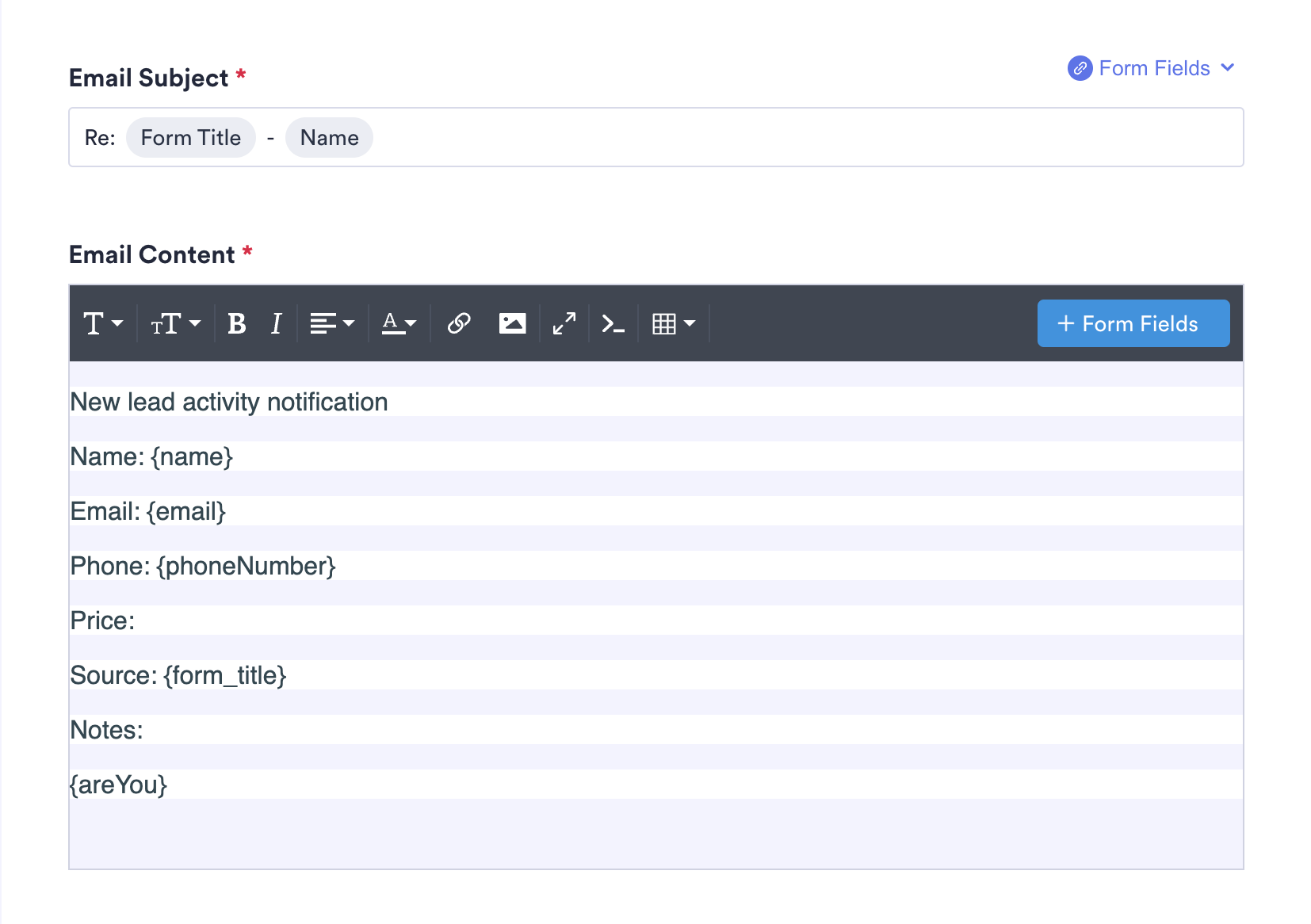 11. Click on Recipients.
12. Paste your Follow Up Boss Lead Email Address in the Recipient Emails field. If you need to locate your Follow Up Boss Lead Email Address, please follow the steps in this guide: Follow Up Boss Lead Email Address.
13. Click Save.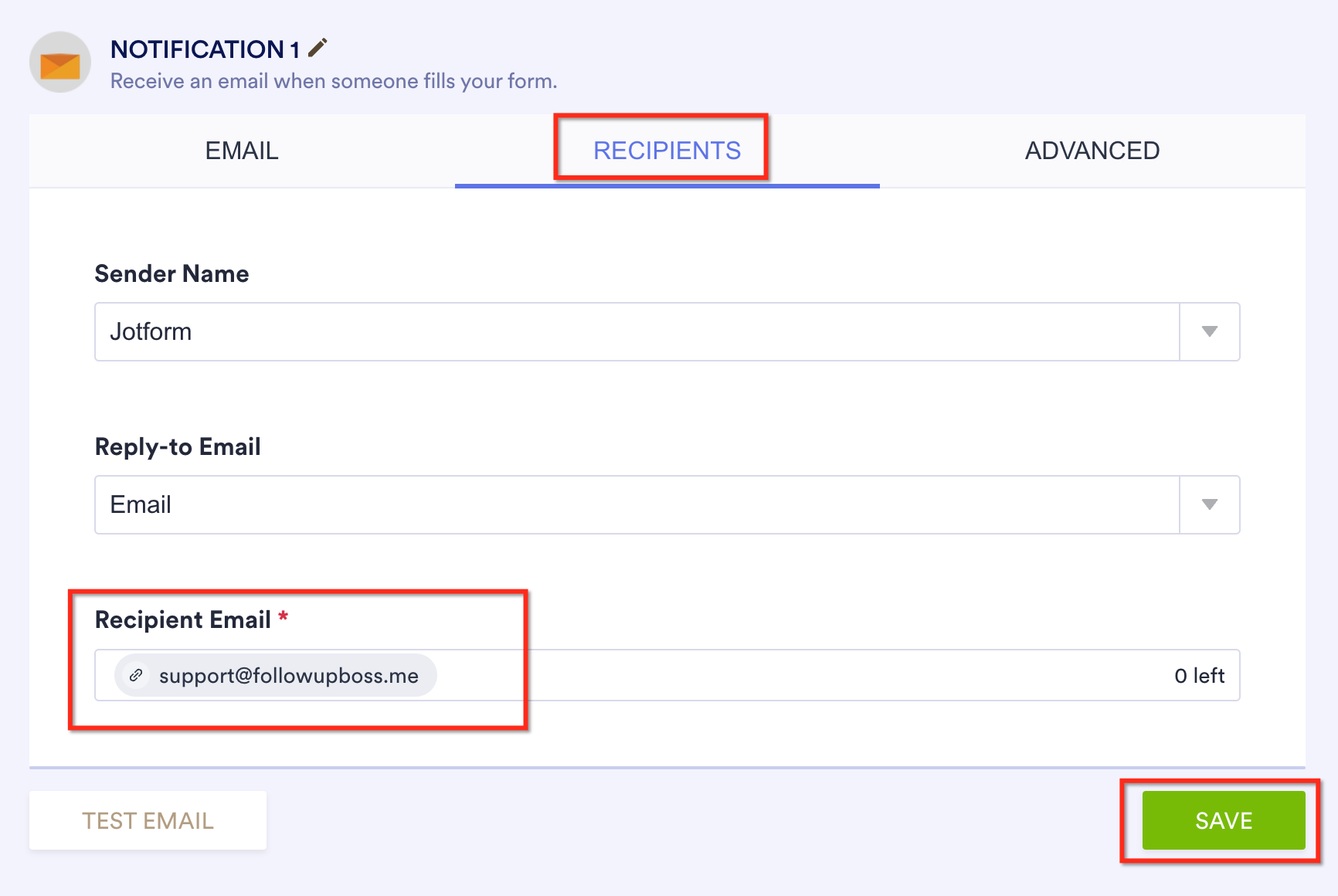 14. Next, select Publish and choose how to share your form.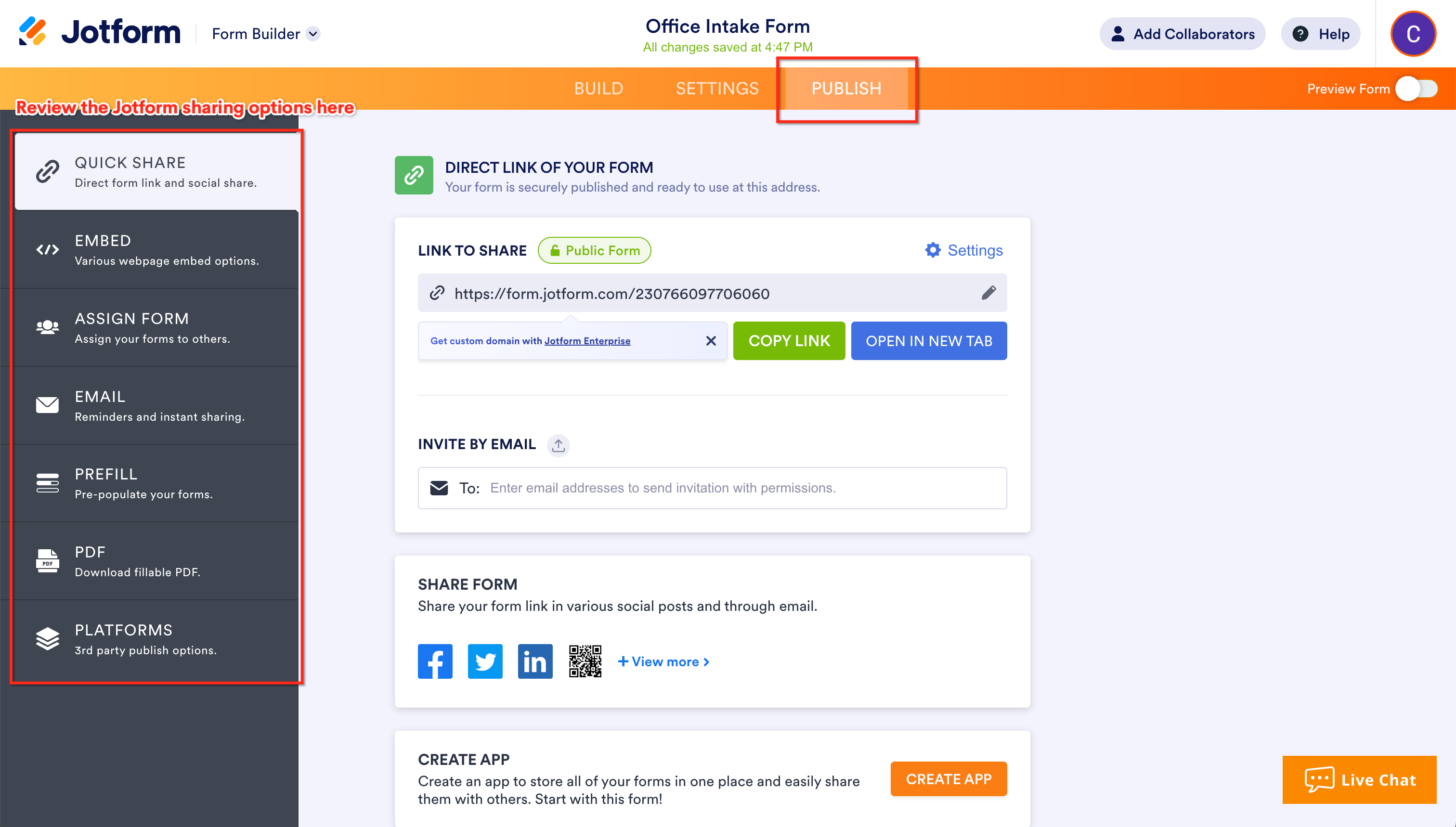 Note: You can access your form using the provided direct link (great for internal usage), or embed the form into your website using the options provided.
Jotform offers direct copy/paste code, or direct integrations with providers like WordPress, Facebook, Squarespace, and Wix.
Testing & Setting Up Lead Flow
1. Use the Direct Link of Your Form to enter a Sample Entry using lead information not already in Follow Up Boss. When finished, click Submit to send the lead to Follow Up Boss.
2. In Follow Up Boss, you will now see a new source under Admin > Lead Flow.
3. Use the dropdown menus to select the desired Distribution, Lender, and/or Action Plan for this source.
4. Going forward, all new leads entered via this form will now follow these rules! You can also use Advanced Lead Flow Rules to route based on tag, price, and other variables.