When creating a team within Follow Up Boss, it's essential that there are tools available to properly manage everyone within the team. We provide quick settings for adding/removing users, changing user roles, exporting access, and checking team member statuses, amongst other settings.
Adding Team Members
To invite your team click Admin > Team > + Add Users
Enter their name, email, and phone number to send them an invitation to join your account. Have a large team? No worries, check out Importing Team Members.
Billing
Your account will be charged for each additional user.
Upon adding a user, you will be automatically charged the pro-rated rate for the remainder of your current billing period (monthly or annual).
You will see a confirmation screen showing this charge before inviting the user.
Access Levels

Account Owner - can change billing and export database
Broker/Admin - access to all contacts and can delete leads
Agent/Lender - access to leads that are assigned to them, cannot delete leads
For more information about each role's access, check out Users, Roles, Permissions.
Account Owners and Brokers/Admins can edit the user's access level whenever they would like by going to Admin > Teams > Choose the Default Team > Edit > and then changing their Role.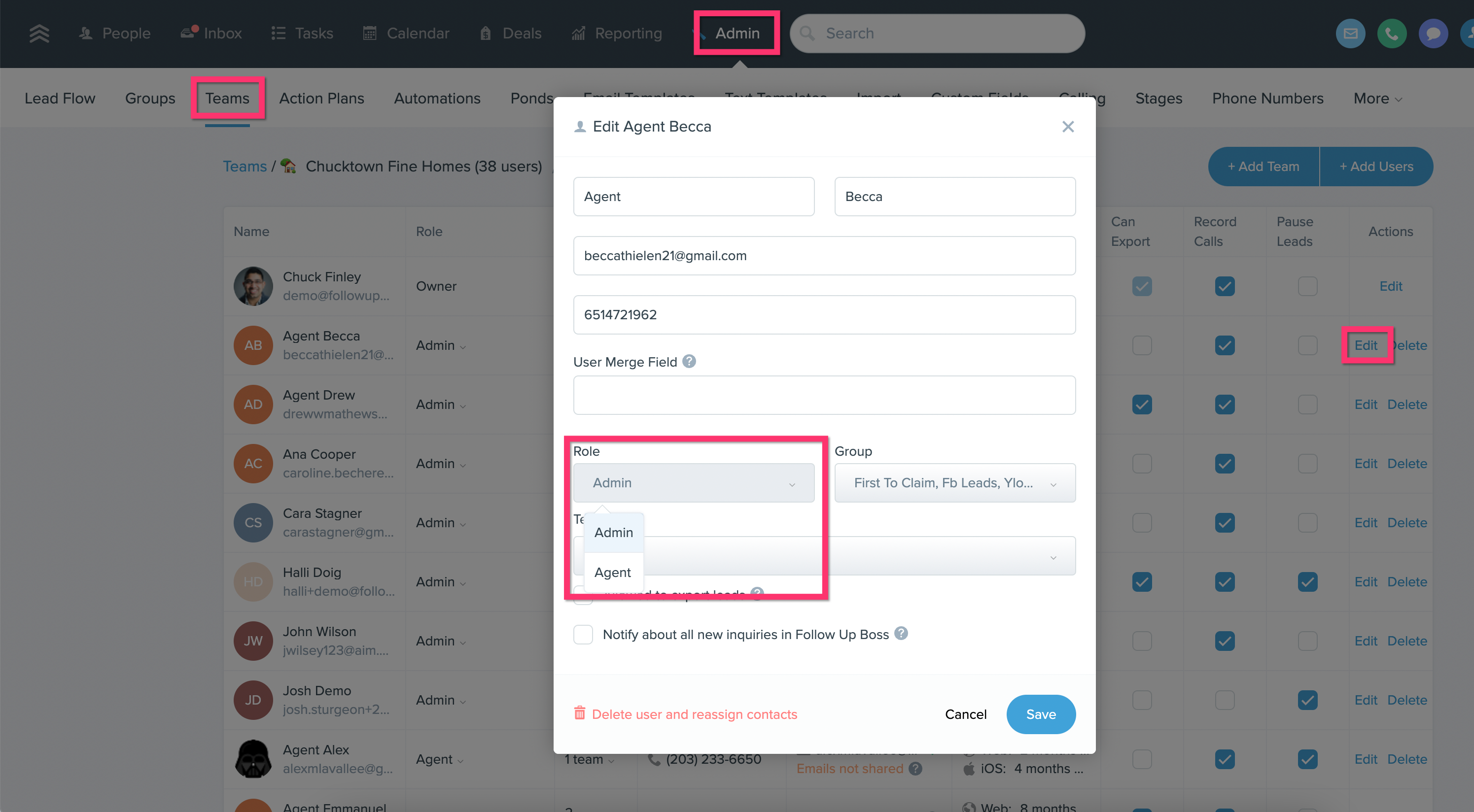 What happens after I add a user?
Once a user is invited to your team, they receive an email where they can set up a password to access your team's Follow Up Boss account.
If your team member hasn't yet accepted this email invitation, you will see "Invite Sent" next to their name (by going to Admin > Teams), with the option to resend the invitation if needed.

If Resend doesn't appear, then the user has accepted their invite. If they don't remember their password, it can be reset here.
Team Management
The Team screen gives you an overview of all users in your account. From left to right you can see:
1) User Name & Login Email
2) User Role (E.g. Owner, Admin, Agent, or Lender)
3) Phone Number
4) Connected Email
Orange indicates their email is not connected, and they need to follow these instructions from their login.
A green checkmark indicates that they have their email connected.
The blue arrows indicate that they have email sharing turned on.
5) Their last login via Web and Mobile App
6) If they have the ability to export contacts. (These permissions can be enabled by the Account Owner only.)
Each user's details can be edited by clicking Edit to the right of their name.