Automations are here to help you automate your workflows and maximize key lead events so you can get the most out of each and every lead and still have time to focus on what you do best - closing deals! Automations can automatically start action plans when a tag is added, a lead has new website activity or when a stage is changed. Here's how it works:
Automations contain three parts: a trigger, conditions and an action plan. An example of an Automation is, "When stage changes to Nurture, start the Buyer Long Term Nurture action plan". Find your Automations under Admin > Automations.
Create Automations
While everyone on your team can view Automations, only account owners and admins can create new Automations. To create an Automation goto Admin -> Automations (or click here). Click on "+ Add automation" in the top right.

From the Create Automation screen, you will choose a name and select a trigger event:

Triggers
Triggers are what will prompt your automation to begin. Triggers include:
Stage changes to
Tag is added
New Inquiry arrives
Property is saved
Property is viewed
Boss Tip: Install the Follow Up Boss Pixel today to start tracking website activities to be used in your automations!
You can add additional triggers by pressing "+".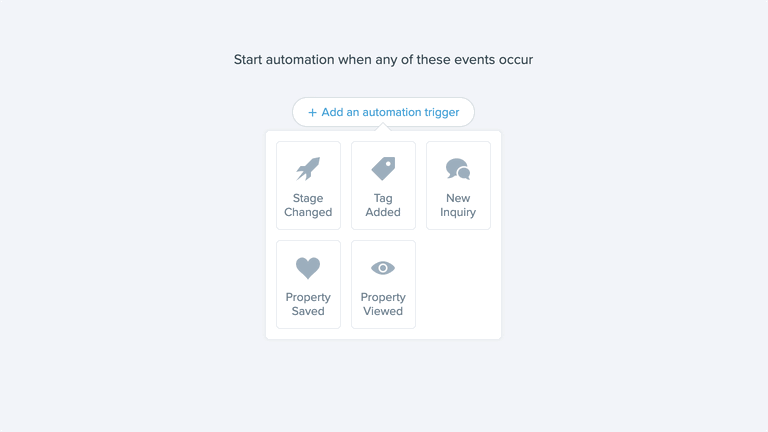 If any of the triggers happen the automation will run.
Conditions
Conditions are additional criteria that a contact needs to meet along with the trigger in order for the action plan to begin. They add an AND element to your trigger.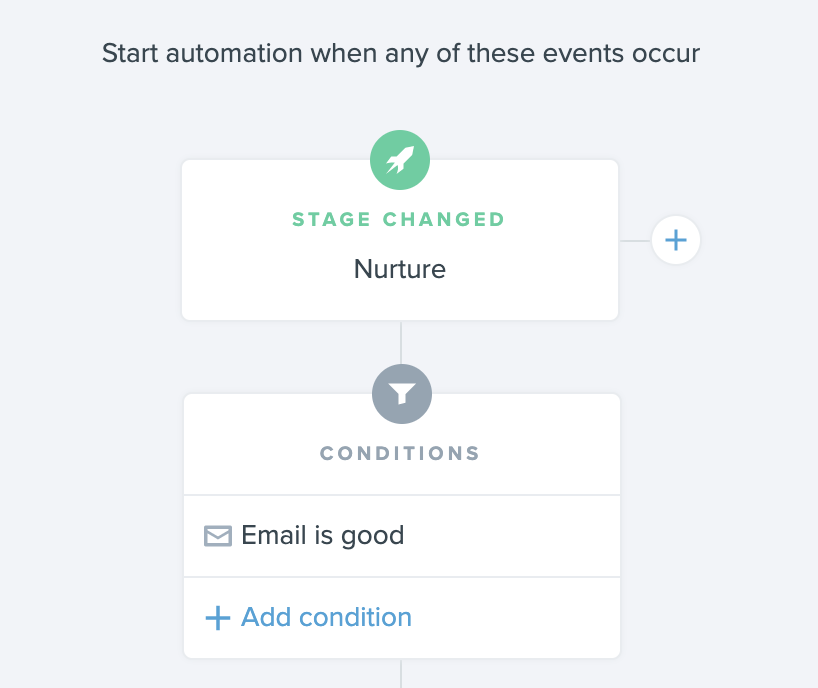 In this example, the action will only run if the stage is changed to nurture AND the email is good.
Conditions closely mirror the filters you use under Smart Lists. Conditions are completely optional and you can specify more than one condition per automation. All of the conditions must be met in order for the automation to run.
Action Plan
Specify which action plan you would like to start when the trigger occurs and the conditions are met. You can use any of your action plans here.
*Note: If your action plan includes an initial text message, it will not be sent if triggered by an Automation.
Enable/Disable Automations
Easily toggle Automations on and off using the toggle in the "Enabled" column from the list view or the enable button inside of the automation editor:

When an Automation is off, it will not be triggered.
Edit an Automation
To edit an existing Automation, go to Admin > Automations and select the same of the Automation. A Trigger and an Action are required to save.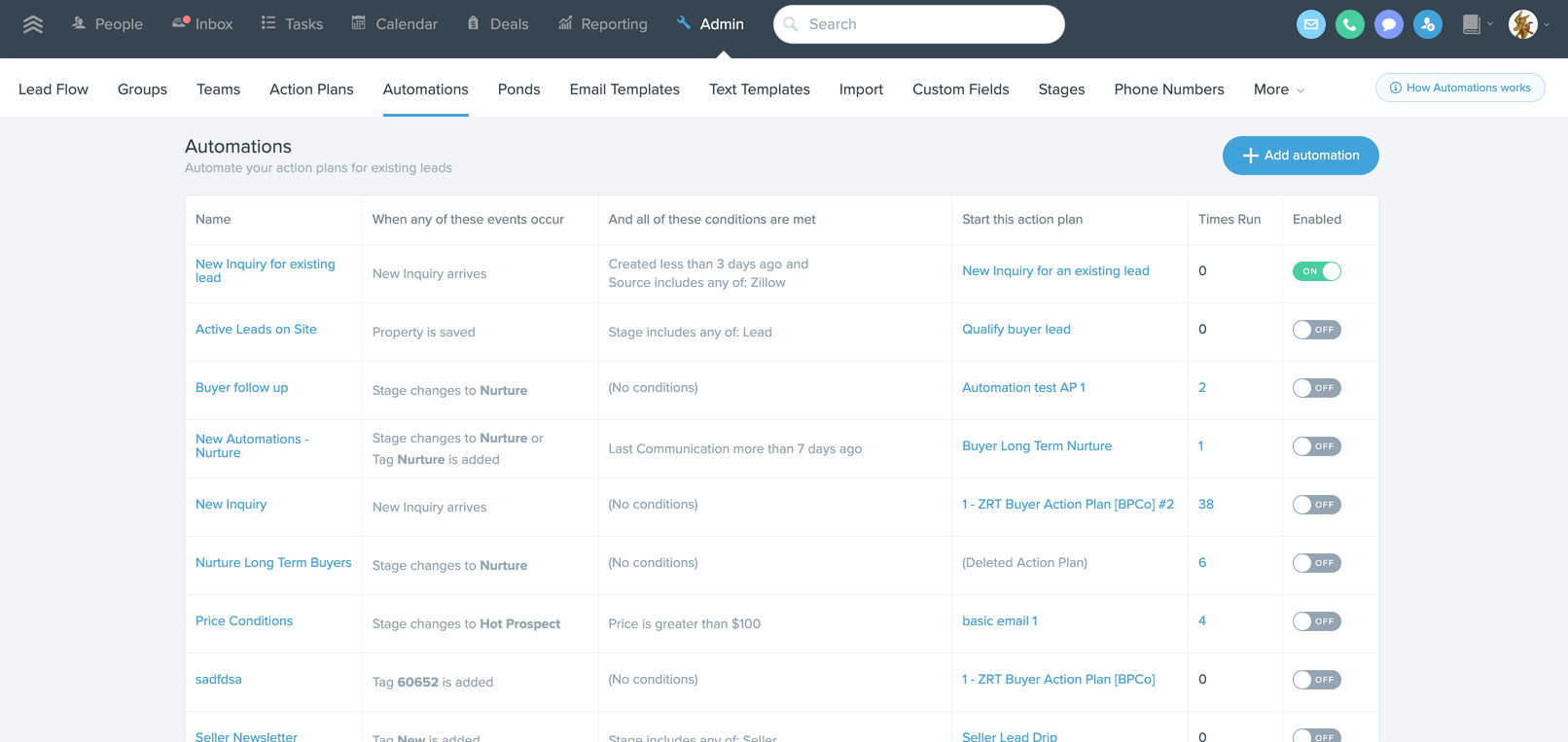 Delete an Automation
To delete an Automation, open the automation and choose "Delete Automation" in the top right: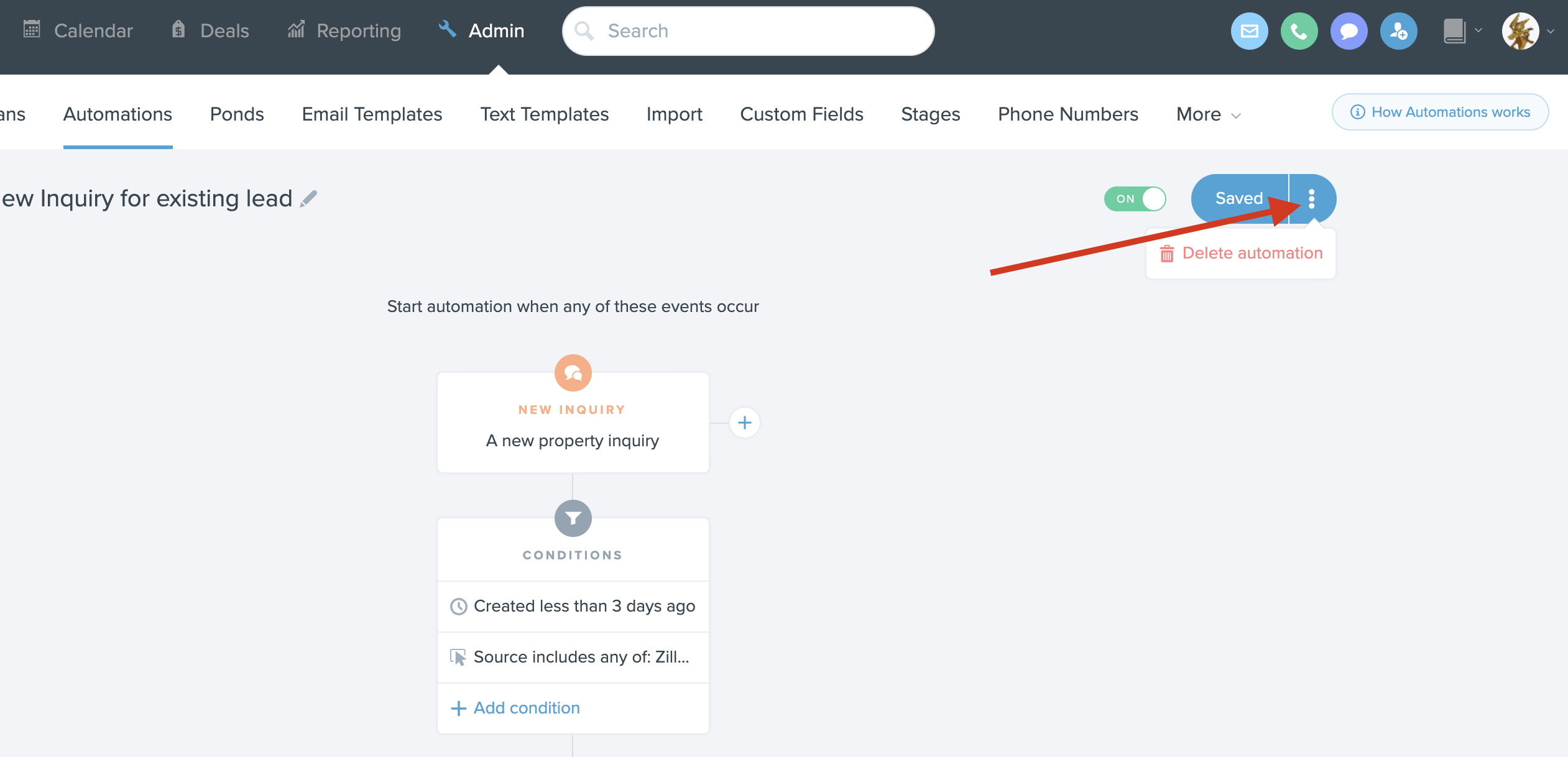 Automation Rules
Automations are meant for continuing lead nurture and internal workflows, therefore automations will not be triggered when a contact is initially created. This includes when contacts are added through an import, added manually, added through the API, or added through a Lead Flow. To automate your follow up when a lead is created, be sure to specify an Action Plan in your Lead Flow.
Automations will not be triggered when performing a Mass Action. If you are mass applying a tag or mass updating a stage, Automations will not be triggered.
Some Action Plans may contain steps to change the Stage or add a Tag, which may in turn trigger other Automations to run.
There are some additional rules for running Action Plans via Automations we have put in place to lessen the chance of a lead receiving Action Plan content multiple times due to Automations.
If an Automation is triggered to start an Action Plan and the same Action Plan...
is already running, it will continue running, i.e. nothing happens
is already paused, it will stay paused, i.e. nothing happens
was completed and was never started by any Automation before (e.g. it was started by Lead Flow or manually started) it will be started again from the beginning
was already completed and was started by any Automation before, it won't be started again, i.e. nothing happens
Run More than Once
By default, automations will only run once per contact. If you would like the automation to continue to run every time the trigger event happens and the conditions are met, choose this option: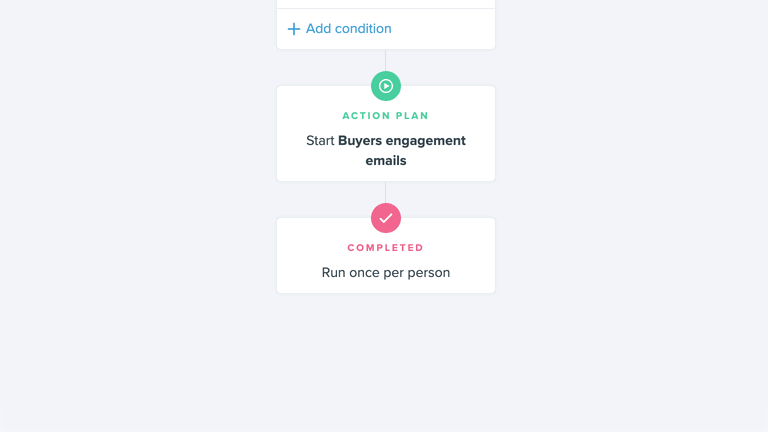 With this option selected, when the trigger happens and the conditions are met, the automation will apply the action plan as long as the action plan is not already running or already paused.
This will be helpful when using workflow-based or task-based action plans. This is not recommended for action plans utilizing email templates because a person could receive the same template more than once.
How do I know if my Automation was run?
If an Action Plan was started by an Automation, you will see "Plan started via [Automation Name] automation" when clicking on the Action Plan details from the Lead Profile: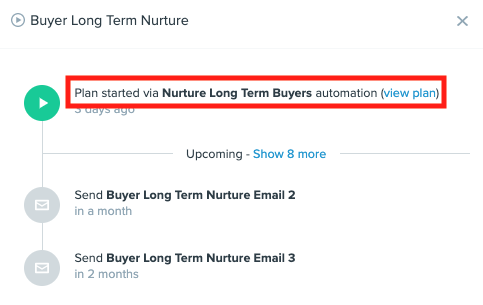 To see all contacts that have had an automation run, click on the number in the "Times Run" column:

Best Practice Automations
Get started by turning on our Best Practices Automations here!
Are you interested in trying our Automations Beta? Please email product@followupboss.com to try it out!