The agent activity report provides performance on each agent as well as the entire team. Each visual element on the report serves as insight for the selected period of time. To get started, select one of the pre-defined reports. These pre-defined reports are posed as questions and demonstrate a specific report configuration.
Total lead count and total agent activity
Data Points:
New Leads - count of leads created during the reporting timeframe AND currently assigned to that agent
Initially Assigned Leads - historical count of leads created during the reporting timeframe who were first assigned to that agent
Currently Assigned Leads - count of all leads that were assigned to that agent during the reporting timeframe and are still assigned to that agent, regardless of the lead's creation date.
Calls
Emails
Texts
Notes
Tasks Completed
Appointments - count of appointments the person has been included on as an attendee
Appointments Set - count of appointments the person has created, regardless of whether they are an attendee
How many leads have we not acted on
Data Points:
New Leads
Leads not acted on
Leads not called
Leads not emails
Leads not texted
How quickly we follow up on leads
*This data is not available before April 4th, 2017
Data Points:
New Leads
Average speed to action
Average speed to first call
Average speed to first text message
Average speed to first email
How many times we try to contact each lead
Data Points:
New Leads
Average contact attempts
Average call attempts
Average email attempts
Average text message attempts
If you have 2 leads and you called the first lead twice and the second lead once then the average contacts attempts would be 1.5.
What team member is getting the most leads to respond
Data Points:
% of leads responding
% of leads responding by email
% of leads responding by phone
% of leads responding by text
Any response to an agent generated call, email or text is considered. Automated follow-up (action plans) are not included.
Date Range
You can select a predefined date range or enter a custom range.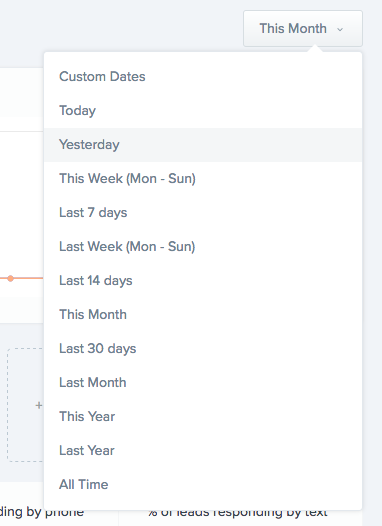 Time Series Chart
The chart shows a selected data point plotted over the selected date range, grouped by a day, week or month. You can also select a second data point to compare to the first data point. This can be useful to detect deviation from an expected proportional relationship between data points, for example--you would expect calls to track with new leads.
You can also compare the selected date range with the previous period. An example would be comparing this month with the previous month.

Hold your mouse over any point on the chart to see a tooltip with the data points for that date interval.
Column Totals
Below the chart is a box for each column which summarizes the data point for the report date range. If there is data for the previous period then you will see an arrow and percentage that represents the change from the previous period. You can click on the underlined text in the box for details.

Add Columns
Customize the report to answer any question you have about agent activity and performance. Click the '+ Add Columns' box to add or remove columns from the report.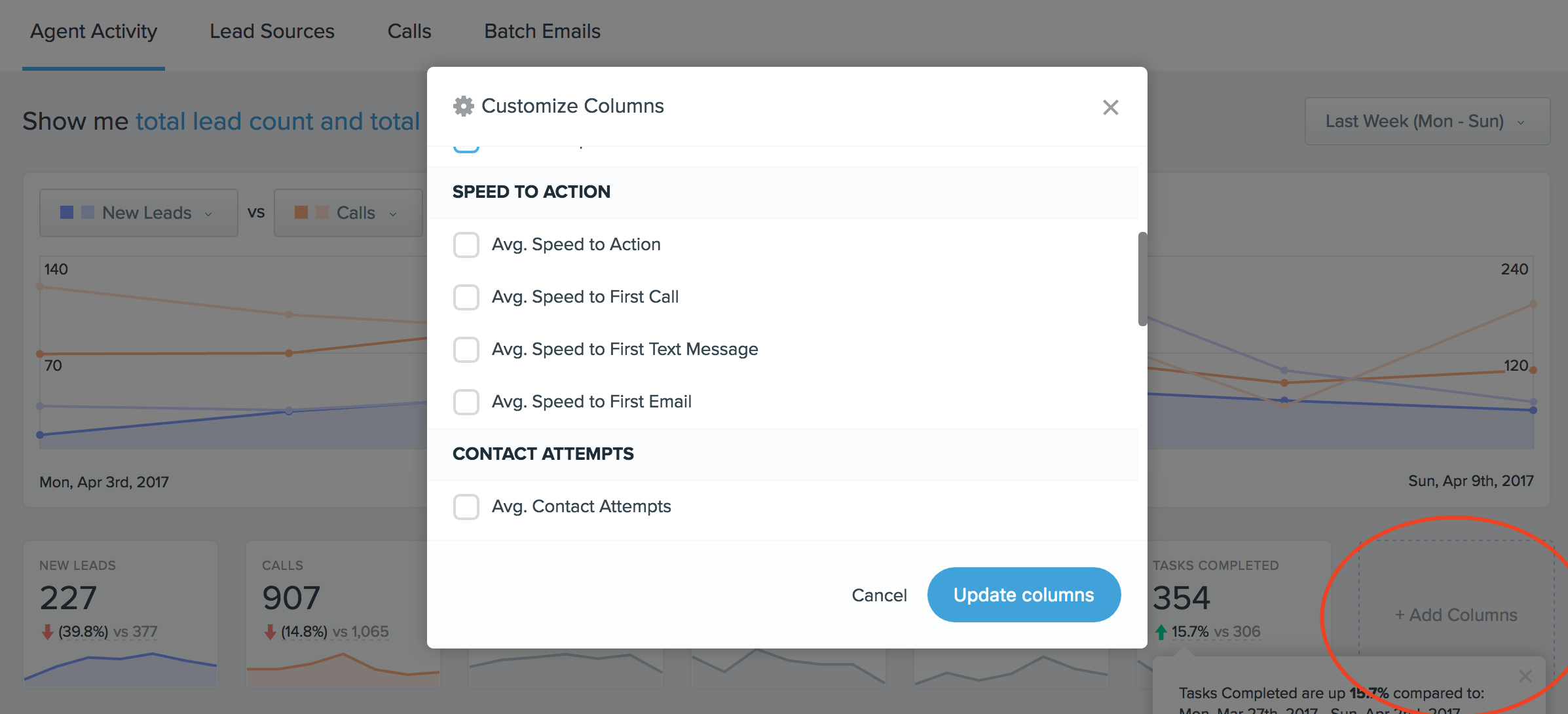 Individual Agent Activity
Below the column totals is the table that contains each agent's activity and performance. Click on any column to sort. Select the column a second time to reverse the sort order. Select any agent's name to see the time series chart and totals for just that agent.
Warning: Deleting contacts (instead of changing their stage to 'Trash') will cause reporting to lose statistics related to the deleted contacts. For this reason we recommend changing a contact's stage to Trash to hide them rather than doing a full delete.